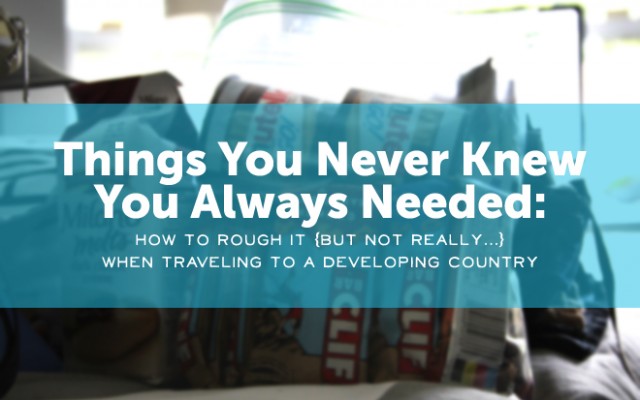 As you probably know from my recent posts, I am just getting back from a trip to Guatemala with Food for the Hungry (you can read more about my trip here). It was my first time traveling out of the country (I know, getting my first passport at age 30!) and I didn't know what to expect – particularly because we were traveling to a developing country where a lot of the food and water is unsafe.
I am absolutely a list-lover and a type-A packer, so fortunately I was pretty well-prepared for our trip. In fact, it was sort of an ongoing joke among our group – anything someone wished for out loud, there was a pretty good chance Raechel had thought of it and packed it!
By the end of our trip, the eleven of us sat around at our gate and talked about the things we were super happy to have packed (or wished we had packed!), and the things we felt silly for hauling all the way to Guatemala only to leave it in our suitcase the entire trip.
We put together a list (which is in no way comprehensive packing list) of the things that made us the happiest and feel the cleverest. (And of course, this is specifically tailored to those traveling internationally to a developing country.)
Clothes:
Flip flops for showering – Ryan forgot his and had to wear mine. (hilarious to me, not to him)
Keens – FH suggested we pack closed-toe sandals, and these were breathable, waterproof, and great for hiking to home visits. I managed to find a good price on a pair and I was so so happy to have them.
Hat – because showers aren't always possible. And hair gets looking cray!
A good, waterproof raincoat. I got this one because it had good reviews and I think I'll be able to layer it with a fleece in the wintertime to get more use out of it.
A full change of clothes (including underwear!) in your carry-on in case your luggage gets lost or your flight gets delayed.
Smaller backpack to use for day trips. Ryan and I bought and shared a Kavu bag that is lightweight and had good zipper/divider options.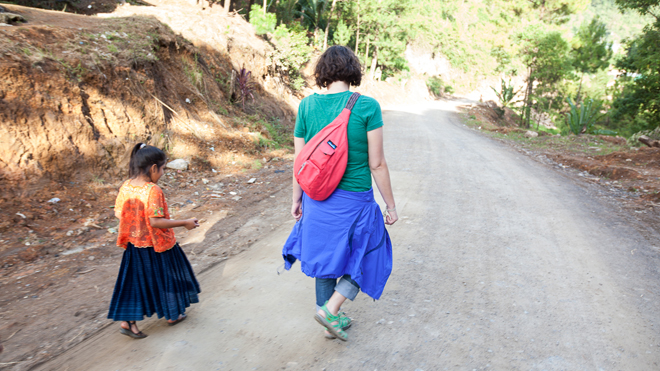 Food (food was a biggie for me because I'm a bit of a picky eater and I get super anxious in situations where I am not in control of my own meals):
Beef Jerky – if you're nervous about international meat prep, this is a safe protein boost. We packed two bags and wished we had packed more.
Fruit leather, dried fruit or Clif Z-Fruit sticks – particularly in areas where fruit is unsafe to eat because of unsafe water
Go-Go Squeezes – another fruit option that traveled well. Bonus: it was so fun to pass them out to the kids in the village as a healthy snack!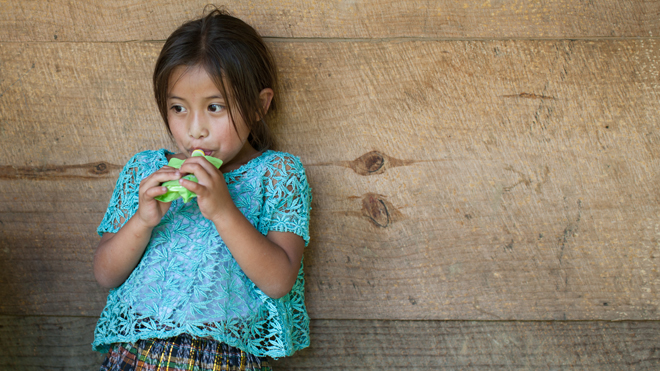 Wheat thins and/or pretzels – anything like that to eat if you're feeling queasy, you'll want something you know is safe and from home (Wheat Thins were like gold bars on our 6-hour car ride from Coban to Antigua!)
Milano cookies, dark chocolate, Nutella to-go packs with breadsticks, Trader Joe's dark chocolate covered almonds – it sounds silly, but if they don't take up a ton of space in your suitcase, you will absolutely thank yourself for packing something like this, even just for a long plane ride!
Cashews or almonds – another welcomed energy boost!
Clif bars or something like it for breakfast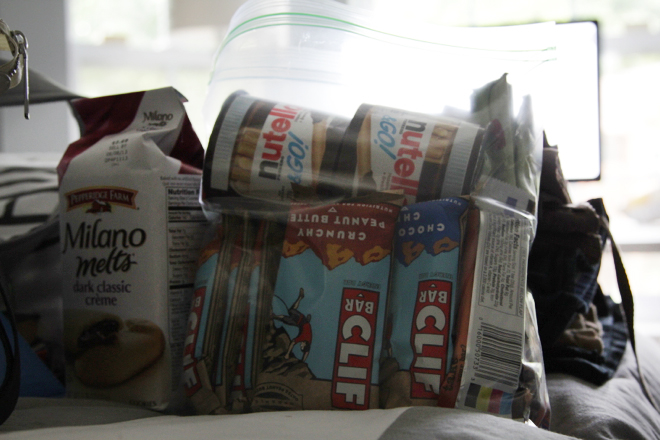 Medicine
Dramamine (drowsy and non-drowsy) – by the end of our trip it was all gone an everyone was wishing for more.
Motion sickness oils – I can't tell you what a difference a few drops of lavender oil behind our ears made on those winding roads. By the end of the trip we were all believers!
Tylenol PM – I took one every single night, just to help me fall asleep and stay asleep in less-than-comfy conditions. It really helped.
Tons of Ibuprofen – you will get a headache for sure if you're messing with altitude or exhaustion. Plus, muscles get sore after long days of hiking or sleeping in funny positions.
Imodium and Pepto (and even fiber!) – you never know how your body will respond to unfamiliar foods!
Antibiotics – just a 3-day pack is great. You can either ask your doctor in advance or if you get your shots at a place like Passport Health, they'll give you whatever you need. (This actually came in VERY handy for three of the people on our trip – we were so grateful to be able to have good medicine for them right away!)
Other things you never knew you always needed:
Night light –I appreciated having a little light in the night when I woke up in a strange place. I bought a $3 plug-in one at Ikea, and it looks like you could get a

4-pack here

.
Travel candle – I literally grabbed this off of my kitchen counter the morning we left. It was a glass Volcano candle from Anthro, and I stashed a small pack of matches inside of it. (If I had thought ahead I would have gone with a tin, travel-size.) This probably sounds so fluffy, but I loved it that our hotel room smelled like home every night and every morning (some of the places we stayed were a bit on the stinky side!)
Collapsible Water Bottle – Jeremy, one of the FH staffers, had one of these and we were all jealous. While we hauled around half-empty water bottles, he kept his water pouch tucked comfortable in his pocket or clipped to his belt loop. It was only ever as big as the amount of water he had. Genius.
Cocoon sleep sack – Everyone on the trip listed this as the #1 thing they were so glad they packed. It just a sleeping bag made out of sheet material with a pouch up top for a pillow. We felt safe from bugs (especially bedbugs!) and germs and whatever else and it absolutely contributed to a better night's sleep all around. (BTW – Sarah pointed out that you could absolutely save yourself the $25 and make one with an old bedsheet for free!)
Antibacterial wipes – at least one pack. Because washing your hands with water doesn't count in Guatemala. Even after showers we had to sanitize.
Antibacterial gel – this is obviously a must, and not just before meals. We were constantly passing around squirts of sanitizer and even still three people got pretty sick. My suggestion: get a bottle that can hang from your bag so it's always accessible and you won't have to dig for it or wonder if you've misplaced it.
Makeup remover wipes – an absolute joy at the end of a long day! Even if you're not wearing makeup, a clean face just feels so nice!
Baby wipes – I know. That's a lot of wipes. But when a shower isn't an option, these can de-stink you a bit. Or at least make you feel a little fresher.
Washcloth – everyone wished they'd packed one. I think we all just assumed they'd be provided at the places we were staying but either they weren't or they were too yucky to feel safe using. Honestly, I'd pack a travel towel if you have space.
Travel pillow – we didn't have pillows every night and the people who brought pillows from home were the envy of the group. Lindsay packed a  small travel pillow and Chris (Sarah's husband) brought a legit pillow from home.
DVDs or movies loaded on your laptop/iPad – I grabbed our Netflix envelope on our way out the door to the airport the morning we left and was so glad I did. Way cheaper than paying $7.99 to watch a movie on the plane, and nice to have the option of a movie to wind down at the end of a super long day.
Vacuum seal roll-up bags – Bronwen packed these and they are a great space saver!
Ear plugs and eye mask – even if you don't typically use them, you will just have so much less control of your sleeping conditions – from sleeping all together in one room with snorers, to roosters jumping the gun on the sunrise, to catfights on the metal roof above your head, if you value a good night's sleep, PACK THESE!
Passport pouch/money belt that can be strapped to yourself – to protect from losing the most important thing you'll need to get home. You can buy one, or make one by stitching a little rectangle of fabric and pinning it to the inside of your waistband
Permethrin – Probably not everyone will agree with me on this, but the folks at Passport Health who gave us our shots recommended it. We sprayed all of the clothes we were going to wear a couple of nights before we left and let the mosquito/tick/etc. repellant dry on them. Once it dries it's odorless and safe, and kept us from having to apply a strong deet directly to our skin. It lasts for 6 weeks or 6 washes. I literally did not get a single bug bite the whole trip.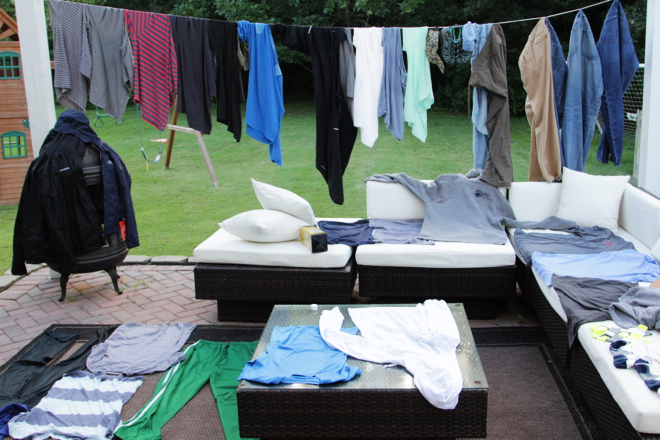 Another thing that might sound super silly but almost every girl on our trip either did or wished they had done: make a run to the nail salon the day before you leave and get a nail shellac. I didn't want to have a bright color for the trip, so I just chose OPI Bubble Bath (get three coats!) and it kept me from worrying about breaking/chipping my own nails or polish. (I know, I'm reading what I just wrote and I understand that it sounds silly to get your nails done for a trip to a developing country, but I was so glad I did!)
Soccer ball and pump – Ryan was especially excited about playing futbol with the school kids. We weren't sure if they'd have a ball there or not (they didn't – only a smallish bladder of an old soccer ball), so I bought one at Target before we left (75% off in the toy clearance!) , just in case. We deflated the ball to pack it, and left the pump and the ball with the kids before we left. A simple gift to leave, and an awesome way to overcome an enormous language barrier!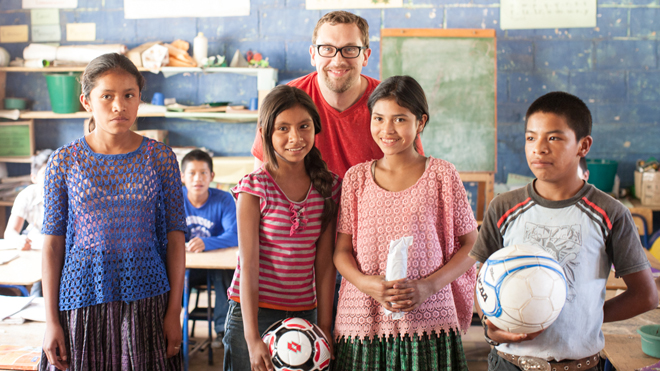 (This was the school's Athletic Committee. They wanted to formally accept the balls and pump. Bless my soul was that cute!)
Especially if the purpose of your travel is Internet-related:
Mophie Case or other method of charging your phone away from electricity.
Power strip w/ USB input – the night we all slept together in the Seoguis school, we turned one working outlet into five! The one I packed is small and has three outlets and two USB inputs.
Internet stick (specific to the country to which you'll be traveling) – FH provided 4G sticks to us when we arrived and, believe it or not, we even had moments on the mountain roads where we were able to write or check email. Also, the hotels' wifi was so spotty that we never would have been able to pull off that live Twitter chat (we trended worldwide!!) without them.
Some things we packed and wished we hadn't:
Via packs – we absolutely expected to be so happy to have these, but it was hard to find hot/safe water and all of the local coffee we were served was really excellent!
Bulky clothes – several of us packed big sweatshirts and none of us used them. It really is all about layers and a denim shirt over a v-neck was really as layered as any of us needed to get
DSLR – if you're traveling with a trip photographer, you can absolutely leave your personal DSLR at home! We packed ours (even bought a nice travel case specifically for this trip!) and left it at the hotel almost every day. Our job was to experience things first hand and to be present – having a photographer was an awesome luxury and there was really no need to supplement what she provided.
Umbrella – it definitely rained and drizzled in the mountains on our trip, but I had my travel umbrella in my Kavu bag the whole time and never used it once. My rain coat was enough and I wanted to have both hands free.
Tennis shoes – if you pack something like Keens, leave the tennis shoes at home. They just took up space in my luggage and I never even pulled them out of my suitcase.
Hammock – I packed the Eno hammock and slap straps we've had in Oliver's room thinking it would be cool to kick back and relax in it. There was literally never a moment to spare for lounging, I totally should have left it at home!
That's the list that we came up with. What about you? Is there anything you packed for an international trip that made you feel absolutely brilliant? I'd love to hear!
But on the real: Apart from the silly (yet hopefully helpful!) packing suggestions, you guys, this trip was about so much more than travel candles and a good pair of waterproof sandals. When we were in the villages and with the people, it wouldn't have mattered a stitch if we had come only with the clothes on our backs. Lives were being changed. And I don't just mean the lives of the people in the village – I mean ours!
Seeing firsthand the benefits of (and need for!) child sponsorship, I would be absolutely remiss if I didn't continue to share with you the real, rubber-meets-the road ways that $35/month can make a difference in the life of a child, a family, and an entire community!
Even after our trip, there are still so many children in this village who need people like you and me to stand up and say, "I believe in you!" and "I want to walk with you!". Here is a link to the children in the community we visited. Take a look, talk to the Father, talk with your spouse, and consider joining me in laying a claim on the people of Seoguis, Guatemala.
Related posts: