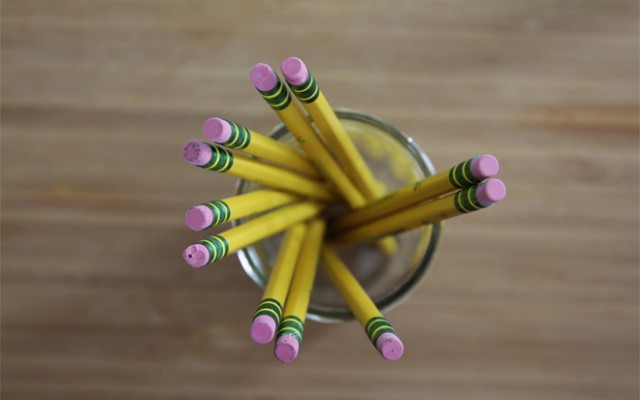 The only thing that scares me more than homeschooling itself, is blogging about homeschooling.
And yet, here I am. Doing both.
I think blogging about homeschooling scares me because I understand what a personal decision your child's education is. Super personal, super individual. Often needing to be re-evaluated on a year-by-year, child-by-child basis.
I have hesitated to share our experience because I seriously care about y'all's hearts. I never want anyone to feel isolated – and I never want to come across as if I have all of the answers. Please please know as I share our decisions and experiences that I understand that there are a billion variables in everyone's lives that contribute to their schooling decisions. These are ours. And believe me, when it comes down to it, we're just all trying to do what is best for the children to which God has entrusted us.
I am neither above you or below you – I'm right alongside you and I love it that y'all are always so sweet to come alongside me and my family!
——–
Last year, Oliver attended public school and he really had a fantastic experience. (I only attended public school for Kindergarten, and Ryan was in private school all the way through – so this was very new for us!)
He went into his Kindergarten year with only a few sight words committed to memory and by the end of the year he was reading small chapter books on his own. His teacher love love loved him and she really did a great job instilling a love for reading in our little guy. Oliver was absolutely in the right place last year. Absolutely.
By the end of the school year, however, we had already come to the conclusion that Oliver would do first grade at home this fall.
Our main reasoning:
The public school system did an excellent job (better than I could have done!) of teaching Oliver the "what" of every subject. However, we very clearly felt the absence of the "why" and "Who" in everything he was learning. Why does 1+1=2? Who created caterpillars to transform into butterflies? What can that teach us about Christ? We want our son to know that there in one truth in Math, just like there's One Truth in life. We want him to be shown the Creator in every subject, because He exists in every subject.
Discipline-wise, we found that his classroom behavior was being shaped by social pressures. For example, a situation with lying was handled from "don't do that, that's bad"-behavior perspective at school, and a "here is why this is not okay"-heart perspective at home. We need a partner in shepherding his heart, not training his behavior.
Oliver made some awesome friends in school this year. He still very much keeps in touch with his school chums via playdates and sports. One thing we did realize when we sent him off to school, however, was that putting him on that school bus (or even kissing him goodbye in the drop-off line) was that in sending him away from us for nearly eight hours a day, we were letting a lot of new influences into his life and losing more control than we were comfortable with. While he had a perfectly lovely classroom full of 6-year-olds, some of those 6-year-olds had older siblings. And while the classroom was a relatively controlled environment, the cafeteria was not. Neither was the playground. We know that we can't protect him forever, but we choose to protect him for now.
School days are long. Eight hours (that includes travel time) is a long time to be away from home five days a week. Early in the year we started to realize that kindergarten was almost like a full-time job for our six-year-old and though he couldn't always express it, being away from his people like that was very emotionally wearing on him. Don't get me wrong – Oliver is a social marvel. To know him is to love him and he is a natural leader. But we're his parents. We know when too much is too much. We'd like to give him at least one more year at home with his people. We want to be his influencers.
Finally, Oliver excelled big-time academically this year. In fact, after doing a little placement-testing of our own near the end of the year, we realized that his aptitude might be beyond his peers in some areas. We want to challenge him and pace him individually in the areas in which he excels.
Bottom line: we need to take one year at home with him, and then we'll re-evaluate!
—–
So that's that. Written out as much for me as it is for anyone else. My own bloggy self-pep-talk because, as I mentioned above, homeschooling scares the pants off of me!
Also, selfishly, I was so looking forward to all that me-time at home alone during the days while Oliver and Hazel were at school (did I mention that Hazel starts two-morning-a-week preschool this fall?). I just keep reminding my self though – "they'll be big before you know it." Invest invest invest in them now, so you can enjoy enjoy enjoy them later!
I'm scared – honestly, a little panicky – about how it's all going to work.
But so far, we know this: He'll attend a fantastic, highly academic, two-morning-a-week tutorial here in town to cover history, grammar, etymology, science and literature. We'll have a good bit of homework during the week from all of that, then I'm on my own for things like math, spelling, handwriting, and any extracurriculars like art, athletics and music.
We'll also do Bible lessons every morning after breakfast – I'd like he and Hazel to (re)memorize the ABC Bible Verses that he recited on his 4th birthday (if you watch the video, he gets a lot more focused by the third minute). Seems like a good place to (re)start!
I feel about 45% prepared right now, but I have very little time left as we're planning to get started shortly after Ryan and I return from Guatemala. Here is what we're planning so far:
Math: Saxon Math 2 (this may be a little ambitious, but since he placed so high in math, we'd love to have him through Math 2 by Christmas and onto Math 3)
Reading: We are loving working our way through the book list in Honey for a Child's Heart by Gladys Hunt.
Spelling: Spelling Workout by Modern Curriculum Press
Handwriting: Draw then Write 1-3 (This is actually a cool book – the child gets step-by-step directions to draw a clown or a shark, then they're given space to write about that subject. A great fine-motor builder.
Copy Work: Also sort of handwriting, we're using A Reason for Handwriting, which basically gives students scripture to copy, practicing both handwriting and working in partnership with a Bible lesson.
Art: among other things, we're actually going with a subscription to Kiwi Crate! We tried it this summer and each monthly box comes with several great projects. Both of my kids have loved it!
What do you think? Anything I'm missing? Can I do this??
I'd love to hear advice, specifically about:
how to homeschool one child with a younger sibling at home?
are there any specific things (things you buy or things you do) that might make our time feel more structured (I'm going to have to type-A this thing!)?
what are some ways to make the "first day of school" feel official?
in other words, how can we best make shifts between home and school/teacher and mother? Or is that not important?
Seriously, I'm so new to this. I'm very fortunate to have lots of friends and neighbors who homeschool, so the support system is very much there! But I also love to ask my interweb friends – y'all always manage to tell me things I didn't know!
Have an awesome Wednesday, friends! I'm headed to Chicago with my sister tomorrow to host an event with Land of Nod and Bump Club Chicago and I'm just a leetle bit geeked about it! (Anyone who will be in the Chicago area is welcome to come! Y'all can RSVP here!)
Related posts: