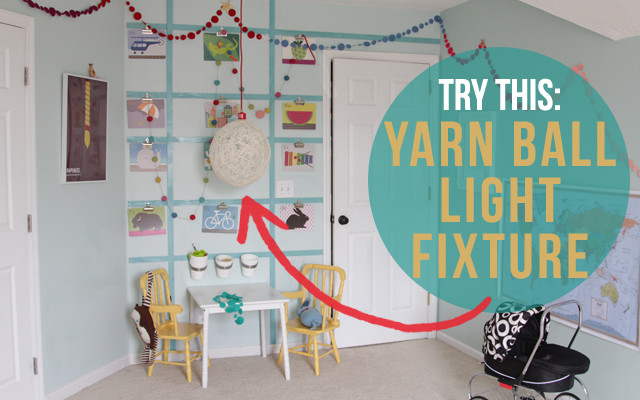 I feel like our bonus room is the one room in our home that will probably be evolving for as long as we live here. It has served as an office, a family room, and for the past few years (and probably for a good while still), it is our play room.
And even as our play room, I imagine I will always enjoy adding little bits of happiness to it – just to keep it feeling fresh.
Recently, I decided it might be fun to switch up the area above the kids' coloring table – maybe a pop of color with a touch of DIY. I didn't want to spend a lot of money, and I've been dying to attempt a yarn ball light fixture like the ones that currently hang above the cash register at our local Anthro, so this seemed like my chance.
Of course I didn't bother to take the time to research how other folks have done it, I just took an afternoon with my sister and we sort of winged it. Trial and error taught us a lot and I'm excited to share what worked really well for us to make our very own Yarn Ball Light Fixture:
cord kit // foam or bristle brush // cotton yarn
mod podge // round balloon or punch ball
—>I'm sharing the full tutorial today at Honest to Nod,
so click through for the step-by-step and lots more pictures!<—
Other fun things you may have seen in this post:
Rapunzel Print // Alphabet Wall Cards // Pallina Game
Felt Ball Garland (similar) // Pretty black + white pram
Have an awesome Monday, friends!
Enjoy the sunshine and exercise your creativity this week!
Related posts: