This year we have the unique joy of celebrating the arrival of Christ with a 6-year-old and a 2-year-old. Every Christmas will be different, but this year, we have these ages and we want to really enjoy them and teach them where they are.
I don't know how many of you celebrate Advent or how you celebrate Advent, but we like to take the weeks leading up to Christmas Day (traditionally 28 days, beginning the 4th Sunday before Christmas – December 2nd this year) to focus on the Story, and to focus on our family.
For years we've followed (loosely – our kids are little and we weren't great with the habit) a Messianic-prophecy-style scripture reading plan using a Jesse Tree. This year, I've had the enormous privilege of working as a part of the SheReadsTruth team to prepare a scripture + devotional plan for the women and families of that community. (Please! Join us! It begins this Sunday and anyone who wants to is welcome to use the plan!) We've been working since mid-October, doing a lot of studying and learning and digging to put together a worshipful and meaningful advent plan that we ourselves look forward to following with our own families. (We're thinking we'll do the readings every evening after dinner together, and I might do the related personal devotionals on my own during the day.)
This year we also added this lovely Advent Calendar to our new routine and have been inspired to engage our kiddos in some fun, Christmasy activities each day along with the daily scripture readings.We wanted these things to be simple, not making us super busy, or costing much if any money.
Ryan and I sat down together earlier this week and came up with this plan for our family of four: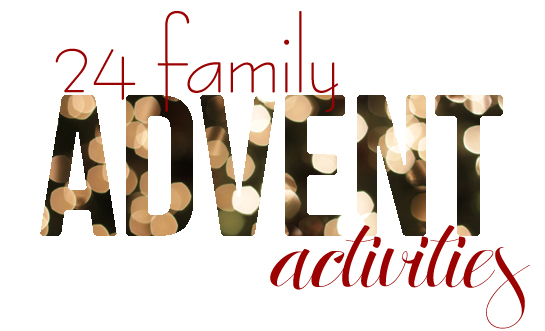 (bear in mind that Advent begins on December 2nd this year, so these numbers correlate to the day of Advent,
not the day of the month…)
1. make paper snowflakes
2. puppy chow + hand write some christmas cards
3. pinecone bird feeders
4. act out the manger scene with nativity toys
5. charlie brown christmas
6. sleep under the christmas tree/in the living room
7. family christmas shopping
8. make a gingerbread house
9. groovy's secret recipe chex mix
10. late-night, school-night walk downtown (with warm drinks!)
11. sock snowball fight
12.caroling + take a meal to someone who needs it
13. make peppermint play doh
14. go see elf at the downtown theatre
15. ice skating
16. hide + seek in the dark (with flashlights!)
17. bedtime sonic/jammie run!
18. christmas music dance party
19. opryland lights in nashville
20. kids' choice!
21. special breakfast out + christmas lights drive with grandma (a long tradition)
22. kids party @ grandma's, parents go to white christmas at franklin theatre
23. grandma tillie's cookies, christmas eve service, stockings, etc.
24. christmas day!
Do y'all celebrate Advent? If so, how and what ages are your kiddos? I'd love more ideas! Are any of y'all planning to join us for the She Reads Truth Advent Plan?
"Come, Thou long expected Jesus
Born to set Thy people free;
From our fears and sins release us,
Let us find our rest in Thee."
"Come Thou Long Expected Jesus", words by Charles Wesley
Related posts: