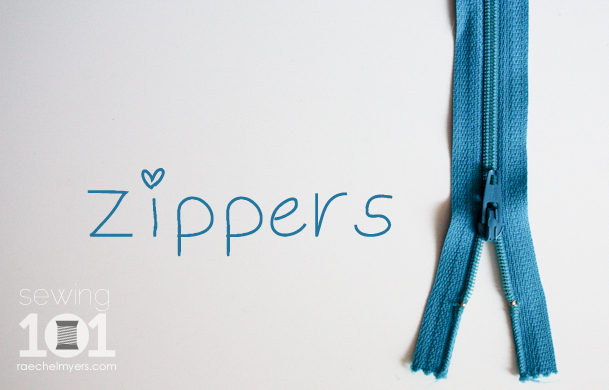 Hello and welcome to zipper day!

Today you will need:
1 – all-purpose zipper (4″ is great, but longer is fun because it means we get to shorten it!)
2 – 4″x6″ fabric rectangles
sewing machine with zipper foot "I"
needle and thread for hand sewing
scissors and/or snips (have your non-fabric scissors handy to cut through your zipper)
iron & ironing board
seam gauge

Today we'll cover two basics: How to shorten a zipper and how to install a centered zipper.

Shall we?

SHORTENING A ZIPPER'S LENGTH

It's super easy to shorten a chain or ladder zipper with just a needle and thread. (And some of y'all may want to do this so you can carry on with the rest of the lesson!) Here's how:

CENTERED ZIPPERS

This video turned out to be so long that I needed to break it into a Part 1 & Part 2. No worries, though! The first video sets everything up and bastes the zipper in place (remember basting? we're using it, yo!), and the second video is where it all comes together beautifully. You're going to be pleased.

There are tons of other types of zippers (like invisible zippers and the kind that zips up your ribcage on the side of a pretty dress or the fly of your pants), but this is where we'll stop today. Knowing this most basic type of zipper installation is great!

And tomorrow, we have a happy, easy lesson about snaps and elastic! Yay, us! (you may want to grab some snaps – I use the "pearl snap fasteners" at JoAnn's – and some elastic. any size will do!)

Disclosure of Material Connection: I received the Brother NX800 machine mentioned above for free in exchange for a mention of the product in my blog. Regardless, I only recommend products or services I use personally and believe will be good for my readers.
Related posts: