Hello, friends!
Today: tucks. We were going to do tucks and pleats, but it's just too much for one lesson – for either of us!  It's possible that the tucking technique is a little beyond the label of "beginner", but hopefully I'll be able to give you all the tools and information in this lesson to pull you up to a new level as a sewist! I really think y'all can do this.
We may do pleats in a future lesson, but honestly, once you conquer tucks pleats feel like a walk in the park.
"And why would I teach you about tucks?", you ask. (I never know how to punctuate those. Christine – help?) Because they're such a beautiful and increasingly popular detail for things from clothing to home decor that you can do yourself! And when you do, people think you're amazing. Because you are.
A few favorite examples of tucks being sold for top dollar currently: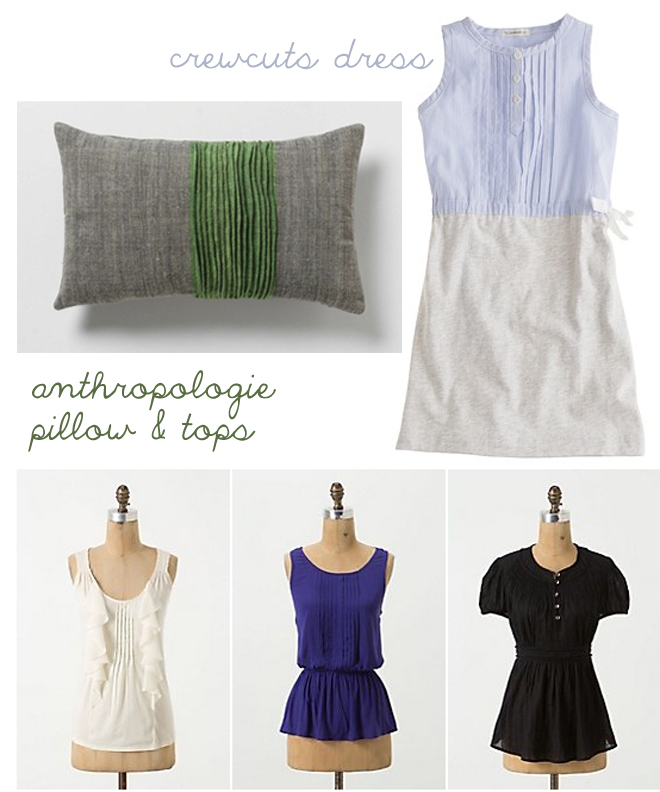 Also, feel free to check my ever-growing pin board of pin tuck pretties on Pinterest for more inspiration to use your newfound skill!
Okay, let's jump in to the lesson!
To begin, I made some lovely little worksheets for you. (How is Scribd working for y'all? Any troubles?) Print the three pages below, then gather the following tools:
three 4″x6″ fabric rectangles (does this totally throw you off? if you only have squares, it's okay)
marking pen (I use the double-sided one with purple and blue disappearing ink)
cutting mat
acrylic ruler
*you do not need your rotary cutter for this unless you need to cut new rectangles. I say you do in the video, but it's not true. don't believe me.
**Note: If you're having trouble printing with Scribd, just click here to view and print Spaced Tucks, Blind Tucks, and Pin Tucks)**
And if you'd rather not print the pages right now, here is the same information right within the post. So accommodating, I know.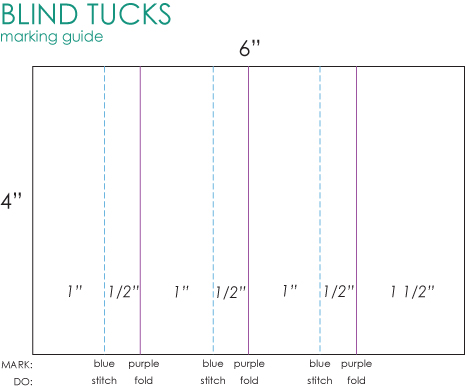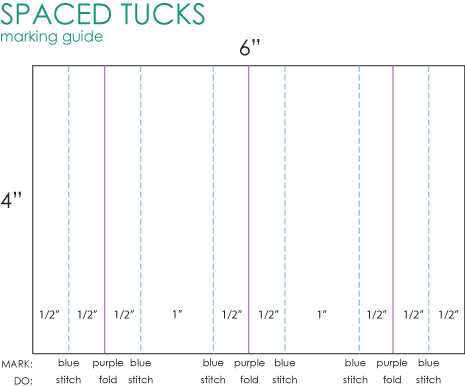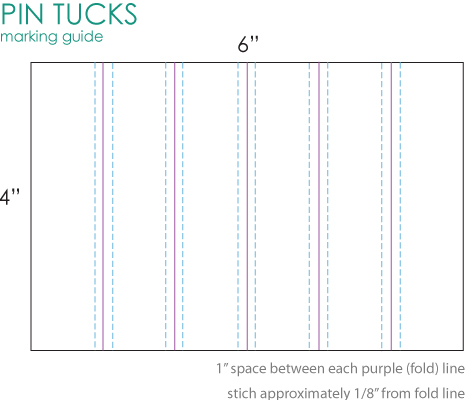 Ready to roll? Let's watch the first video!
Okay, now that everything is marked, it's time to press the folds and stitch the tucks into place. This is what you'll need:
iron & ironing board
sewing machine loaded with thread and ready to roll
you'll use a 3.0 straight stitch with the needle in the center position to begin
snips
your pretty (and growing!) sewing book
Here's the next video:
And after all of that, page 8 should look something like this: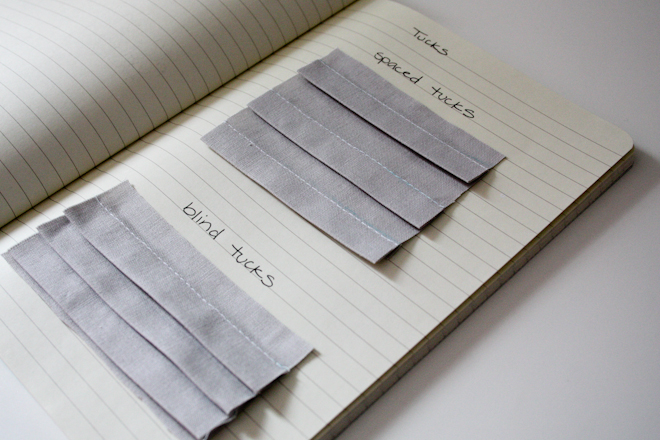 And page 9: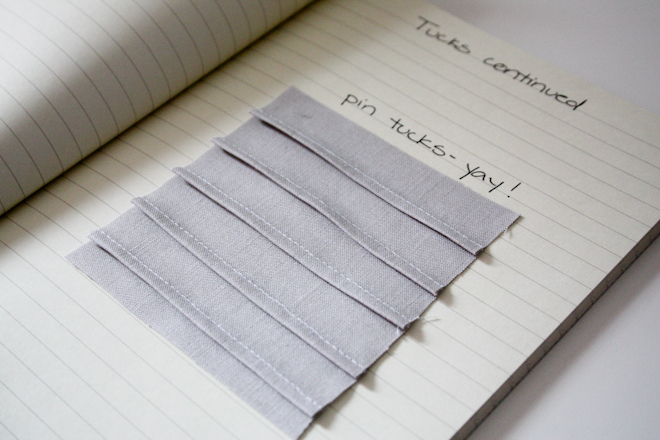 And a bit more information:

Tucks are fun and easy enough to make when you're working with 4×6 rectangles. But what if you want to do pretty tucks on a shirt or a pillow? My best advice: rather than altering a pattern to accommodate future tucks, do all the tucking first, then cut your pattern. There will be some math involved to figure out how much fabric you'll need to begin with, but it's not impossible. And, it's way simpler than the former.

If you're an intermediate sewist taking this course, try making a pillow like the Anthro one pictured above. (If it helps, use my simple pillow-making tutorial.) Play with widths and angles and get creative – what would it be like to pice fabrics together and then tuck them? FANCY!!

I'm just giving you the basic skills – I'd love to see what sorts of projects these skills equip you to create! Keep sharing photos here – I love to see how you're doing!

Tomorrow we jump into shirring. Then a break for the weekend. Then three lessons next week about fastenings. Then we'll be ready to learn how to sew from a pattern!

Have a lovely Friday, friends!

Disclosure of Material Connection: I received the Brother NX800 machine mentioned above for free in exchange for a mention of the product in my blog. Regardless, I only recommend products or services I use personally and believe will be good for my readers.
Related posts: