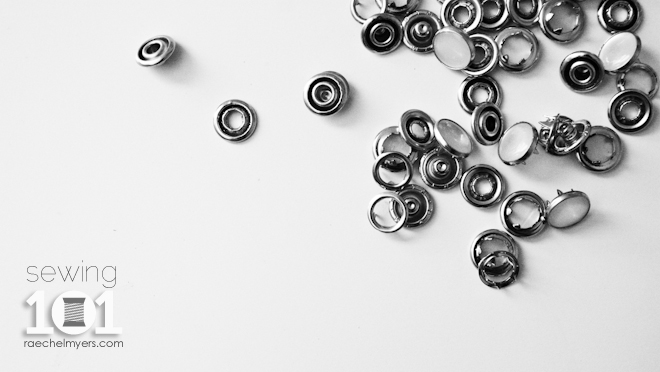 Hello, Friday!
This is our last Sewing 101 technique lesson for the series. Can you believe it? We've covered lots of good stuff over the past three weeks, but you guys, there's still so much to learn! I will see what I can do about occasionally adding lessons over the summer and linking them onto my Sewing 101 page – which has become quite a convenient glossary of sewing skills by now, hasn't it?
But before we get ahead of ourselves thinking about more lessons and the fun we have ahead of us next week putting together our market bags, let's talk about snaps and elastic!
Snaps are awesome because not only are they a fantastic cop-out to buttons and buttonholes, but they actually look legit and thus, not like a cop-out at all! Snaps are fast and inexpensive and a really handy option for a fastener.
But what good are snaps if  you're not confident about how to install them? No good, I say. So let's learn! And be sure to heed my words of warning, let you punch a hole in your table top like *ahem* someone I know. (me. okay? it was me.)
INSTALLING SNAPS
What you'll need:
snaps – I use the pearl snap fasteners . You can get them at JoAnn's or save the gas and get them online. Plain is fine, too.
a hammer
a block of some kind (best if it's not much wider than 1″ or so)
4 – 1.5″x1.5″ fabric squares
marking pen
cutting mat or book or magazine (to protect your table)
Page 13, in all it's glory: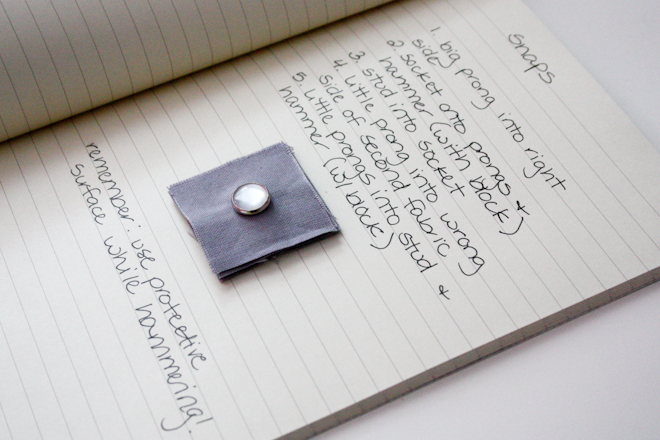 ELASTIC TWO WAYS
And now, elastic. The below video will show the two elastic techniques I'll teach in this lesson. Your book is about to get fuller still!
What you'll need:
elastic – 3/8″ is ideal. One 3″ length, and one 4.5″ length.
marking pen & seam gauge
snips & scissors
safety pin
1 – 4″x4″ fabric square
1 – 4″x8″ fabric rectangle
iron and ironing board
sewing machine with matching top and bobbin thread
Machine Settings for the first part:
stitch style: straight stitch
stitch length: 3.0
needle position: center
Machine Settings for the second part:
stitch style: straight stitch
stitch length: 3.0
needle position: center
and later…
stitch style: zig zag
stitch length: 1
stitch width: 1.5
And by now, pages 14 & 15 should look like this: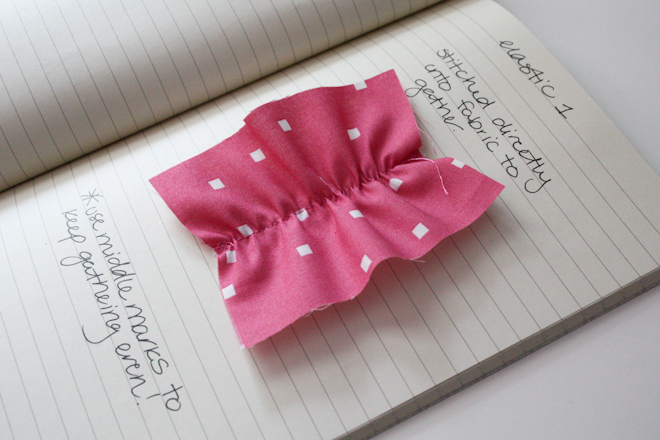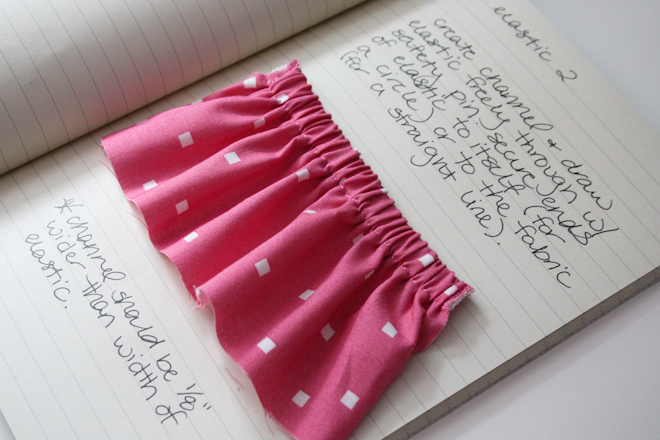 And, your book should look something like this: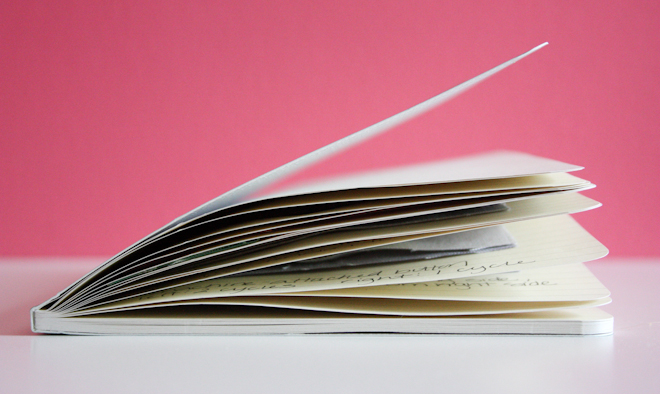 See you next week, friends! We're going to make a pretty Market Bag and put all (or at least some) of our new skills to use!
Related posts: