You have to know how much it took for me to resist titling this post "Finding My Feet". I mean, come on.
Today's lesson is less of a lesson and really more of a bit of extra information. We will start stitching on Tuesday and that will involve a handful of different feet, but I thought it would be fun as you are getting to know your machine and what it can do, to see what things you may consider adding to it down the line.
Think of your sewing machine as a camera body. It's what you have to work with, but there is also some flexibility – think of the different feet as lenses! You can do just fine with a "J" foot or an standard 18-55 lens. But think of all the new possibilities that you can unlock when you snap on a ruffler foot, a narrow hem, or a serging foot! It's like slapping a prime lens on your camera and getting a crispy foreground with a buttery smooth background. It's like it makes your machine feel brand new again.
Just think of it as pimping your ride.
Well, pimping, yes. But apart from it being fun to use different feet, it's also pretty important – nay, critical. Obviously you can't stitch a buttonhole with an overcasting foot. And good luck installing a zipper with your walking foot.
So, below are a few standard and not-so-standard feet that it might be fun to see. They're not all necessary (you can still take a nice photo with your standard lenses and create some beautiful garments with just the one "J" foot), but if down the road you want to get fancy, here are a few trick feet that will be useful & spice things up a bit.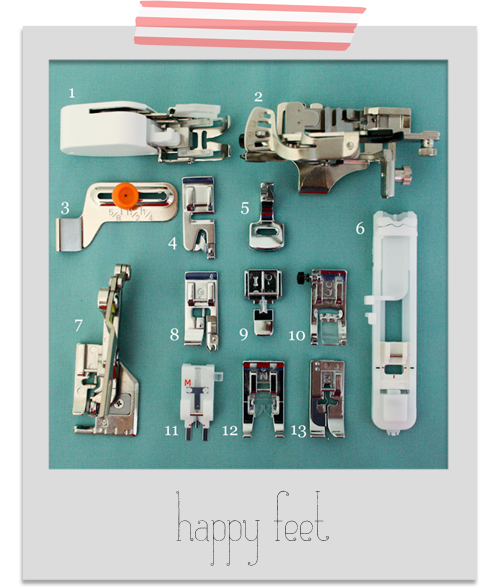 1. walking foot – with the walking foot, both pieces of fabric are fed evenly by the feed dogs and the presser foot. This is useful when sewing fabrics that are hard to feed such as vinyl and leather and when sewing fabric that slip easily like velvets. Also good for quilting to keep all of your pieces moving neatly and uniformly to avoid puckering.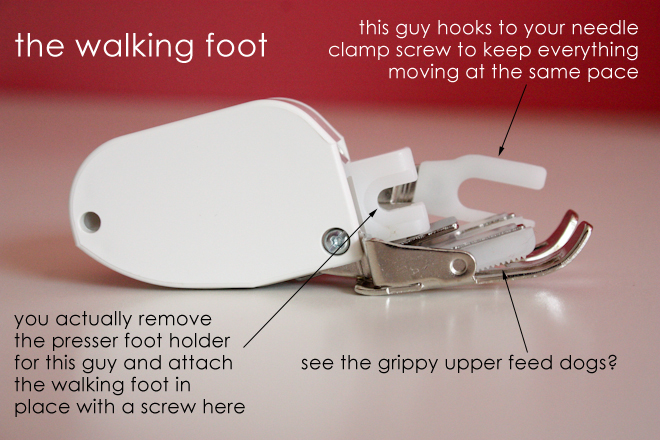 2. ruffler foot– see a video of this bad boy in action in my camera strap tutorial. It has three adjustable settings that allow you to create just the right measured ruffle with knits or cotton. Quite possibly my favorite foot. Like my serger, it simultaneously terrifies and thrills me every time I use it.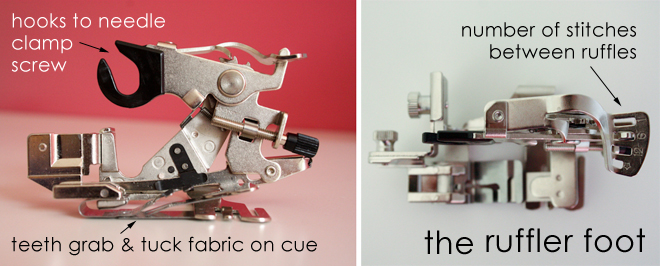 3. seam guide – okay, not actually at foot at all. But, I want to include it here because it's a splendid accoutrement that I feel is worth sharing. That orange circle on it is actually the head of a screw which attaches to the needle plate of your machine (do y'all have a little screw hole on your needle plate?). You can adjust the placement (5/8″, 1/2″, 1/4″…) to set your seam width. Then as you stitch, keep your raw edges running safely against the left edge of your seam guide and not only will you sew perfectly straight lines – they will be even steven! It's like training wheels for your sewing machine. (Because I've beaten the camera/lens analogy to death already.)
4. narrow hem foot – this guy doesn't come standard, but it's nice for accomplishing a tiny hem (1/4″ or so)  for something like ruffles without burning your fingertips meticulously turning and turning-again tiny hems with your iron. The narrow hem foot is tricky to get the hang of, but once you learn it, it's a great time saver!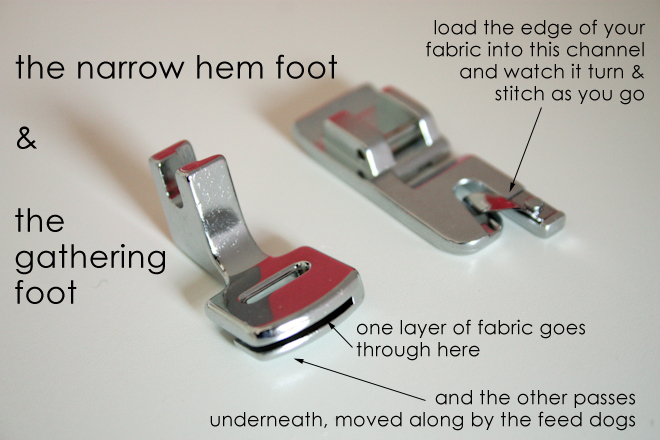 5. gathering foot – this one pulls of a really fancy trick. It makes it possible to gather a lower fabric while attaching it to a not-gathering upper fabric. Without breaking a sweat. I use the gathering foot on my serger more often than this one, but it's a very cool deal once you master it.
6. buttonhole foot  "A" – you can't sew a buttonhole without it! Or at least I wouldn't recommend it. If you're not familiar with this foot, you can actually place the button you intend to use in the foot to ensure the length of your button hole is just right for your button. Very fancy. We will practice button holes during week three and you will learn to love this one.
7. side cutter "S" – it's no serger, but it actually does a great job of cutting your fabric close to your overcasting stitch as you go. A less expensive way to go – especially if you're short on counter space!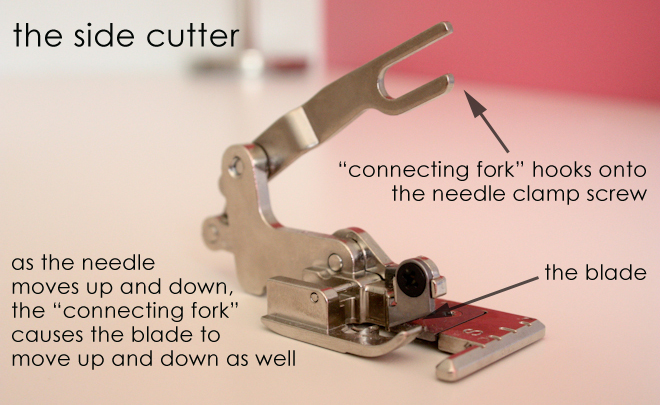 8. overcasting foot "G" – I'll be perfectly honest, I have never used this foot. It's for overcasting (securing/stitching around raw edges) and I just always use my serger. But there was definitely a time (several years, in fact) when I did not own a serger and had to finish edges (like when I made homemade baby legs) with my sewing machine. This would have been the foot to use.
9. zipper foot "I" – don't sew a zipper without it! We will cover zippers in week three.
10. zig zag foot "J" – the most common foot you will use. It's just right for straight stitching, zig zags, basting, appliqué, piecing, stippling, joining, smocking, elastic stitching, and a bunch of other crazy stitches. When in doubt, just go for the "J" foot.
11. button fitting foot "M" – okay, this foot is really cool. I was skeptical at first about using my machine to stitch a button in place (I mean seriously, is it really necessary to use a machine for that?), but after my first button, I was sold. This is not a standard foot, but if you have the foot you can totally perform this stitch on a basic machine. Just drop your feed dogs, set your stitch width (which we'll talk about next week) to the distance between your button's holes (use the handwheel to test it first!), lower the foot to hold your button in place, then let the machine stitch back and forth several times to get it good and secure. Really nice and tidy.
12. monogramming foot "N" – not a standard foot, but this one is good for any stitches that go side-to-side like creating an eyelet, any horizontal stitching, some of the more decorative stitches, and any letters or symbols if your machine has that capability.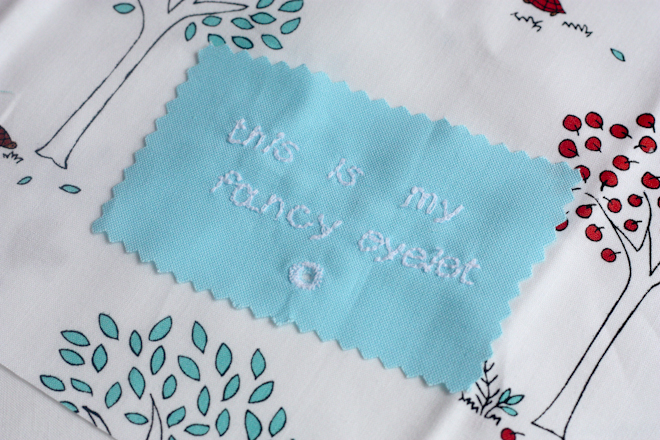 13. blind stitch foot "R" – You know how your fancy pants have a hem but you can't see the stitching? Or at least you can't see much stitching. That's called a blind hem. Using the blind stitch foot in combination with the blind hem stitch setting on your machine will give you a sneaky hem that no one knows about but you.
Okay, that's all for feet today. What's your favorite? Do any of y'all have a ruffler foot? What about a side cutter? And what new thing did you learn today? Do you have a foot you love that I didn't mention here?
Disclosure of Material Connection: I received the Brother NX800 machine mentioned above for free in exchange for a mention of the product in my blog. Regardless, I only recommend products or services I use personally and believe will be good for my readers.
Related posts: