1. I am working on a new sewing tutorial this morning. (Well, I've been working on getting measurements exactly right over the last couple of days, but now it's time to shoot and write!) I can't tell you what it is, but is has to do with knits, circles and little people. Really excited to get it all shot and posted!
2. I am hosting a Stella & Dot party next week for my Franklin girlfriends. Very excited for an evening of low-key, pretty jewelry trying on. And, who would throw a lady party without a big pile of fancy cheeses? Not me! Can't wait.
3. Today is my half birthday! (Which means I only have six more months to say that I'm in my twenties…) Coincidentally, Ryan found two Christmas gifts in one of his dresser drawers this morning that he'd hidden away at Thanksgiving time and completely forgotten about. Imagine my delight! I like to think that he's just that on top of things and wanted to shower me with treats on the morning of my half birthday. So thoughtful, that guy.
4. This weekend I combed through all of my lovely fabric drawers (I had to – I need more room for the new order I just placed!) and I have a good-sized stack of fabric that has to go.
5. My sweet Grandma (my Mom's Mom – the one in Ohio) has been very sick in the hospital over the past several weeks. She was admitted the week of Christmas when they found that she had bleeding in her brain. My Mom left the day after Christmas to be with her in the hospital and stayed for 10 days. They just transferred her to a nursing home (she has always lived at home with my Grandpa). I still have all of my grandparents (and still had four great-grandparents until around the time I went to college), so knowing she is sick and realizing that there will be a day when she is not here has been hard and sad for us. It is hard to be so far away.
6. In other news, I was pretty sure I found cancer on my leg in the shower the other day. Upon inspection, Ryan declared it was just a scab and that I was going to be fine. So good to have a doctor in the house. Even if his degree is from the University of Google.
7. Oh, here's something fun that might interest you: I have a cool local friend (her name is Devon – hi, Devon!). She's awesome and crafty and cool and I want to be like her when she grows up. She has got it together (or at least she's got me fooled!) and she and I share a passion for making things and making them look good. (I'm telling you, this girl's got an eye! And, like me, she never stops creating in her head.). Anyway. We've been dreaming and planning since November and we have decided to host our very first Craft Weekend here in Franklin in March. Yes, a lot like this Craft Weekend that I'm guessing many of y'all have seen? We're going to do a Friday afternoon through Sunday afternoon (and we all get to stay at her awesome house! And real beds for everyone!!), provide all the instruction, lovely materials and inspiration for a good bunch of crafts (maybe half a dozen projects if we can eek them all in). Also, Devon's daughter (hi, Peyton!) is amazing in the kitchen (ask Ryan about her pumpkin donut holes) and she will be making our spirits bright while we play with meals and snacks and treats.  We are going to make 12 spots available for the weekend and we can't wait to meet new friends!
Anyway, more details to come on that.
8. Running. Yes, running. I haven't done it since the race. Judge? Okay, you can judge me a little. But I have to admit, it has felt awesome to take it easy for a few weeks. Of course, now it's time to jump back in. I'm training (beginning this afternoon) for another half at the end of April (the Country Music Marathon in Nashville) and I'm determined to beat my Memphis time. (It seems that I've forgotten the fact that I cried for the last 3 miles of the last race I ran. Seriously, so much of racing can be compared to childbirth…)
9. Hazel. She has decided that she is a big person now and chooses to only speak in complete sentences or phrases. Her voice is so little, but so funny and clear. The other night I wend upstairs to check on her before I went to bed. She was fast asleep, but I felt her diaper and it was too full to make it through the night, so I tried to change her while she slept. I've done this lots of times before, and of course, nobody likes to have their diaper changed when they're happily asleep. She usually protests by moaning or, at best, whining, "noooooooo!". But that night, clear as day, in her sleep, she said, "STOOOP IT!". Sounds like somebody has a big brother and is learning to stick up for herself!
She also says things like, "I want some more." instead of just "more", and when she is unkind, she knows she has to say "I'm sorry,[pause] Oliver". It's so funny, because even when I tell her she needs to say sorry, she always adds the person's name whom she has offended at the end. "I'm sorry. [pause] Daddy." Funny girl.
10. Okay, so it turns out I don't have ten things. This is what I get for getting started without making my list ahead of time. Ah well, let's do a giveaway, shall we? Since I have that big stack of fabric I am getting rid of – I'd love to give some away! Let's do a boy stack and a girl stack. They've been cut into, so nothing is straight yardage, but each piece has enough on it to make something for sure – even if it's just a flat iron cover or headband or bib.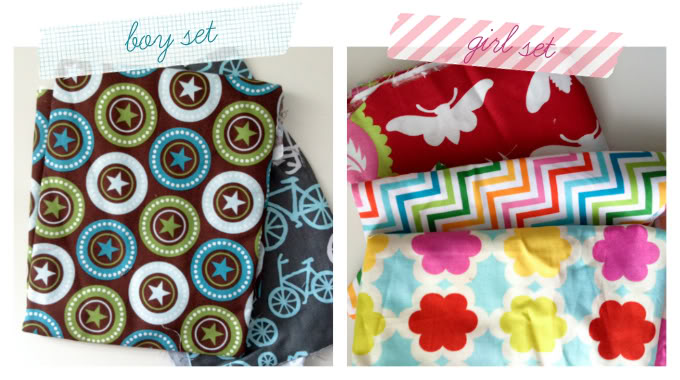 How to enter? Let's make it easy! Just answer this question in the comments, then let me know you did so in the Rafflecopter Widget:
If we were going to a craft weekend, what project would you DEFINITELY want to try?
(you can comment about anything else, too! Just answer this question for the entry to win the fabric.)
Related posts: