[Before I start this post, I have to tell you something funny. Since my fashion photographer went back to college last week and I couldn't handle any more iPhone selfies, I ordered a remote shutter for my camera. I'm telling you this so that you can have an extra layer of enjoyment as you read on – try to spy the remote. Laugh at the awkward reality that I was standing in Oliver's room, alone, with a camera set up on a tripod, shooting glorified selfies for nearly an hour. I'm laughing, so I give you permission to laugh, too. You're welcome.]
OKAY. Now onto the real fun. Because I've gotten three fixes since my last greatest-hits post, and while I keep meaning to do a post that is just about opening and trying on one particular box, well, I keep keeping the whole box. So this is kind of that anyway. Times three.
So, below are my favorites from my past three StitchFix boxes.
And if you don't know what StitchFix is…
Hm… the best way to describe it is that it's an online personal stylist.
You fill out a (free!) super thorough style profile, and whenever you feel like it, you order a Fix.
Based on what you've told them about yourself, your stylist selects five things that will flatter your shape, your coloring, and your style.
The goodies arrive at your door on the scheduled date and you wait ever-so-impatiently until naptime or shower time or whatever. THEN, you get to try everything on!
See what works with what you already have in your closet. See what the style cards suggest for how to wear things (you might be surprised!). Take photos – text them to your friends and ask their opinion! (Or sync fixes with a friend and try them on together!) It's all about the experience. It's fun!
When the fun is over and you've put away your remote shutter (hehe), you simply hang the things you love in your closet (or wear them straight out of the box, let's be honest!), and return what you didn't.
Shipping is free both ways. The styling fee is $20/fix and you can just apply that amount toward whatever you buy.
It's low risk, high fun! And you might even learn a thing or two about yourself!
Now, onto my goodies!
I loved the bird print on this dress. Felt hipster-yet-dignified. Very on-trend. It's a great cut, and will transition easily into fall with maybe some boots and a cardigan! It's casual and pretty.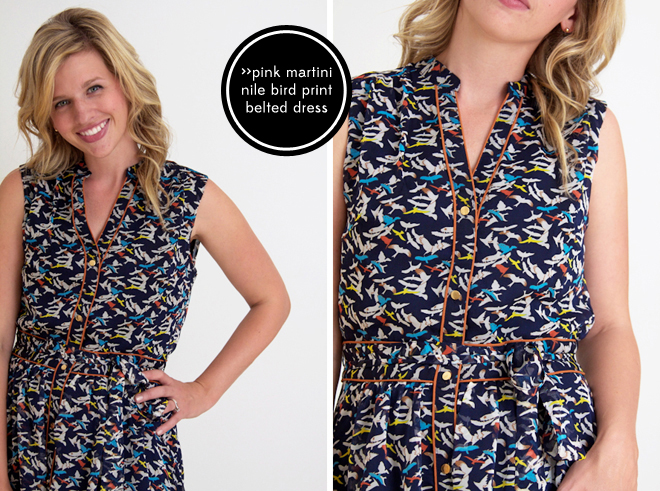 I liked this colorblock dress when I pulled it out of the box, but when I put it on I totally loved it! Margaret (my stylist) is brilliant! It was pretty on its own, but with a belt and that statement necklace it was a definite keeper!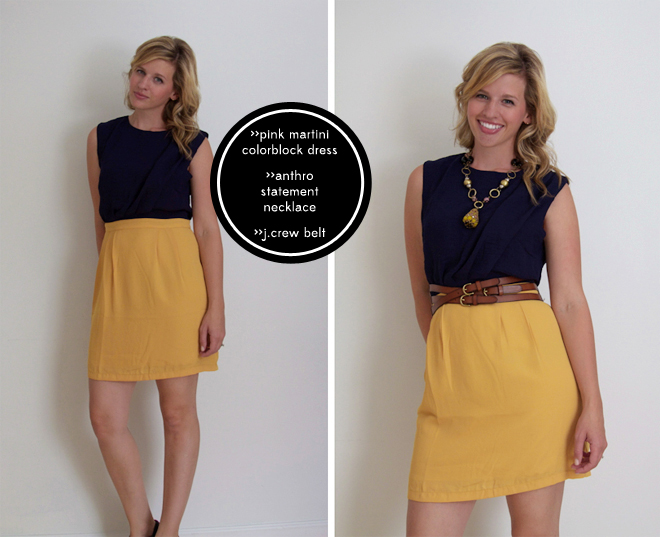 (see how stealthy I am about hiding the remote?!)
I asked for a jacket in my last fix and I love what they sent! Belted, tuck-away hood, and a nice length. The price point totally worked for me at $50.
Also, those burgundy skinnies make me so happy. (You'll see I also kept a plum pair a few photos down!). They can dress up or down (like with a white v-neck!) and they're a great color for fall.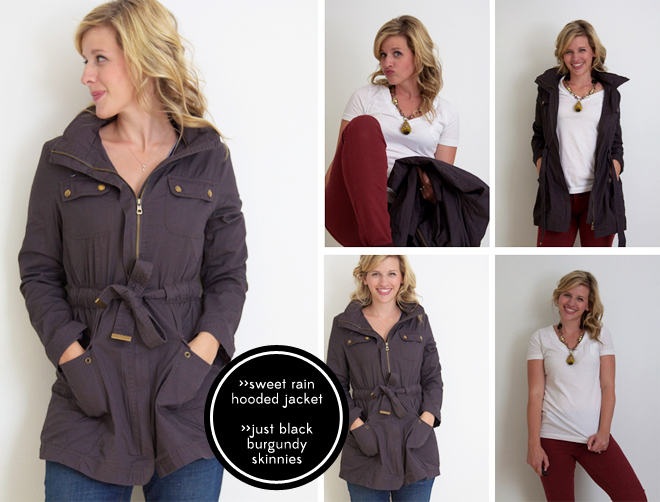 This dress is from 3 fixes ago, but I had to share it because it just made me so happy all summer long. It's sort of a wine color and I love that. The big belt and necklace dress it up for an event, but I totally wear it without all of that on Tuesdays at the library. (I wore it to the Full Moon Pickin Party in Nashville last month and it was so comfy and cute!)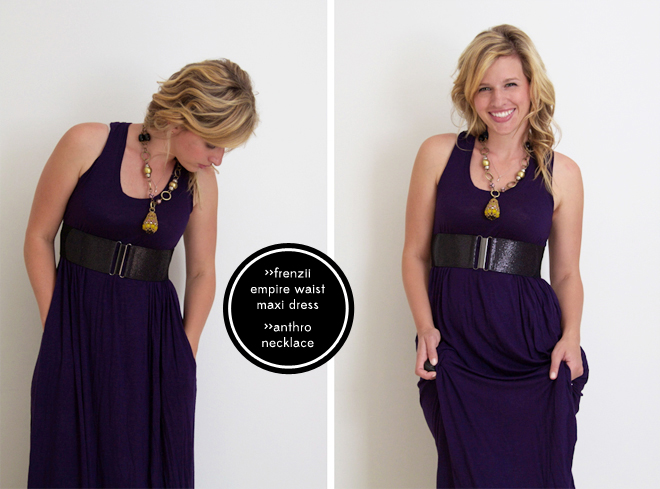 The heart top below might be my favorite thing in my past couple of fixes. I liked it right away, but I just keep finding new ways to wear it. Margaret sent plum skinnies with it and while I never would have thought to buy plum skinnies, I adore them and they are so much more special than just plain denim. (See how it pays to have a personal stylist thinking through stuff like this for you!?)
Also, that trench. It's going to be great for fall and the price worked for me at $48. The navy Aryn K blazer is from StitchFix last fall. Loving seeing it come back into play as the weather cools down. Hurrah for good staples!
Also, Oliver. I adore him! And he was such a good sport about me using his room to do my shoot.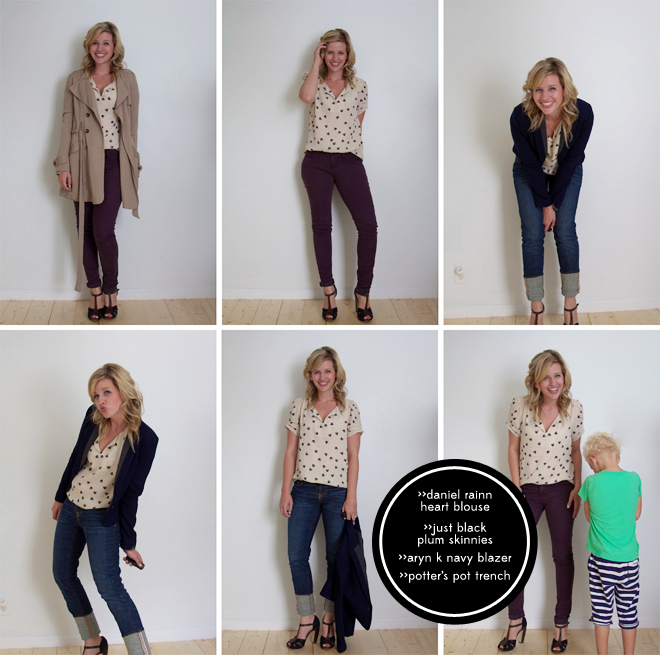 Here are three other tops that have come recently – I like the colorblocking on the first one, the cut of the second one makes me happy, and I like the bold black in the third.
(How about my high fashion pinch and pout there in the middle? You think it needs work?)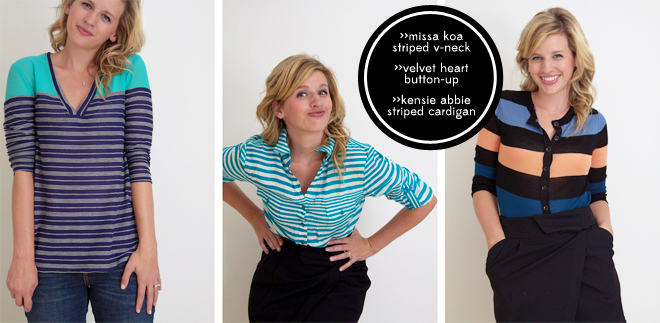 Okay, last one. Y'all, the cut of this top. The hem dips in the front and back, has those pretty studs in the front and a nice cut on the sleeves, too. Ryan gives it two thumbs up for cute and I kinda want it in every color and print. I wear it with shorts and jeans, and I also pulled out the black tulip skirt I got in Stitch #11 and it works great! Yay!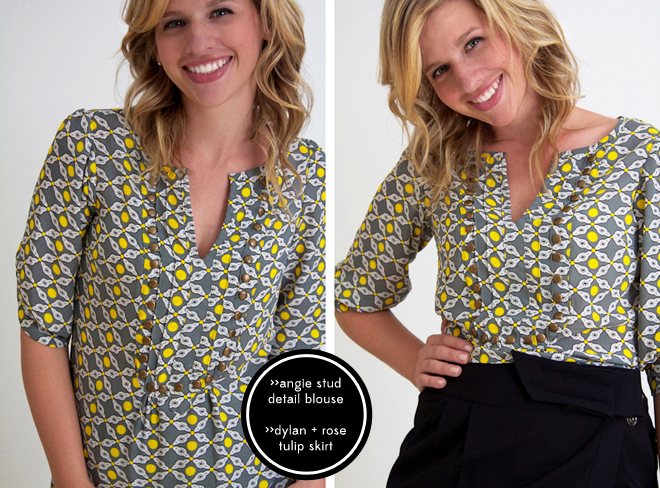 Okay, that's me and my happy little StitchFix fashion shoot :) Did you spy any remotes? And more importantly, what are you waiting for!?! Fill out your style profile RIGHT NOW (it's free) and tell them that Raechel sent you and they'll send you candy bars in your box.
That's a lie. They won't.
But I'm thinking about starting a ChocolateFix shipping service. I think it has promise! ;)
(Also, as I tried to hang all of these clothes back up into my too-full closet it occurred to me that it might be fun to do an instagram sale/auction to make room for fall. Anyone game for that? Would it be inappropriate to name the shop @Raechel'sRack? Probably. Let's just call it @ShopRaechelMyers. There's nothing there right now, but go ahead and follow me there if you're interested!)
That's officially all. Have an awesome weekend, friends!
Related posts: