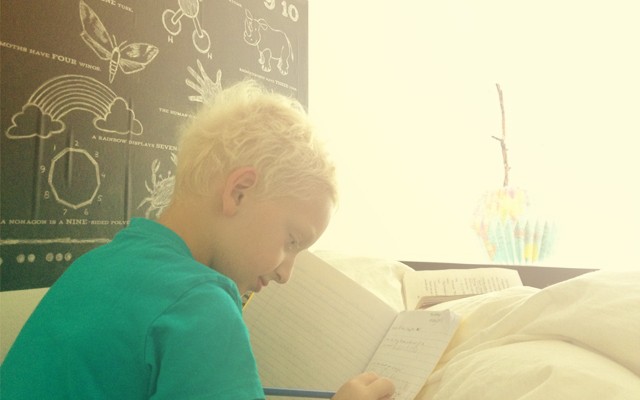 In nearly seven years of being his mom, it really never occurred to me.
But in only seven days of being his teacher, it was so glaringly obvious, I wondered how I could have been so blind.
When an introvert sets out to homeschool an extrovert – particularly without realizing it would be a "thing" – it's definitely going to be a thing.
Last week I poured my heart and soul into teaching and talking and listening and reading. I pushed hard work when it was important, brushed it aside in favor of a break when it wasn't. We did spelling tests, library runs, nature walks, impromptu still life sketching – we even spent the better part of 30 minutes in the "Skylanders" aisle at Target, just figuring it all out.
We spent time. I invested. I was tired but satisfied because I knew I'd loved my children well. I poured my cup out for them and that gave me so much joy.
Until.
Until one afternoon around 4:00. Hazel had just fallen asleep, our school day was over, daddy would be home in less than 2 hours, and I asked Oliver to find something quiet to do on his own in his room. I needed a little down time. And then he said it:
"Mom, I wish you had more time for me."
I cannot tell you what a boulder that was to my soul. All poured out, having given everything I could give to teach and train and love – none of it was enough.
I was crushed. Crushed because I knew that I'd given it everything I had. There was no "I can do more and give more – no problem!". I'd kept him home from school, loved on him from the moment he came downstairs for breakfast, and yet he was very clearly lacking something from me.
Near tears, I texted my dear friend Amanda and she sweetly reminded me, "Be thankful that he will express his heart to you." And she was right. I didn't want to discourage him from telling me how he was feeling, but I did want to get to the bottom of why he was feeling it.
I waited until Ryan came home to fully fall apart. He always seems to know how to put things back together for us.
While I made a solo run to the grocery store (isn't it funny what a glorious luxury a solo, evening run for groceries can be?), the boys talked. Oliver explained to Ryan that what he really meant was that he loved spending time with me so much, he regrets all the time he missed last year by going away for Kindergarten. He said that his words were "I wish I'd had more time with you, Mom"
I honestly don't know if I heard him wrong the first time, or if he'd changed his story, or what. But I imagine there is a good bit of truth in any of it. And, the bottom line was that my son wants me and loves me and values his time with me. Ryan encouraged me to focus first on that, and less on a meeting of his expectations. (I told you he was a wise one!)
The three of us sat down that evening to talk. To express all of our feelings – to hear and to be heard.
I asked Oliver, "Isn't it sometimes nice after a busy day to go up to your room and play by yourself for a while? Don't you feel better if you've had a little time to yourself in quiet just to recharge?"
He sat thoughtful for a moment – he really paused to entertained the idea. Then, shaking his head in apology, "No!"
And THAT'S when I realized. Doy! He's an extrovert! And of course, I know that I'm an introvert. So yes – the enforced "quiet hour" at the end of the day does absolutely nothing to recharge him.
It's a simple, simple concept. Something I should have seen years ago. But it took being his teacher, and really hearing how he felt, to understand his needs when it comes to his personality.
Now, I wish I could tell you that we have some whiz-bang solution to our little personality discrepancy. We don't. But we had an awesome conversation about what introvert and extrovert meant, we talked about some of our friend and family and guessed about what they might be. We talked about the different needs of each personality type and we both really saw each other in a new light.
It's not impossible for an introvert to homeschool an extrovert. It's probably harder because when I want to stay home and work then rest, he wants to have friends filtering in and out of the house all day long.
We'll find our happy medium. We'll pay attention to each other's needs. We'll send him to the homes of trusted friends for people-time while I get a little no-people-time. We'll schedule time for friends to come over to fill up his interaction-loving bucket. He'll get sweetly refreshed at his tutorials and at soccer practice and when he plays with his sister and me, and I'll need to start rising before the rooster if I want to get that alone time that my soul needs.
Seven school days was all it took for us to understand each other so much better. I'm grateful for that. And I'm genuinely looking forward to all the other opportunities living life messy and together will afford us to know how to love each other well.
This is so hard but so worth it!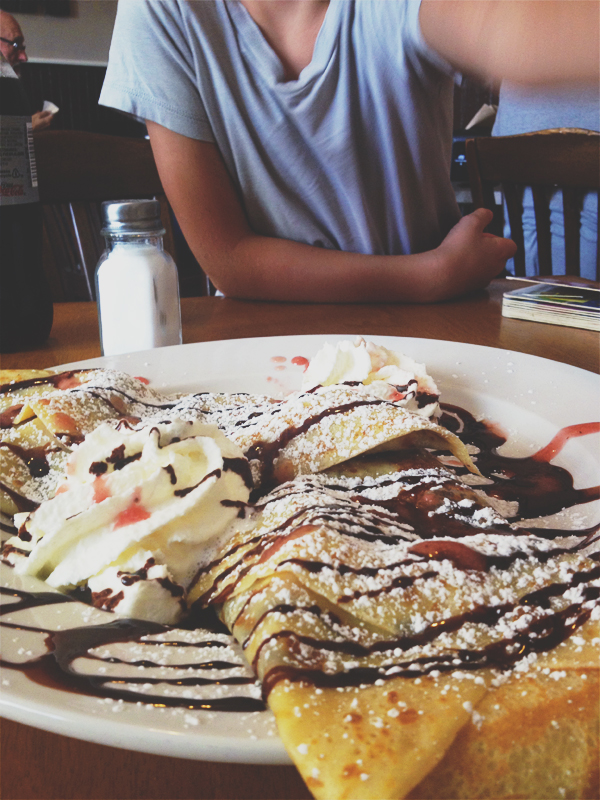 (The mid-afternoon Nutella crepes make it pretty worth it, too!)
Related posts: