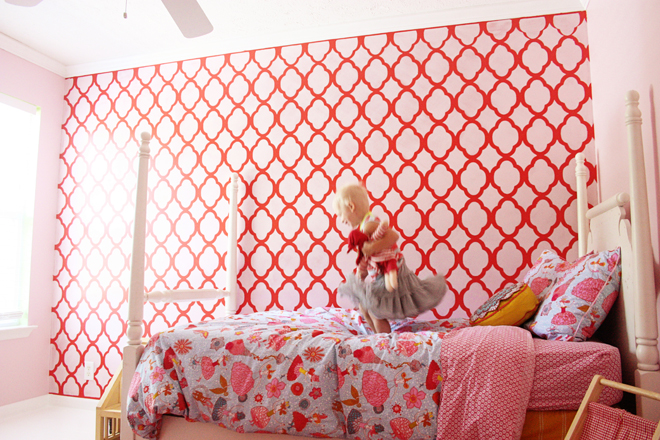 Maybe you remember. If you're a long-time follower of Finding My Feet, how could you forget? The day I decided to turn our kids' shared nursery into Hazel's big girl room, way back in June.
It all started with a swatch of bedding I ordered from the Land of Nod. I spotted it in a catalogue – it was artsy and whimsical and the colors were just right. And just as soon as it arrived, I started "color scheming" (as I like to call it).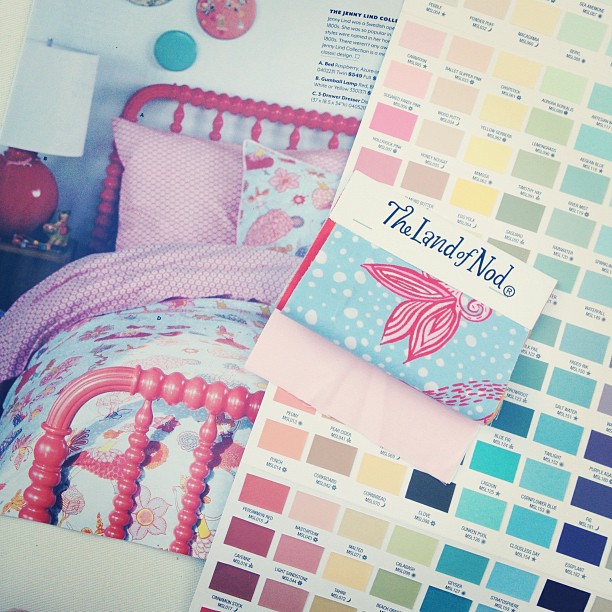 I also had a giant, graphic wall stencil that I had been working up the courage to use. This project seemed like the perfect opportunity, and I had an idea that red-on-pink could look really great. (see my full tutorial here, see paint colors in "resources" below)
We gave the floors a fresh coat of white paint and I posted photos on my Instagram feed as I went, still nervous that after all of this hard work, I might not love the results.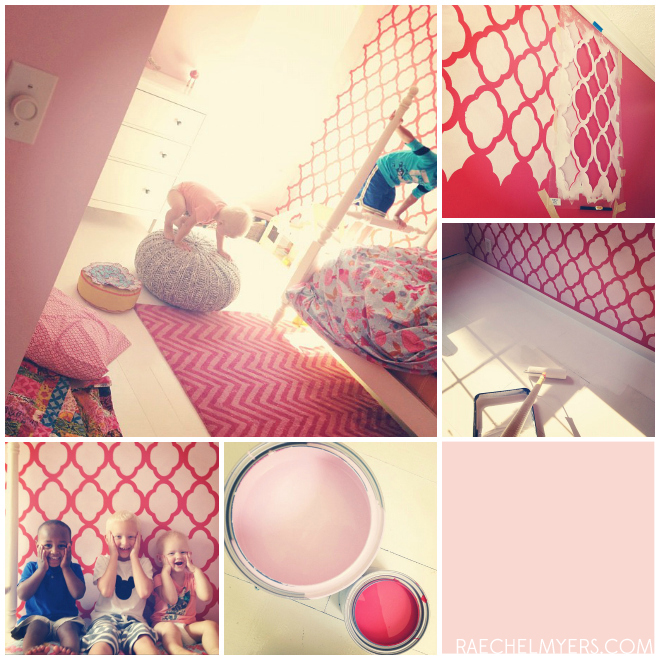 But, just as soon as we got everything moved back into the room (the new bedding arrived that same day!) and I was hooked. Loved the stencil, loved how it worked with the bedding, and ready to dig into the details.
And then the email in August.
I've gotten to know through my occasional contributions to Honest to Nod) at the Land of Nod headquarters saying she loved the room, asking too see more pictures of the room in progress and if I might be available for a conference call sometime later that week to discuss possibly sending a small crew to Nashville to shoot it for a "Real Families | Real Kids" series they were starting in the winter catalogue.
My response?

Yep. As soon as I sent it I felt like a twelve-year-old. Ah well. I sent photos of the room and they set up the call and over a series of additional calls and emails we made arrangements to do the shoot in early October.
[a few of the shots I sent to LON]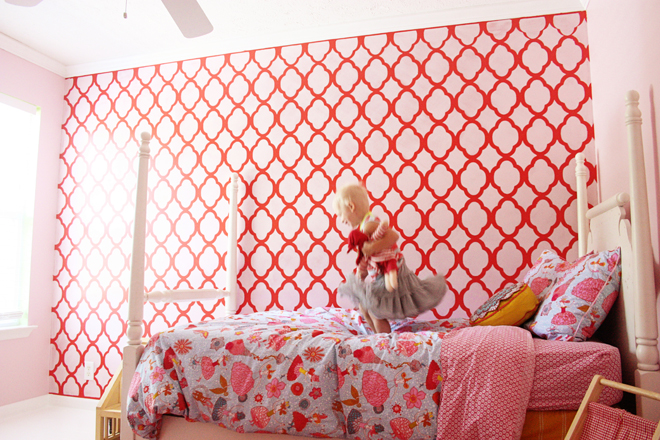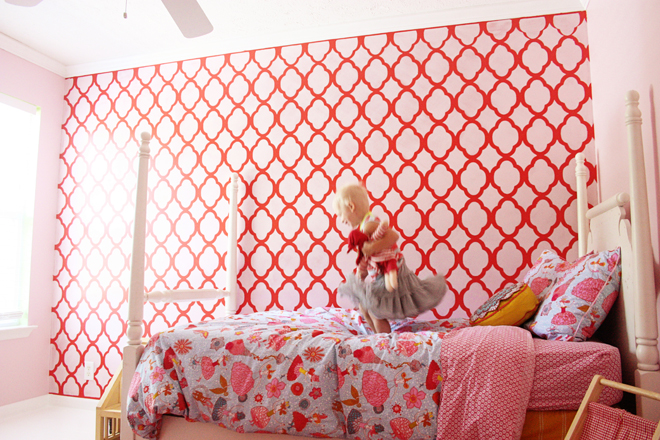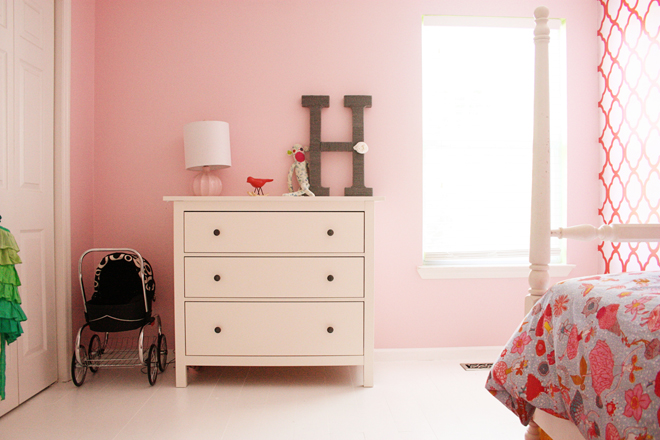 In the meantime, there were was the business of actually completing the room. Boy was that fun! I used Pinterest as a mood board and a lot of the finishing touches and even some of the main pieces came from the Land of Nod.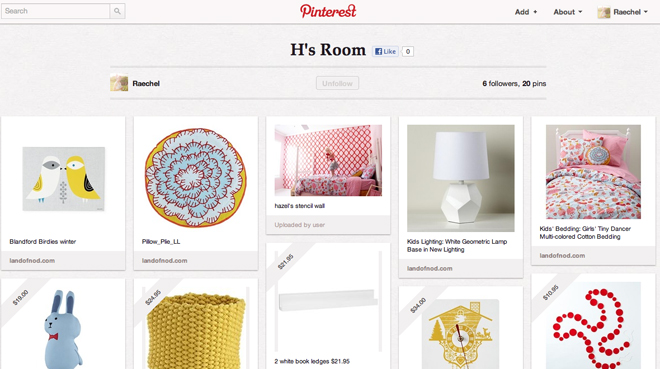 Other items we've had and loved for years or found and purchased elsewhere. We have a beautiful, white, four-poster bed that someone gave to us, but that wouldn't work for the shoot so the Land of Nod folks shipped a pretty denim upholstered headboard in for the weekend.
The curtains were a fun little side project I dreamed up and the closet was a giant project all its own.
I shared this work-in-progress back in August – her closet as it was, my hand-drafted vision, and a digital plan for the space.

And this was the final shot that the Land of Nod photographer shot in October. (It's so neat to see how an actual photo shoot really goes down. I loved how true-to-life and to my vision they kept this space, but it was also cool to see how they filled in little gaps with stacks of jeans, picture frames in empty spaces and little this's and that's that really are ours.)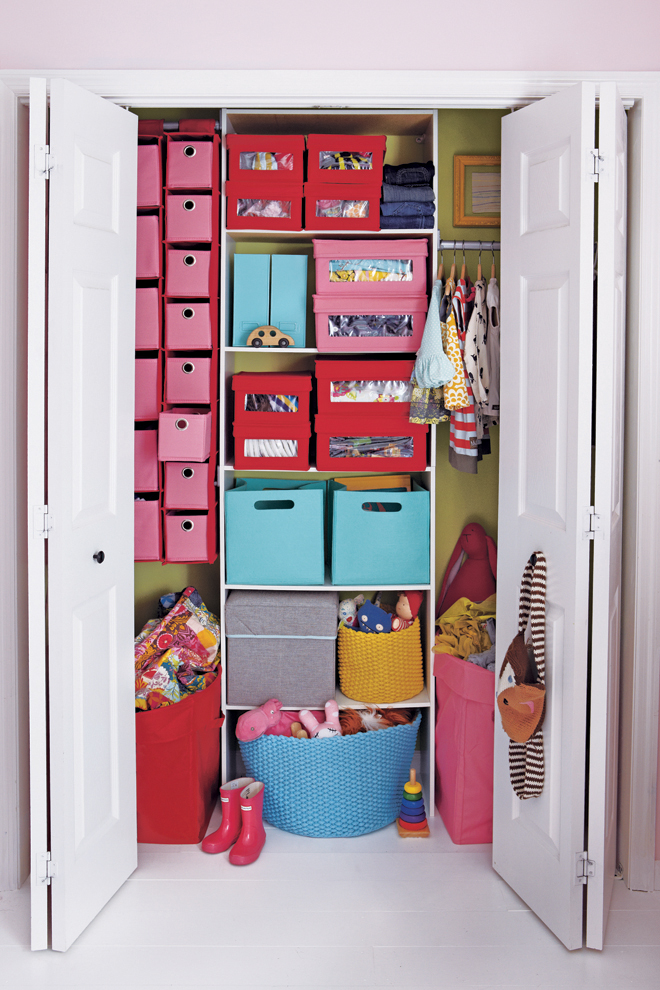 (I think I canvas closet storage, kneatly knit storage collection, once more with felting storage collection, magazine file storage, neat seat storage cube)
Shooting the rest of the room took three or four hours. I had everything pretty much how I liked it, and then invited the stylist to do her thing and make it Land-of-Nod-awesome.
I was in hog heaven.
We did an awesome dance as we got things just right. She needed framed artwork for the walls – I'd run around the house and grab four or five options. Then she wanted smallish toys to fill another gap and off I'd run. It was funny how empty the rest of the house was (and how full the hallway outside of the room was) by the time we were finished. She used washi tape to adhere snapshots straight onto the wall and the most random toys made all the difference when she put them in their place.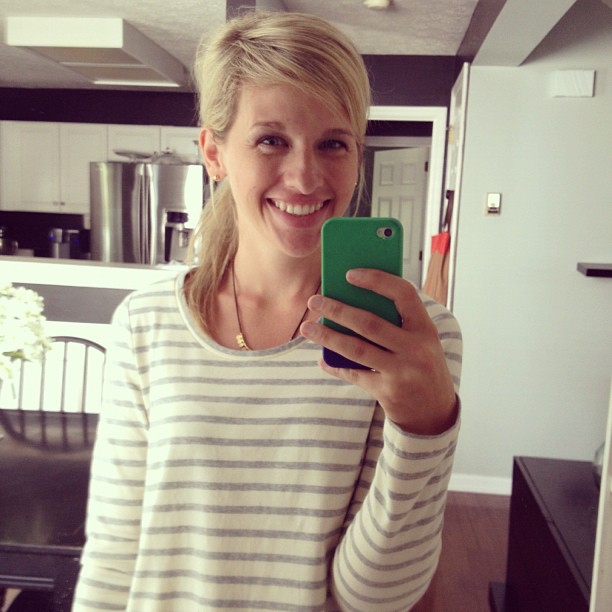 (this is from one of my runs downstairs for something – snapped a quick photo of happy me playing photo shoot!)
I'm telling you, in another lifetime – this would be my dream job! (Though loving on my family + SheReadsTruth + playing interior designer/photographer/blogger on the side ain't a bad gig!)
At the very end of our time Hazel was getting super sleepy (we were pushing into her nap time), so we wondered if we might be able to get a few shots of her sleeping in the room. And, since my daughter is widely known for her competitive sleeping skills, I put my money on that being a possibility. We cleared everything out of the room, I laid her in bed with her favorite loveys and told her it was time to sleep, then we all crept out of the room and loaded most of the equipment back into their SUV. We peeked in the door a few times and when we saw that her eyes were finally closed, we moved swiftly into action.
[and yes, I'm that girl who shoots video of someone shooting stills just because I think it will be fun to see later]

Although none of the sleeping shots made their way into the final spread, this was a favorite from that little adventure.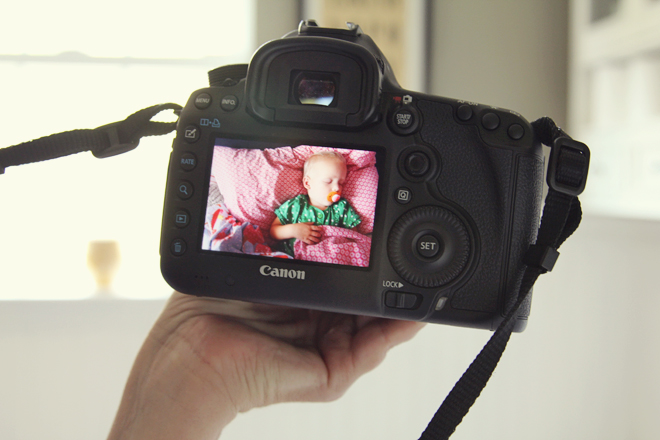 And here are some final shots the Land of Nod sent me a few weeks ago: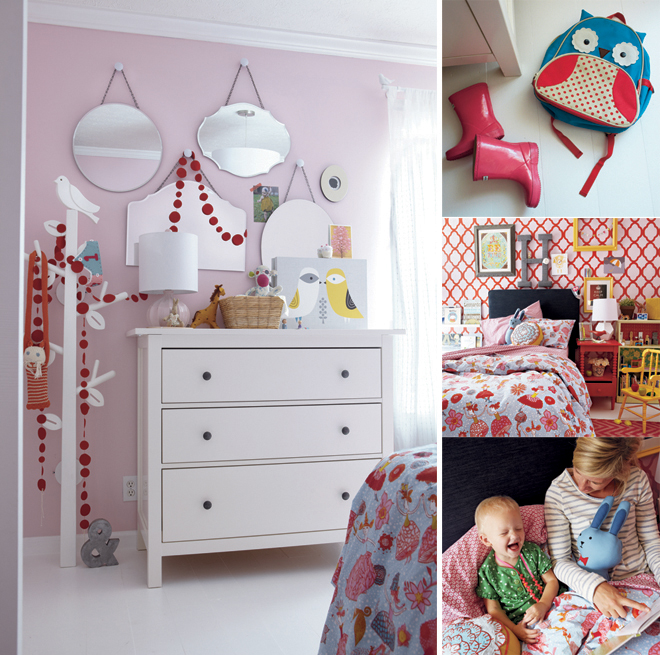 A few favorites that I was excited to see included in the shots above: Hazel's 1st and 2nd birthday crowns (can you find them?), two sweet Evie things (a pink tree card from my college roommate Marcie and some pressed and framed wildflowers from the spot we buried her), and Hazel's yarn-wrapped "H" from a tutorial I made this summer.)
You can imagine my delight when a stack of advance copies of the catalogue arrived on my doorstep mid-December and all my fears that they would change their minds and all my friends would think I was making up stories about this whole thing went away. It was real. Also, it was hilarious to watch Oliver and Hazel flip through the catalogue and find something very familiar on pages 28-31. (Hazel flipped back and forth trying to find more of her toys in the pictures and Oliver felt wildly injusticed that his room wasn't in print as well.)
The final spread (pages 28-31 in the Winter catalogue – if you click here, you can zoom in for details) looked like this:
Since the shoot in October we've made just a few changes to the room. We shipped the upholstered headboard back and replaced it with our white four-poster. We took a few things off of the walls and moved the bookcase-turned-dollhouse to another wall. And of course, things that had a place elsewhere in the house were replaced so that the rest of our house wouldn't feel bare.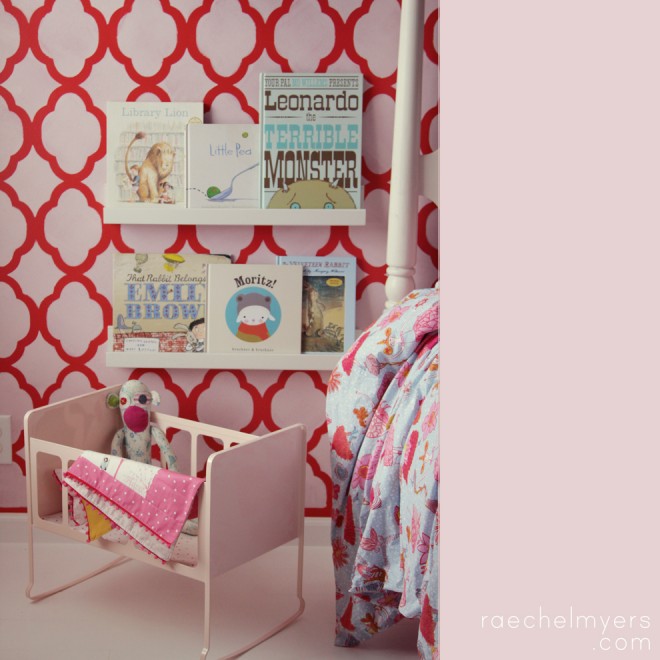 I announced to Ryan one day last month that the room was officially "finished", and that it will last her for the next ten years at least.
But let's be honest. I'm a compulsive designer. While I don't plan to paint over that stencil any time soon, I will be forever tweaking and rearranging and loving this room until Hazel is old enough to draw the line and tell me to get my own room to play with.
[Resources] 
pink paint: Lauren's Lullaby A35-2, Olympic
red paint: Fairmont Suite Clay Red 2009-4, Valspar
stencil: cutting edge stencils, rabat allover
Related posts: