So, I haven't done a StitchFix post in a while, but that definitely doesn't mean I haven't been getting fixes on the regular. I believe the box that came to my house last Friday was perhaps fix #9. And seriously, they just keep getting better and better! (Actually, I kept all five items from box #8!)
I've just been really terrible about taking pictures and sharing, but last night, right before the sun went down (I apologize for the lighting of the photos), I grabbed my hubs and my camera and asked him to shoot a couple of my favorites from the past two fixes.
My very favorite is the aryn.K blazer – it's navy with a bit of charcoal on the lapel and it fits like a dream. It arrived on Friday and I have worn it every day since… even just to run to Target!  It seriously goes with just about everything.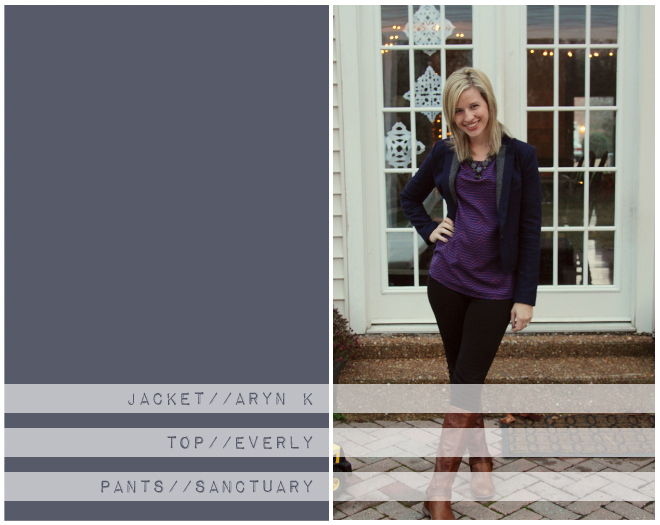 Oh, and the black Sanctuary ponte pants… they're my new uniform. Elastic waistband like leggings, but legit material like pants. Comfy and stylish and super nice quality and fit. I almost want a backup pair for when these are dirty.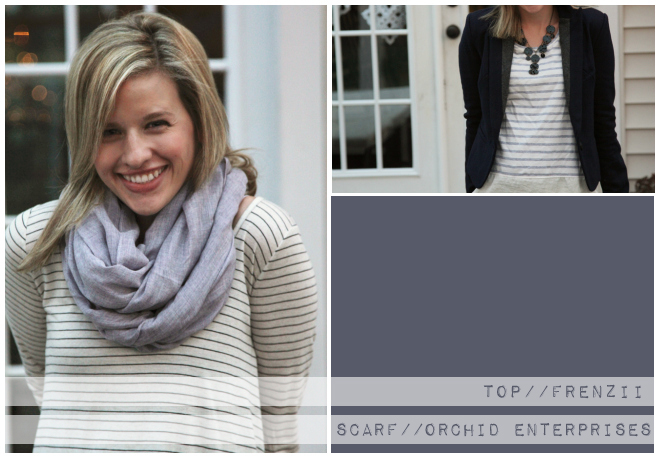 Also, I swore I was done buying scarves for the season. And then this lavender (my sister and mama argue that it's grey…) cashmere/modal scarf arrived and I had to make an exception. I left it at my Mom's house one day last week and it required some serious interrogation to get her to surrender it.
Oh, and the Frenzii top (pictured with the scarf). It's sort of long in the back and one of those shirts that fits tight and loose in all the right places. I feel good in it, and that is key.
So, those are my top five faves from my last two fixes!
Nervous about what to say in your profile or about getting a fix of your own? I'm super happy to help if you leave your question in the comments.
////////////////////
Don't know what StitchFix is? 
Sign up hereto get on the waiting list (StitchFix currently serves client sizes XS-L, but hoping they'll add larger sizes and maternity in the future!)
Once you're off the waiting list (they're still in Beta, so it should take about a week – leave a comment here if you've been waiting longer than a week, and also check your spam folder!), you can fill out your client profile! Tell them all about yourself, even check out their Pinterest Boards to tell them about your style!
Schedule your fix! (There's no subscription – just schedule one whenever you feel like it! It's $20 for box, and that goes as credit toward anything you decide to keep!)
Wait by the mailbox.
When your fix arrives, try it all on in the context of your own closet. Keep what you like, send back what you don't. (And if you keep it all, you get 25% off of everything!)
Repeat steps 3-6 as needed!

Happy Monday, friends!
Related posts: