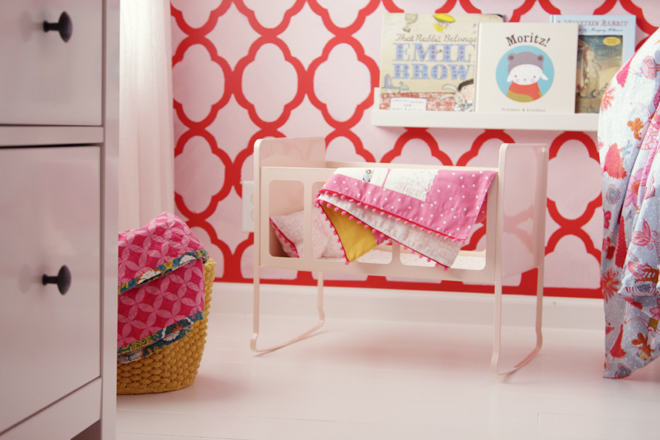 There have been years when almost our entire Christmas was handmade and I have loved giving those gifts. But I also have a very distinct memory of crying, hunched over my sewing machine on December 23rd one year, exhausted and pregnant and my bobbin thread not making me feel very Christmassy.
Everything in moderation. Or at least get started in July if you're going to make that happen.
All that to say, I really love making things for my kids. And I especially love sewing. Hazel's big gift this year is a doll crib and high chair from the Land of Nod, but it needed bedding. Do you see where I'm headed here?
I spent last Saturday afternoon sewing while my family rested. (See how I got started in plenty of time this year? I'm learning!) And by the time I was finished, I had a little mattress, pillow and quilt with pom pom trim (to match her curtain project! smartsy!) for that cute little bed.
Do any of y'all like to add a handmade touch to the holidays? If so, when do you get started?
And, just for fun, a few of my favorite gifty projects in case you're feeling crafty:
half apron (for little girls, doesn't take much fabric!)
arrow and quiver (for little boys, inexpensive and super cute)
oven mitt (one of the my most popular)
mat your framed photos with fabric
camera strap cover parts one and two
bibs and burp cloths (with printable templates)
Or, just check out my tutorials page for more ideas!
Related posts: