So, She Reads Truth.
I feel like I talk about it so much at home and on Twitter and Instagram and the SheReadsTruth site itself, that I sometimes forget that some of the people who I like to talk to best might not know that this is a really huge part of my life.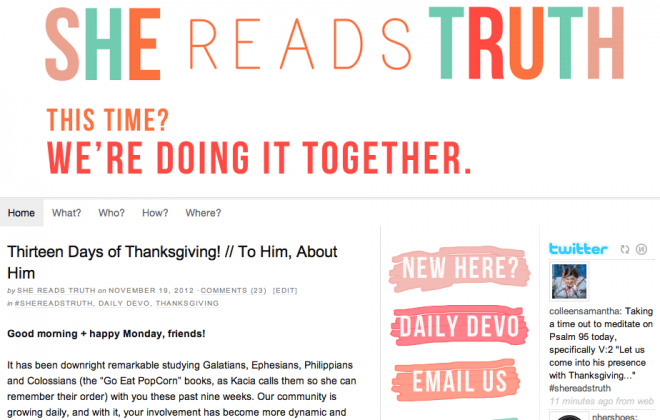 It started in May with a group of strangers finding each other on Twitter – all of us with the same pain point: we wanted to read God's word daily, but we didn't know where to start or how to keep going.
So, we picked a YouVersion Bible reading plan (The Soul Detox) and started at it together.
And lots of other people wanted to jump in – and that was awesome!
It started as four and within a few days it was hundreds. We created a hashtag: #SheReadsTruth on Instagram and Twitter and it TOOK. OFF.
If any one of us had set out to start something like this on our own, this response could not have happened. This was God.
On June 1st we launched SheReadsTruth.com and now, less than six months later, there have been nearly 11 million hits to the site.
Don't tell me our God is not big!
We continued through the summer with YouVersion reading plans, then in August the three of us started writing plans. Women were connected every day. And more importantly – they were in the word EVERY. DAY.
I'm telling you all this because I want you to know this part of me – this very important, life-changing part of my life. I want to share what God is doing in my own heart – that He's changing me and challenging me. And the community there is encouraging me. It's a real place with real joy and real pain and there are women there who may not have time to read before their kids wake up in the morning, but they can open up the app on their coffee break, and leave comments in the discussion in the school pick-up line. The women – and I am one of them! – are reading Truth! And this time, we're doing it together!
Today, the SheReadsTruth community is starting Day 1 of the 13-day Thanksgiving plan. I'd love it if you'd join us!
And beginning December 2nd we are beginning a 28-day Advent plan that has rocked my world in the past couple of months that we've been preparing it. It's going to be great.
So, that's the SheReadsTruth part of me. And that's why I maybe write just a little bit less on Finding My Feet these days. It's all a part of my story and I'm happy to get to share it with you all.
And – since we're talking community… how about you? How are you doing with your quiet time with the Lord? Is it as hard for you to find and make time as it is for me? How can we be an encouragement to each other?
Related posts: