My newborn baby boy work up this morning and announced from the top of the stairs, "I can't believe I'm finally in KINDERGARTEN!!"
[and of course my thought was, "I can't believe he's already in kindergarten..."]
It's all about perspective, eh?
Drop off this morning was great. We really like his teacher (met her last night – she's been teaching for 22 years and that makes me feel really good), and he's happy to know that one of his classmates from preschool is in his class this year, too.
I'm a little achey, a little excited (I got to workout this morning and my other errands with just Hazel were so quick and uneventful!), a little I don't know what.
It's quiet here. REEEALLY quiet.
Also, productive.
Also, quiet.
As you can see, we decided not to homeschool Oliver this year. It's something I always thought I'd do – that was the plan. But as the years have gone by, we've studied Oliver and his little personality. And knowing him taught has me more about me. I'm not a teacher, and he's a structure- & people-lovin' fool. He was made for school – you can see it on his face when we walks into a classroom.
We also decided against private school. That was another difficult decision. We would love to be able to do that – it is our ultimate goal/plan and we will see what the Lord has for us and for Oliver in the future.
For now, we have chosen to send Oliver to public school (this is new for all of us since, as parents, our collective experience with the public school system is limited to the one year I attended in Kindergarten back in the 80s). We know education and training takes place in the home first, no matter where your child goes to school. We are taking seriously the added responsibility of Christian education for him at home since it will not be taking place at school. We are nervous, yes. But  we are committed to giving it a try – throwing ourselves into it with enthusiasm as we see what this year holds for our family.
And besides all that, isn't he just about the most charming little Kindergartener you've ever met? He's bound to make some new friends fast, don't you think?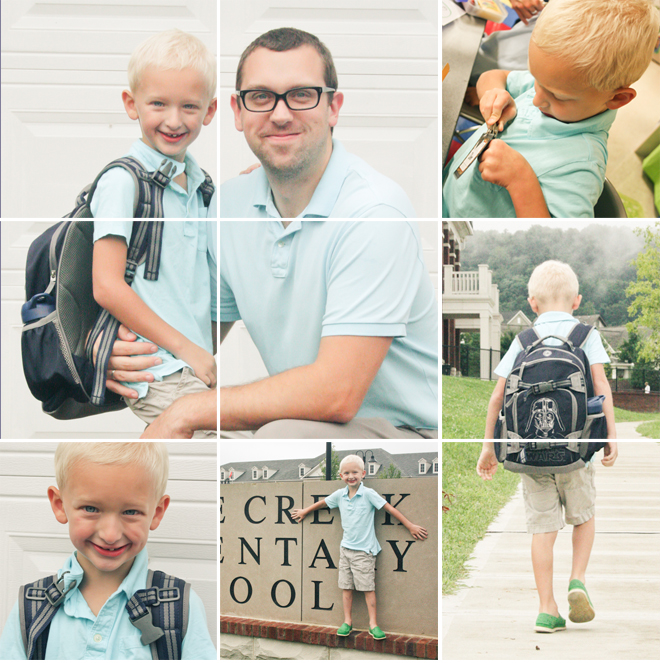 Yep. That's my little treasure up there in those pictures. So many breakfasts and bedtimes and Lego towers and blanket forts and blood, sweat and tears and fervent prayers have gone into making the boy wearing that Darth Vader backpack and green shoes who he was when he stepped into that classroom today.
Oh boy, here come the tears again…
Our prayer for him, as it has been since we first brought him home, is that he would grow in wisdom and in stature and in favor with God and man.
Lord, protect him.
Related posts: