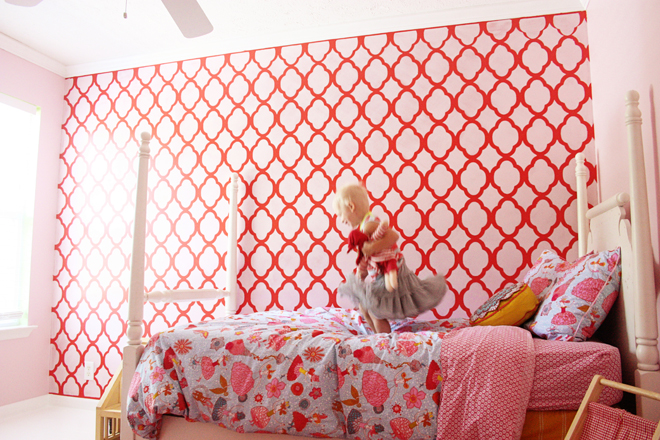 I guess it's been a while since I showed y'all the stencil project I was working on in Hazel's room. I promised a room tour when I was finished, but, let's be honest, finishing a room takes a loooong time. At least for me. And it's no fun to be kept waiting.
I still need curtains and lighting and things on the walls, but we are definitely moved-in and happy and quite livable. It will be fun to show you this "in progress" view for now, then the final product once it's all polished and officially "finished".
I'm really pleased with how it's coming along!
SOME SOURCES:
Bedding & Rug from Land of Nod (also, the wooden stroller & red doll named "Mer" by Hazel when she was little)
Yarn-wrapped "H" from this tutorial
Monkey from dotty monkey on Etsy
Pink bunny from super sock monkeys on Etsy
Wooden dollhouse – yardsale, $5 (you can hate me. i kind of hate me for that one!)
Black & White pram – Magic Beans, Boston
Paint colors: pale pink: Lauren's Lullaby A35-2, Olympic; red: Fairmont Suite Clay Red 2009-4, Valspar
Related posts: