Hello, friends! Can I get three cheers for the weekend? Amen.
So, you may remember me mentioning earlier this week that I am combing through my fabric stash and clearing out fabrics that I've already used (but there's still a bunch left in the cut) or that I just have too much of.
Thus, the "Insta Stash Sale". Pretty sure I'm getting the punctuation wrong on that one. But, you get the idea.
The sale is next Monday, July 30th at 8pm CST.
And it's called an "insta sale" because it will be taking place on Instagram. (Don't have Instagram? No worries! You can follow me and comment-to-purchase online here.)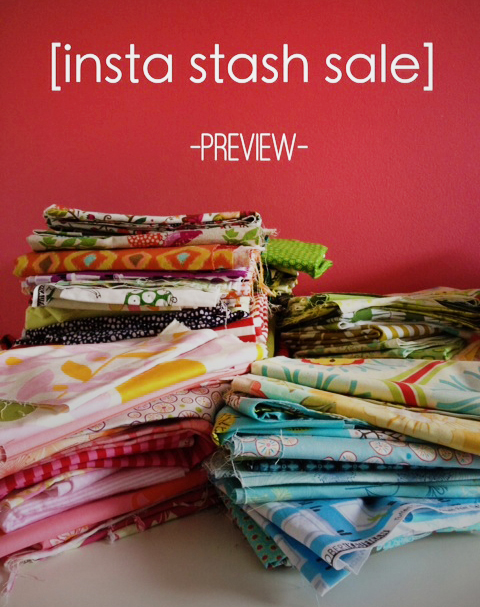 How it works: I'll post the photos of the fabric for sale (16 prints in each image) on Instagram at 8pm. If you see something you like, just claim it in the comments using the letter-number combinations assigned to each fabric (A1, C8, etc.) Buy as much as  you like, I'm very happy to combine shipping!
Shipping: It's really hard to estimate or create rates, and I want to be as accurate as possible. So, if it's cool with y'all, I'll just weigh the fabric and include the shipping as a separate line item in your invoice. (And of course, the first piece always costs the most to ship and adding more fabric adds relatively very little to the shipping expense.)
Dimensions:
-all measurements are conservative – as in, I totally erred on the side of less than there really is, sometimes dramatically, just because it's nice to be pleasantly surprised instead of grouchy and disappointed
-there is only one piece of each print for sale – so, any time there is more than one dimension given, it's just because it's an odd shape and that's the best way I could think to give you an idea of size. it's all connected!
Scraps:
I have tons of scraps that are too many and to small to be worth photographing and listing. I'll just try to sneak some happies into with your order if you tell me that you can use them/want them!
So, here's what I have:
Any questions? Ask in the comments of this post! Don't follow me on Instagram? Click here so you don't miss it!

Have a great weekend, lovelies!
Related posts: