Wanna learn a neat trick?
Well, I'll tell you!
A couple of weeks ago we found ourselves in need of a new washer and dryer. I was asking my friend Kacia for a review of her Samsung set and she gave me some advice that would be cruel to keep to myself. (and therein lies the trick I have to share today!)
Tip #1: If you're buying your appliances at Lowe's or Home Depot, first make a run to the Post Office. Ask for a change of address/moving kit and in that envelope, there will be a Lowe's 10% off coupon. (And of course you know that you can use Lowe's/Home Depot coupons interchangeably at those stores because they're competitors and they'd be silly not to accept each other's coupons. Silly.) So, if you're planning to drop two grand on appliances and other supplies, 10% = $200! (Or, if you're in Tennessee, pretty much just tax. Oy.)
Tip #2: (and this is the really great tip – even thought it's probably worth less, it's a little less obvious and SO exciting!) After you've left the Post Office, on your way to Lowe's (or HD…) stop at Kroger and make your cashier have crazy eyes when you slap $2000 worth of Lowe's gift cards on the conveyor belt.
And if you're lucky (I just happened to be!), they'll be quadrupling fuel points for the purchase of all gift cards.
Translation: $2000 in gift cards = 8,000 Kroger Fuel points!!!
Further translation: The next 4 times you fill up at a Kroger fuel station, you'll get $2.00 off/gallon and your pump will look something like this: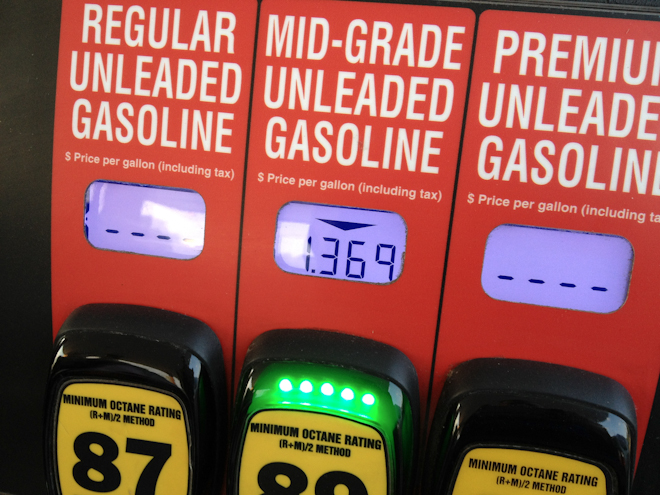 Now, if you're anything like me, the wheels in your head are going to start turning and you're going to want to know how much you can work the system. Can we fill up both of our tanks AND some of our friends tanks – as long as we keep the pump going? What about boats? Jet skis? RVs? (not that I have any of these very fun vehicles, but at that price per gallon, I would consider!)
Well, before I organized a neighborhood "Party at the Pump", I called Kroger Fuel customer service and got the skinny: The $2.00 off/gallon is limited to 35 gallons.
Well, that's still a lot of gallons!
So, we all waited for our tanks to get as low as we could bear (and by "we", I mean me, Ryan and my brother-in-law), and we made a date one evening to convene on the gas station around the corner.
Because we're hardcore and who doesn't love a good fuel deal?
We arranged all of our cars so the one pump could reach all three tanks, asked the fuel attendant to help us get it right, then stood around and congratulated ourselves as our tanks filled at less than half the price of those around us.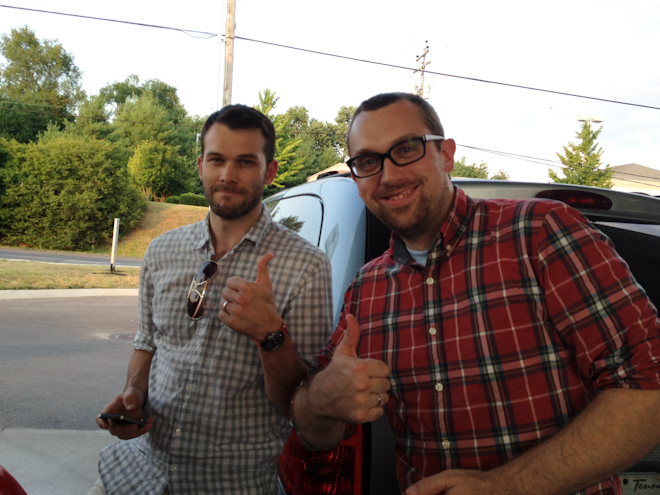 Our final total for 35 gallons of gas was $47.92, and we topped off our car, van, and still had 6 discounted gallons to spare for the Faireses.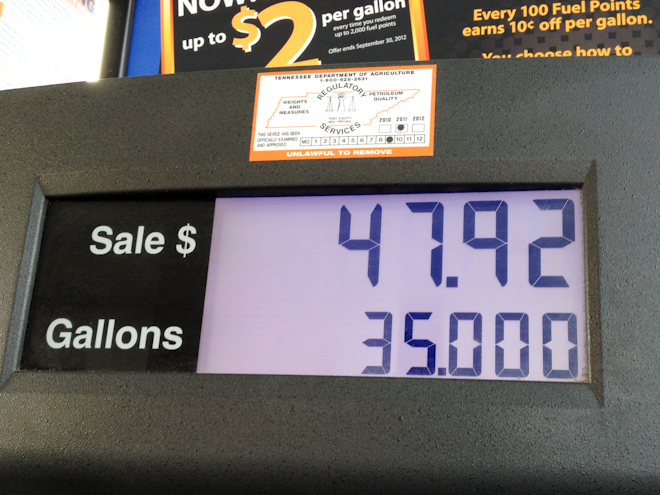 So, the moral of this story?
1. Friends are full of good advice – ask for it! (okay, also occasionally crazy advice… but let's focus on the good advice for now.)
2. If you're fixing to spend a chunk of change anyway, make it work for you in as many ways as possible! Buying carpet? Wood floors? New doorknobs? Or even taking your lady friend out for a fancy dinner? Buy gift cards and get rewards!
(This post was TOTALLY not sponsored by Kroger or Lowe's or Home Depot or the Faireses. I just love a good deal and stuff like this is very exciting – hence a very excited voicemail left for Christine as I collected drove away from Kroger with my fuel rewards balance in hand. Okay, so I'm kind of a nerd…)
Related posts: