Let me begin with a photo that makes me very happy. All of my pretty new embroidery threads organized neatly in their clear plastic box, waiting to be made into words and designs and pretty things that will make people happy.
Don't they look optimistic?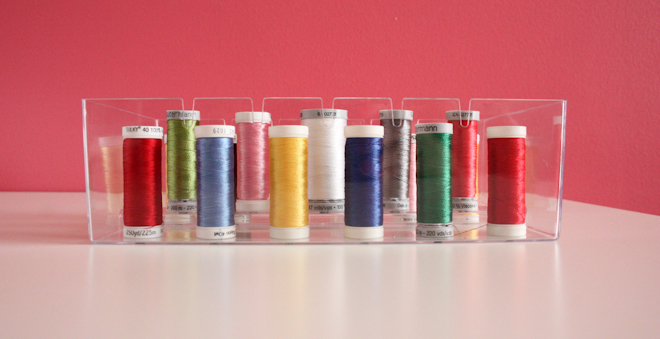 Why do I have a new stash of embroidery thread, you may ask?
Because the good folks at Brother like to make all my dreams come true and asked me to review their new computerized embroidery-only machine and share my thoughts with you!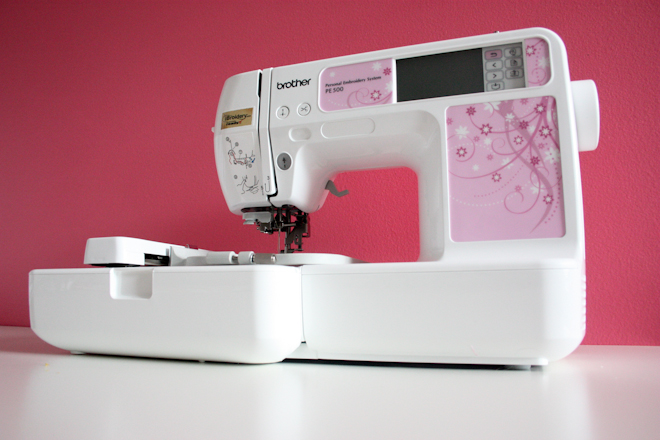 Well, yes. Yes, I think I will.
Yes, those lovely Brother people have made an embroidery machine that caters to sewists who want to step their game up a notch. It's for the Mamas and Grandmas who have little people they love to decorate. It's for all of you talented Etsy shop owners who want to earn some extra cash by adding embroidery options and designs to their already-awesome work. It's for sewing enthusiasts (like me) who love to make pretty gifts and love the idea of adding a personal touch to the things they give.
And best of all? As embroidery machines go – it's quite affordable! This particular machine is available only at Wal-Mart and at Wal-Mart online and retails for $299.97. (As in, not too late to pool cash with your siblings and get Mom a great Mother's Day gift that will only keep on giving!)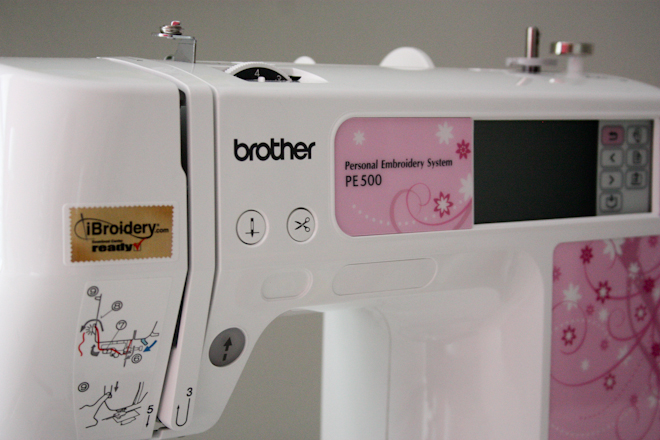 Also, it's approachable. See all of the directions printed all over the machine itself? You really can almost just grab it out of the box and go. Threading is all diagrammed really clearly for you and the digital design screen is nicely self-explanatory.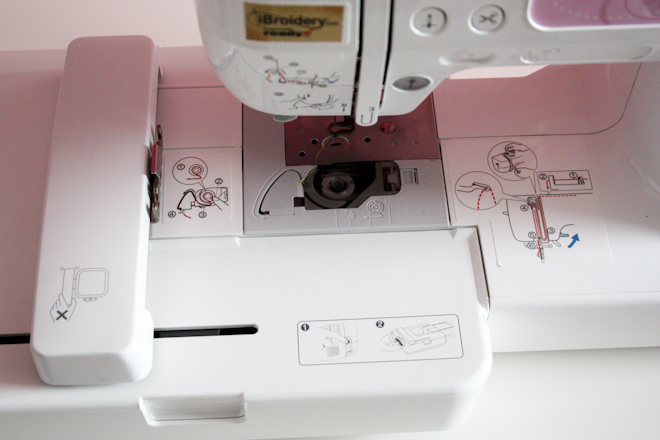 The Stats:
4″x4″ embroidery area
5 font styles
70 built-in embroidery designs
iBroidery.com compatible (you can buy designs on this website and use them on this machine)
Large back-lit touch screen LCD display
See the pretty addition I made to Groovy's Mother's Day gift? It's on the way to my amazing and oh-s0-deserving mother-in-law as we speak! Shhh!

My neighbor came by yesterday to visit my new "baby". We embroidered names onto pool bags for her and her twin sister. Boy, is it hard to pick a font!
My official take? Let's break it down into pros & cons:
Cons:
*the 4″x4″ hoop area has been big enough for everything I've wanted to make so far. But in order to make anything bigger, you'd have to reposition your fabric in your hoop as you go. No biggie, just a thought.
*Also, and this doesn't affect everybody, it's only compatible with a PC. Sad for a strictly non-PC home, but my neighbor does have a PC laptop that she has happily offered to share for any embroidery needs. Also, I've just read some other product reviews that said they had no trouble with Mac compatibility – going to have to try it out after all!
Pros:
*It is all the embroidery machine I need and it's really simple to use once you *ahem* open up the user manual and really read about all of it's features.
*It has that same cool needle-threading mechanism that my Innovis NX-800 has. Handy for all the color changes you'll make with multi-colored designs.
*Speaking of multi-color design, it does this cool thing where  you can set your thread brand name (Sulky, for example) on the touch screen, and it goes, for each color change it will stop, tell you the color name or number for that specific brand of thread that you need to load into the machine, then it will keep going. Pretty fancy!
*And speaking of fancy, if you really want to be cool, you can actually buy design software that will allow you to create your own designs and translate them into embroidery masterpieces. Neato!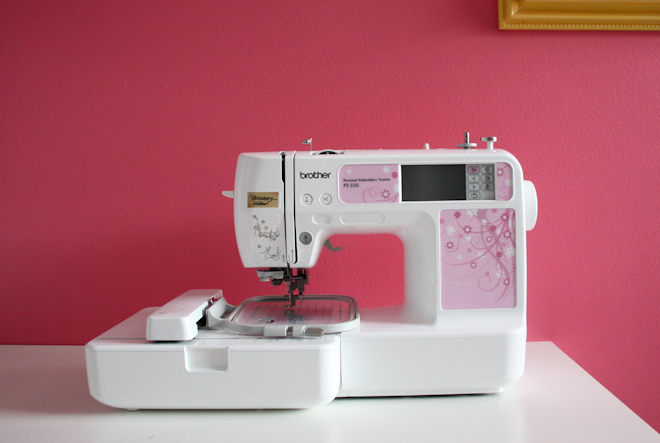 I am already loving have this machine added to my little fleet of sewing friends. And I'm super excited to play more with the appliquéing feature (it actually marks your appliqué cut lines with stitches, then you cut it out and set it in place wherever you want it to stick; tell it to go again and it will do this gorgeous appliqué stitch all around that same area so you look like you are very fancy and totally know what you're doing, even if your machine's just that smart.)

Pardon me while I go play some more…

And come back next week for a fun tutorial that is made even cooler with the personal touch of the guy pictured above :) He/she needs a name, eh? Suggestions?

Disclosure of Material Connection: I received the Brother PE500 embroidery machine mentioned above for free in exchange for a review of the product on my blog. Regardless, I only recommend products or services I use personally and believe will be good for my readers.
Related posts: