Yesterday was Oliver's last day of school for the year. His last day at MSP (which we will miss terribly). His last time to be together in a classroom with that group of friends and teachers that he has grown to love. And his last time to call himself a preschooler.
Yes, Oliver would like to casually point out to anyone who asked that he is now officially a Kindergartener. Oy.
It feels like only yesterday that we were taking him for his first day of 4s Preschool – Hazel and I with our pouty lips because we already missed brother so much. I'd put together this photo of him on the way into school with a list of all of the things he loved at that age (so nice already to look back on this – he's changed a lot over the past nine months):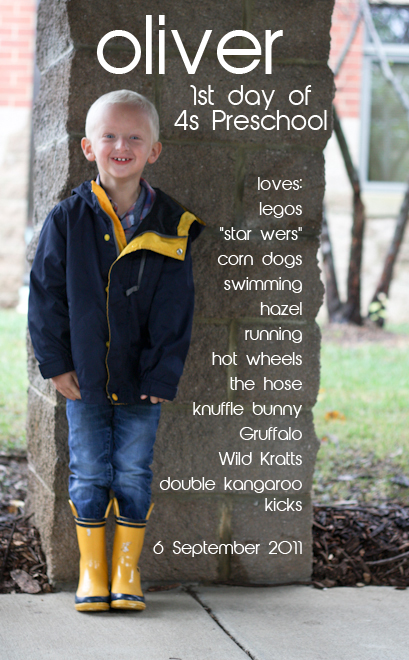 So I felt like it was only natural yesterday on our way in to school that I take one more photo of him so we could document what a year of school has done to our boy. (I obnoxiously emailed and texted Ryan and Audrey, begging them to not let me forget in the excitement of the day to grab this shot.)
And, I remembered! Here is our happy guy, wearing rain boots on a sunny day in May (for the record I didn't know he was wearing these until I got him out of the car at school) looking old and feeling glad: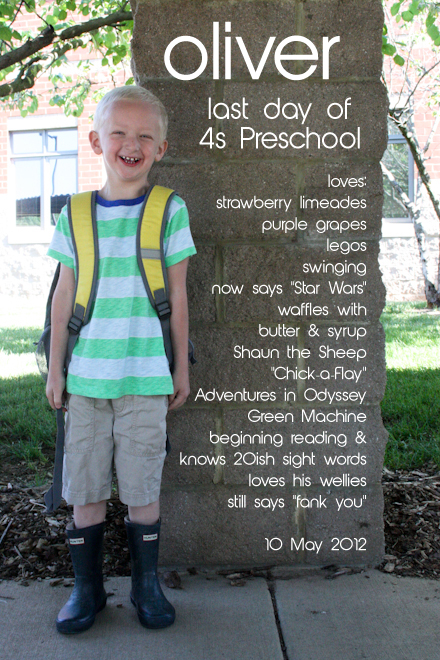 His teacher has lovingly recommended that we begin to work with him on his replacing the "f" sound for anything with a "th" sound. I love hearing him say "fank you", but she's right. It's time. We made up a silly sentence: "When I'm thirty, I think I'll be thirsty", which still sounds like, "When I'm firty, I fink I'll be firsty" unless he takes his time and works through it. He's doing great but I'm a little sad to see it go.
After all, I'm already having to deal with the fact that I'm a parent of a Kindergartener. How much change can one Mama handle all at once?
Do your babes have funny little speech habits that you hate to break? Do you feel as recalcitrant as I do about righting their pronunciation as it will signal yet another step out of babyhood?
Do you have littles that are graduating their way into Kindergarten, or Middle School, or High School or *gasp* college? Please tell me it doesn't go as quickly as it already feels!
Related posts: