Wow, what a fantastic response from y'all about this sewing course! I've already had nearly a hundred people speak up to say they'll be following along – many of whom really are baby sewers (seamstresses? seamsters?). I'm geeked that this is going to be useful to so many people – the pressure is on now to make it great! And, so many of y'all have sewing machines that are yet unopened – that serve as drink holders in the box or that have made only a few timid stitches before being tucked back away. No more. We are bringing the sewing machine back, my friends!
Now, I warned you yesterday that we are going to start with the very basics. If you're an intermediate sewer, don't be turned off – you may even learn something here. Who knows?
While I am eager to plug in machines all across the world and jump right in, today we're not even going to glance in the direction of our machines. It's not time. We're just going to focus on supplies. Below is a list of all of the basic tools that you may want to have around in your shiny little sewing kit. I'm sure you could arguably add or subtract from this list, but these tools will get you through this course with flying colors!
Tools of the Trade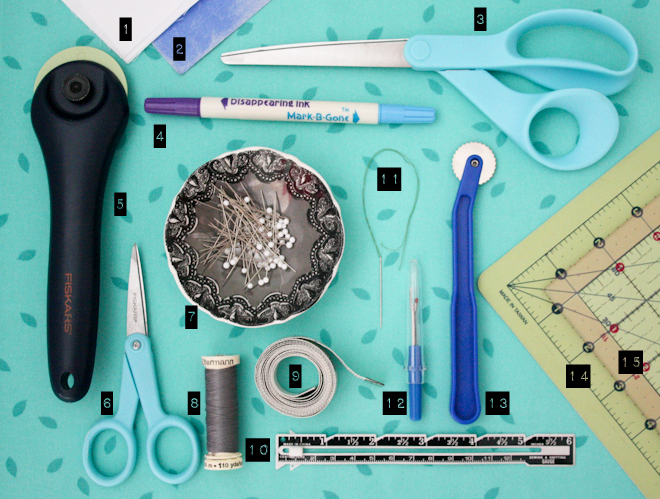 (you can also find all of these items in the handy shopping list I have assembled for this course)

1. 4″x4″ muslin squares – twenty of them should do the trick, maybe thirty if you're feeling nervous – they're always handy to have on hand. I will be using solid black squares so my white thread will show up very clearly in photos. You can use pink or green or blue or whatever. But I do recommend that it be a solid color.
2. tracing paper – this is often used when sewing from a pattern in combination with the tracing wheel (13) to mark darts or hem lines onto your fabric non-permanently. Buying one pack will last you a lifetime so share it with a buddy if you can.
3. bent scissors – I cannot emphasize enough that your sewing scissors should be used ONLY on fabric. Have a second set of scissors around to cut paper or velcro or wire or whatever else you need to cut. If you want your cuts to be clean, keep your sewing scissors pure. I have a friend (hi, Keight!) who has taped danger warnings to her sewing scissors, woe-ing the fool who sneaks a snip of anything besides fabric with her set-apart steel. Keep it clean, y'all. (and also, it's okay to keep it inexpensive. You can get a fine pair for $12 or so).
4. a marking utensil – I love these Disappearing Ink/Mark B Gone pens. One side is water-soluble and the other is air soluble. So fancy, so visible, so right. I don't mess with chalk markers at all in favor of this guy.
5. rotary cutter – yes, you could probably get away with just scissors. But for cutting lots of squares (like the 4″x4″ squares you need for next week – or for a quilt), a cutting mat (14), clear ruler (15) and rotary cutter can't be beat. I got mine as a 3-piece kit with a 50% off coupon for about $25 and am so glad to have it.
6. snips – for all the little threads. They're smaller and easier to manage. I keep a pair handy whenever stitching at my machine.
7. pins & pincushion – can we take a little interlude halfway through our list to examine three different methods for corralling your pins? (Sure, why not, Raechel? That sounds fun!)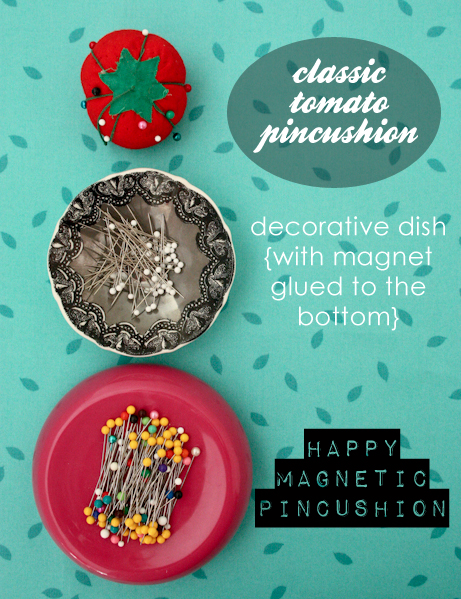 There. Wasn't that a fun way to talk about pins and pin cushions? I hope you enjoyed.
8. thread – it's nice to have lots of colors of thread, but for this month, just have something that is a high contrast to your solid fabric squares. I pictured grey here, but as I said, I'm going with white for the rest of the month. You'll also want thread for our project in week 4 – whatever coordinated with your fabric choices.
9. tailor tape – a must. at least one – you'll use it for everything.
10. seam gauge – this little bit of magic is handy for quick (and short) measurements, but is specifically made for things like hem lengths. It's handy to keep on the ironing board when you have to turn your fabric up 1/2″ all the way across and  you need it to be perfect.
11. needle & thread – yes, I already listed thread, and a needle feels obvious. Even with the best machine in town, there will always be moments when nothing will do but a hand stitch.
12. seam ripper – everyone needs one. heck, every project needs one. mistakes are inevitable and a good seam ripper makes the undoing process a little quicker and less bitter. well, a little less bitter.
13. tracing wheel – you'll use this in combination with your tracing paper (2) to make subtle-yet-critical marks on your fabric when using a pattern.
14. cutting mat – to be used with the rotary cutter (3) and acrylic ruler (15). I use it for cutting, measuring, eyeballing, and to protect my sewing table when I'm wielding a hammer to install snaps.
15. acrylic ruler – to be used with cutting mat (14) and rotary cutter (3). don't try to make a quilt without one.
Stocking your sewing basket/drawer/bin with these fifteen items will give you a great start in your sewing career. And beyond these, the only other things you'll need to rock this course is a pretty little notebook (5×7-ish) and some double-sided tape. Here's the one I found for $2.99 at Target last night. The cover says, "She's a dreamer, a doer, a thinker. She sees possibility everywhere."
I heart it.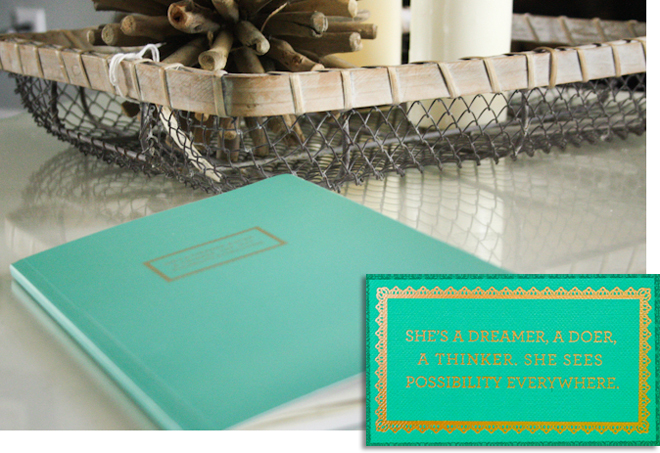 As we go through the lessons, you will use the notebook for making notes, keeping finished fabric squares (attached with the double-sided tape) and generally feeling tidy about all that you've learned. The book is not critical, but if you're anything like me, it will feel really nice to assemble it as we go along.
Questions?
Tomorrow, we approach the machine!
Related posts: