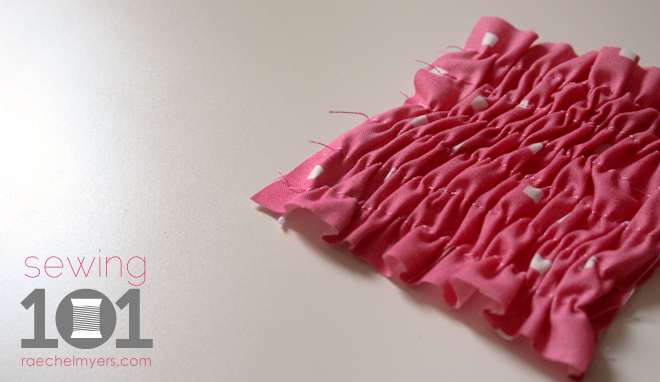 You guys. Today is a really fun lesson! Once you get your machine settings right, there's not a bunch of pressing or measuring or anything tedious. Just a lot of fun stitching that makes a big difference with your fabric! Shirring (pronounced: sure-ing) is a fun little skill to have and hopefully my lesson today will walk you through it smoothly and answer any questions you may have.
And of course, before we begin I like to show you some examples of this technique practically applied. You see shirring a lot in the warm weather months, especially on little girls in rompers or dresses. It's beautifully forgiving fit-wise because it's so stretchy.
Here are two shirred things from the Myers home:
And, a file photo from a top and bloomers I made for Hazel last spring with some of my favorite Anna Maria Horner fabrics. The front and back of the top are shirred across and the leg holes of the bloomers are also shirred. See how cute and useful shirring can be?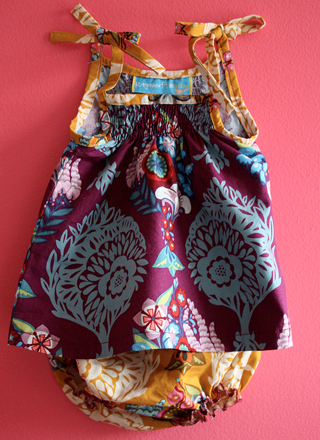 Let's move on to the lesson!

What you'll need:
elastic thread
empty bobbin
sewing machine
possibly a screwdriver for your sewing machine
1-3 fabric rectangles (4×6) for practice
your sewing book
scissors or snips

Machine settings:
needle position: far left
stitch length: longest (5.0)
tension: varies with machine

And the video:


I totally want to see y'all's shirred rectangles! Share them here if you like!

Have a great Saturday, friends!

Disclosure of Material Connection: I received the Brother NX800 machine mentioned above for free in exchange for a mention of the product in my blog. Regardless, I only recommend products or services I use personally and believe will be good for my readers.
Related posts: