Okay, today we are going to cover a TON of information. If you are new to some of these techniques, they may take some practice. But, none of this should be too overwhelming to even a beginning sewist. This is your moment to tackle and master some great fundamentals!
Maybe this is silly, but I am going to begin by teaching you how to sew a curved seam before a straight seam. Possibly crazy, but since we already sewed some straight lines in yesterday's lesson (and assuming you've spent some time getting comfortable with sewing a straight line since then), I think we can do this!
We will start today's lesson with a curved seam, then a right-angled seam. I'll show you how to clip and notch these angles. Then we'll walk through three different types of straight seams – and if you can master these three, you'll be on your way!
So, let's begin.
CURVED SEAMS
(with clipping & notching)
 Let's start with the video:
(here's the bib tutorial I mentioned in the video)
And now on to how this page in your book should look: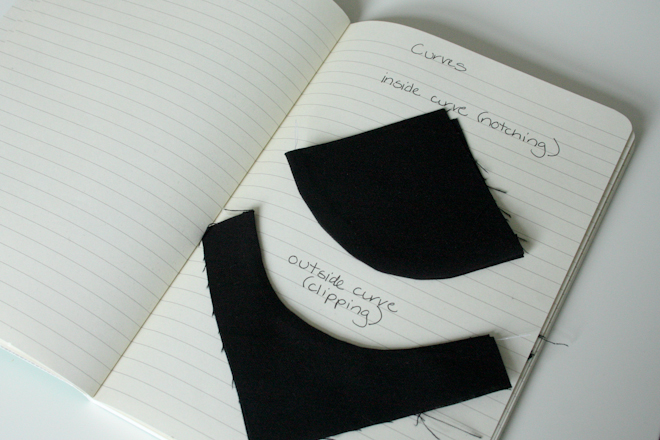 RIGHT-ANGLED SEAMS
(with clipping and notching)
First, the video:
And now, how this page should look in your book: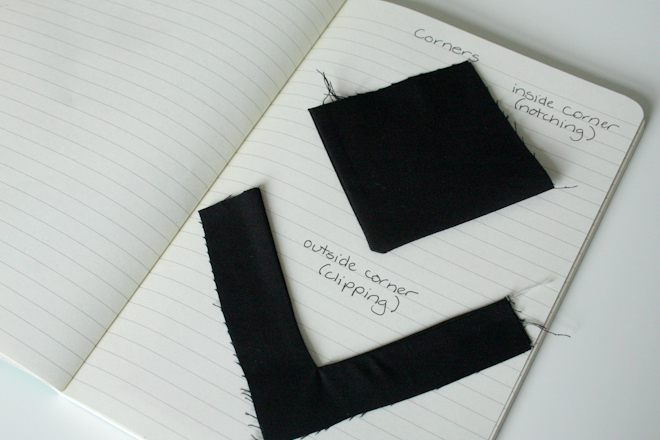 Okay, now that we've covered a few tricks, let's get back to straight stitching. Below you will find video instruction on a simple seam, topstitching, and a french seam.
THREE IMPORTANT SEAMS
(simple, topstitched, french)
First, the video:
And that lovely page in your book: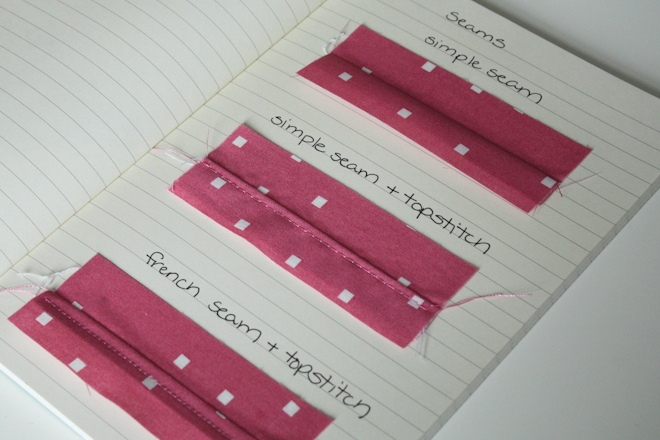 Okay, that was a lot to take in! How is it working for you to follow some of these lessons by video vs. photo? I am hoping it allows for a clearer explanation of the process, but I'd love your feedback!

Practice these seams tonight and come back tomorrow with your needle & thread, tracing paper and tracing wheel. We're going to learn to make darts!

Disclosure of Material Connection: I received the Brother NX800 machine mentioned above for free in exchange for a mention of the product in my blog. Regardless, I only recommend products or services I use personally and believe will be good for my readers.
Related posts: