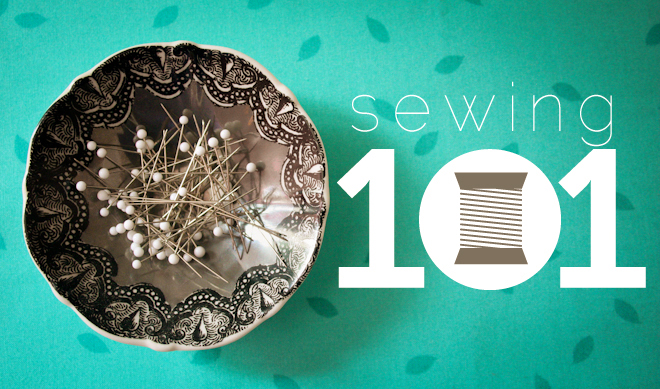 Hurrah! April is finally here! Over the past two years I have been sharing sewing and project tutorials with you all, catering to my readers who know how (and love!) to sew. But this month I want to do something for all the people who comment on my tutorials wishing they could sew, wondering how to get started, want to know if I could recommend a good 'beginner' machine, or who have a machine their mother-in-law gave them when they got married and have no idea what to do with it.
This month is for you!
As a part of my Housing and Environmental Design degree in college, I was required to take a "Principles of Clothing Construction" class. I stepped into that class with no idea what I was doing, and by the end of the semester I'd made a junior bridesmaids dress for my wedding that summer – darts and all! I loved the class and the way my sweet (and adorably old) instructor walked us through the tedious fundamentals of sewing so that, when we were finished, we actually knew what we were doing and could go on to be competent on any machine and with any pattern and any project. Mrs. Beulah Brooks, if you're out there – here's to you and all you taught me! A lot of this course will be based on the course I took (then assistant-taught the following semester) in college.
So. Here's the thing though. You're going to have to trust me. I'm going to begin very basically, so many of you experienced sewers may feel like you want to skim over the first bits. But, you may be surprised at some of the fundamentals of sewing with which you may not be familiar. My goal this month is to equip you all to know your machines, know your stitches and their functions, to be brave with fastenings (zippers, buttons, etc.), and to effectively purchase, read and understand how to properly use a pattern.
I believe that these principles of sewing can give anyone enough confidence to go take the leap from muslin squares and beginner patterns to the fun creative freedom of envisioning new things on your own and actually pulling them off with style.
This is going to be great! But you have to promise to stick with me – okay?
Note: I have added a "Sewing 101" page to my blog toolbar above with all of the lessons listed. As we go and the lessons are published, I will link the page to the posts. It can be your little table of contents in case you want to quick-reference a lesson.
And finally, a couple of quick things before we get started tomorrow:
1. You will need a sewing machine for this course. If you don't have one and are looking for something that's not a huge investment but will be all the sewing machine you need for a good long time, I'd recommend this one or something like it. I've never used it myself, but I spent a great deal of time researching sewing machines last year and landed on this one because it has excellent reviews and a ton of features for the price (currently under $160). And since we won't be actually turning our machines on until at least Thursday, you still have time to order it and it will probably arrive before you need it.
2. Tomorrow we will cover the other supplies you'll need for the course. Nothing fancy or too expensive – just basic sewing tools that you may already have on hand (you can browse a handy list I've assembled here).
3. In the fourth (and final) week of the course I plan to walk you through an actual project using a pattern – Portabellopixie's Market Bag Sewing Pattern. (I figured we can all use another pretty bag – for the farmer's market, library, or carrying puppies around, you just never know. You would be wise to go ahead and order it now so it will arrive in plenty of time for us to use it on the 23rd. I have found it on Etsy here, but if you go straight to her shop it's marked down to $5! (Not sure how many are left, so get to it.) We'll be doing the Straight Market Bag, so according to the back of the pattern you'll need:
1 1/8 yard for the outside and inner pocket
1 1/8 yard for inside and outer pocket
1 1/4 yards heavy canvas interfacing (hit up your local fabric store for this, it won't show)
Suggested fabrics: 100% cotton, muslin, broadcloth, home decor fabric (Note: if you're using home decor fabric you can forego the heavy canvas interfacing)
Finally: once you get all your fabrics gathered and ready for week 4, it's a good idea to prewash and dry them and iron them back out to minimize shrinking or bleeding after your bag is assembled.
4. In the event that you have absolutely no interest in this course (and I do expect that this will apply to a number of you), know that the month of April will not be a total Finding My Feet loss for you. Weeks 3&4 only have three lessons each, and there are a couple of other windows where I won't be clamoring on about seams and notching and such. And of course, things will return to normal in May with my regularly scheduled whatever-it-is-I-write-about such as garage sales (the season is upon us!) and kiddos and whatnot.
And finally, it would help me a lot if I could hear from y'all. Can you just leave a quick comment below to let me know if you are planning to follow the course, and maybe an approximation of your skill level? If no one is actually planning to follow along, it would be good to know ahead of time :) Also, it will help to get a general consensus of skill levels and understanding. Consider this your registration. And, for the sake of incentive, I'll pick a random comment  on Wednesday and send you a yard of fabric – just for funsies!
Alright, see you tomorrow for lesson 1!
Oh, and feel free to grab a sidebar button for your own blog if you're going to follow along. You can link it to this web address: http://raechelmyers.com/sewing-101/
Related posts: