With over one hundred people (and climbing!) following this course as I share it this month, I imagine there are AT LEAST 70+ different machines represented. For me to acquaint each of you with your own specific make and model isn't possible, but I can acquaint all of you with the parts of a sewing machine and their functions.
While you may not have a speed control dial or an operation panel, you will have a handwheel and feed dogs and a throat plate. And while they may not look exactly the same on every machine, their functions are universal. And thus, this lesson will be useful for all machines. It's good to know your own machine – but it's also handy to be able to jump onto a friend's machine without feeling completely disoriented!
And please, feel free to use the comments sections of these lessons as a forum to ask questions, discuss and review machines, or to heckle me from the back of the class because you're too cool for school and are insulted by me pointing out the location of the main power switch (ahem, you & you know who I'm talking about! Don't think I haven't noticed!).
No matter your skill level (and y'all seem to be all over the board, with the majority of you being beginning beginners), take today to really look  your machine over. I'm not too proud to admit that I've owned my machine for about a year now (happy anniversary, baby) and only a few months ago did I discover my feed dog position switch. I had just never looked back there before! Totally new information.
Use these photos as a guide to tell you what you're seeing and what it does. And don't feel funny if you don't have all of the same features – I'm just showing them all because they're there and I'm a thorough kind of gal.
Okay, here we go…
Names of Machine Parts & Their Functions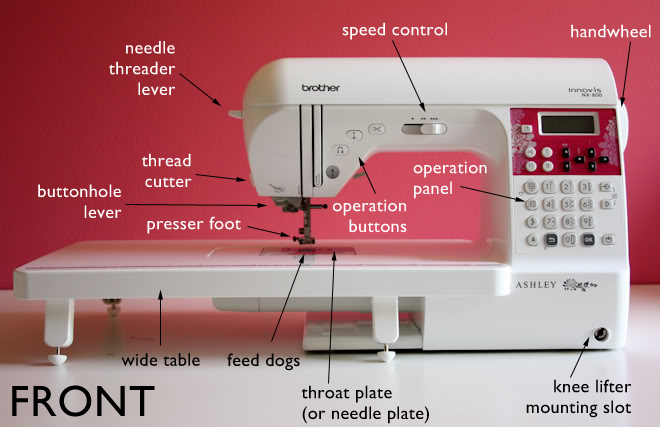 *I'm going to go at these in alphabetical order so you can find what you're looking for easily. I will always list the parts with the functions beneath the photo.  Also, I'm going to show five different views of the machine, so there will be some doubling up.
buttonhole lever – lower this bad boy when you are in button-hole-making mode. It works in conjunction with the buttonhole foot to make sure the hole is the size you want.
feed dogs – I love this name. It's the little teeth-grippy things that move in a circular up and down motion to grab the fabric and move it back as the needle does the work. In a nutshell: it advances the fabric. In less of a nutshell (perhaps a nut case?): when you adjust the length of your stitch, it tells the feed dogs how frequently to advance the fabric. Also, some machines have feed dogs that also move left to right. Just for fancy.
handwheel – this is how you manually raise and lower the needle. Always turn it towards you.
knee lifter mounting slot – don't scoff, it's a real thing. See below and it will all become clear.
needle threader lever – we will get into this more tomorrow when we talk about threading the machine. I think this might also be a considered a bonus feature, though I believe many machines do come equipped with some sort of needle threader. Hunt around to see if yours does (and if it does, do a happy dance – tomorrow will be easier!).
operation buttons – not all machines will have these. These buttons raise and lower the needle, backstitch, and cut thread loose. Without these, you can manually raise/lower the needle with the handwheel (see above), backstitch with a backstitch button (your machine will have one of these), and cut threads loose with your trusty snips. They're handy and addictive, but your garment will likely turn out the same with/without "operation buttons".
operation panel – not all machines are digital. But, if your machine is digital, this is likely where all of the adjusting of decorative stitches, stitch lengths/widths/fonts, and general merriment goes on. If your machine is not digital, you will probably determine stitch styles/lengths/widths/tension on rotary dials or something similar in this general area as well. Nobody judges analog machines – they do great, great work!
presser foot – the proper presser foot is key to making sure your stitches are doing what you tell them. Your machine should have about five or so that come standard (we will talk all about feet on Friday), and you can always get fancy and buy additional feet (like a ruffler foot!) that do fancy party tricks for your friends. For now, just know that this is called the presser foot and that it is interchangeable depending on the stitch you are planning to execute.
speed control – some machines have a pedal that will speed or slow based on pressure, other machines have a dial/control on the body of the machine itself, and many have control in both places. If you're sewing a hem along the side of a long curtain and you're pretty confident that you can sew a straight line, go all out speed-wise and get it done. If you're turning delicate curves or just a few careful stitches, take it easy and go slowly.
thread cutter – hunt around your machine to find this because, I think, every machine has a thread cutter somewhere. No guarantee that the blade is sharp if your machine was handed down from sweet Grandma, but it should be there. The thread cutter is useful if you don't have snips handy and want to set your fabric free from the machine after your finished stitching.
throat plate (or needle plate) – I've always called it a throat plate but it seems like folks are now calling it the needle plate. Far be it from me to be stuck in my ways. Needle Plate it shall be. This is the (usually) metal piece that has marks on it to indicate seam widths (like if you needed a 5/8″ seam, you would keep the raw edge of your fabric running along that particular mark as you stitch so you CAN sew in a straight line!).
wide table – all machines come with a small, removable table (you would remove it to sew something circular like a sleeve or headband or something) that stores your machine feet and other handy tools. Some machines also come with (or you can buy separately) a wide table that adds extra surface area for bigger projects like quilting. Usually these also have ruler marks on them for handy reference as you sew.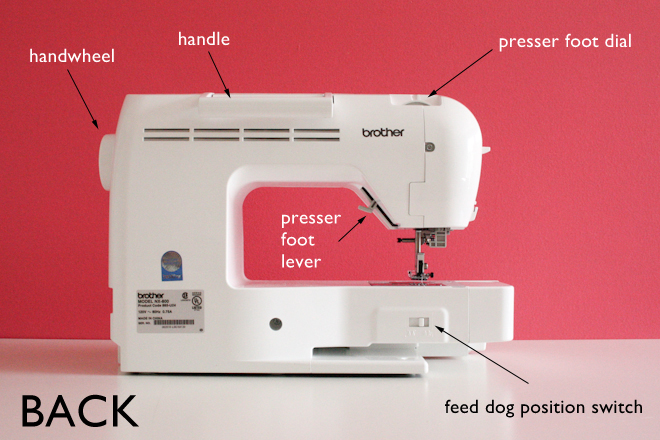 feed dog position switch – (my latest discovery!) use this to raise or lower your feed dogs. You will almost always want them to be "on" or "up", but occasionally (like when you're freehand quilting), you can be amazing and lower your feed dogs. Yes, that's a funny name. I like it!
handle – yes, that's exactly what it is.
handwheel – see above.
presser foot dial – use the presser foot dial to adjust the amount of pressure that the presser foot applies to the fabric. So, if you are stitching together two pieces of high pile chenille, you may want to have less pressure so your fabric can sail through more smoothly.
presser foot lever – Use this to raise and lower the presser foot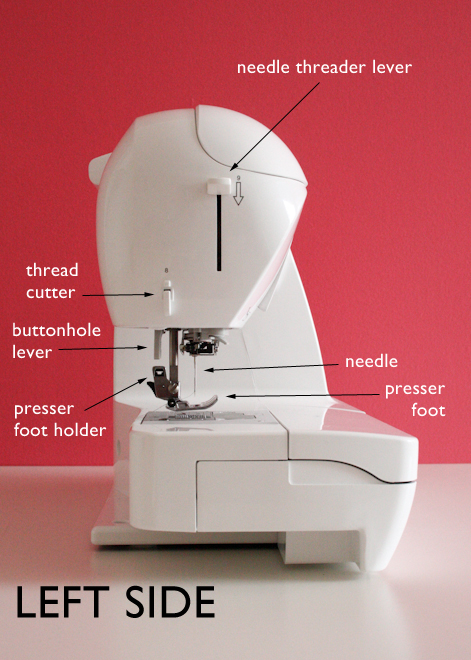 buttonhole lever – see above
needle – yes, there she is. the key to any successful sewing machine experience. (well, I suppose thread is also key…) Replace your needles regularly, and while you can use a universal needle for "all fabrics", it is better to use specific needles for specific fabrics. You can get a ball point needle to sew knits (to avoid snags and to handle the fabric better), a heavy-duty needle for heavier home decor fabrics, or a lighter duty needle for delicate fabrics. If you are frustrated with the performance of your machine, check your needle type and age – you may need a replacement.
needle threader lever – see above
presser foot – see above
presser foot holder – this is what holds the presser foot in place. You can either do a quick release and replace for any standard foot, or you can unscrew and remove the entire presser foot holder to install a specialized foot that will not fit into the quick release holder.
thread cuter – see above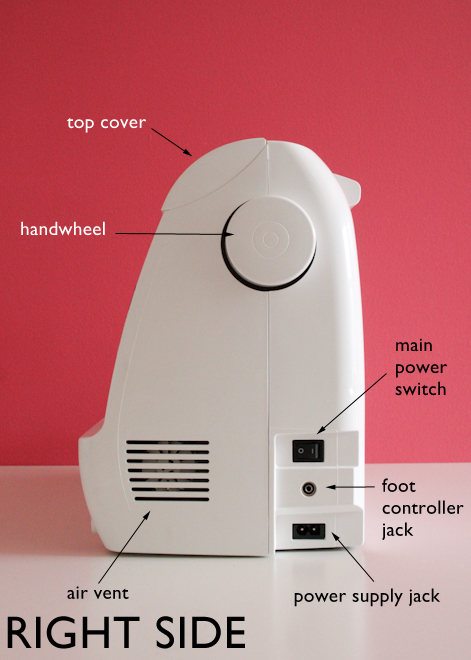 air vent – to keep the machine cool while it runs. Don't cover the vent while your machine is being used or bad things could happen.
foot controller jack – this is where you plug-in the foot pedal (some machines – like my Sergio – have a giant uni-plug for the pedal and the power)
handwheel – see above. again.
main power switch – use this bad boy to – you guessed it! – turn the machine on and off
power supply jack – get electricity to your machine. (see "foot controller jack" for further notes)
top cover – this keeps dust out of my thread area, though I don't think it's something that comes on all machines across the board.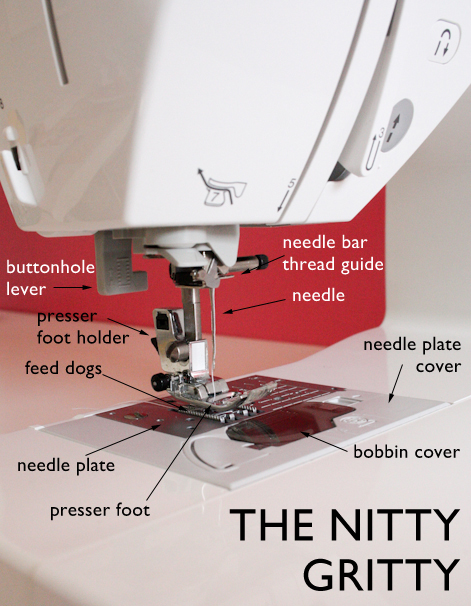 And now: The Nitty Gritty. A lot of this has already been covered, but I believe that a seamstress (or seamster) should know the names of the parts of her (or his) machine. Write them on your heart.
bobbin cover – it's going to be about 50/50 whether your machine's bobbin is "top load" or "front load". Top loading bobbins (like mine) are dropped into the bobbin housing from above. A front loading bobbin actually has removable housing – you take it out, get the bobbin situated, then pop it back into your machine to complete the loading process. We'll talk about this more tomorrow – with video!
buttonhole lever – see above. Again.
feed dogs – see above. still a funny name.
needle – see above.
needle bar thread guide – we will cover this tomorrow, too. It's key that your thread slips behind this thread guide before it is threaded into the eye of the needle.
needle plate – see above. But also, this is a better view of the guide marks for sewing a straight line.
needle plate cover –  remove the needle plate cover to clean the bobbin case or to *ahem* retrieve a broken needle that may have slipped through the cracks.
presser foot – see above. The most standard foot is the "J" foot – used for straight stitches and zig zags. Makes such a difference to use the proper foot with the corresponding stitch!
presser foot holder – see above. This is a better view of the black quick-release lever and the screw that holds the presser foot holder in place.
And now, because you've been such good students and we still have time, remember the "knee lifter mounting slot" in the photo of the front of the machine? Y'all. This is the knee lifter: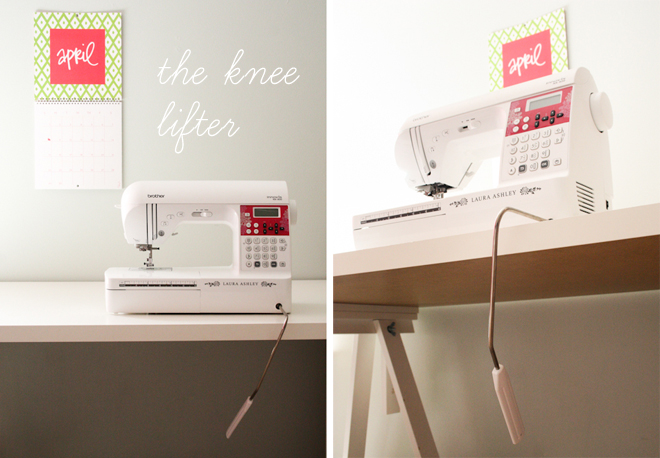 "What on earth is that jimmy-rigged pole sticking out of your machine?", you may ask. It's a magic wand. With the knee lifter in place, I can stitch happily along, raise the presser foot lightly – while keeping both hands free to handle my fabric – then lower it back into place and continue my stitch. Ever appliquéd an owl or an initial onto a onesie? Had about a million tight little corners to turn and had to ker-chunk the presser foot up and down with your hand? No more! You can lift it slightly and smoothly with your knee like it's no big deal. It's among my best friends, the knee lifter.
Do any of y'all have a knee lifter? I've heard that a lot of times you either love it or have no use for it – thoughts?
That's all for today. Tomorrow, we turn the machine on! And, there will be videos! See you then. And feel free to use the comments section for questions or conversation (or heckling).
Have a lovely Wednesday!
Disclosure of Material Connection: I received the Brother NX800 machine mentioned above for free in exchange for a mention of the product in my blog. Regardless, I only recommend products or services I use personally and believe will be good for my readers.
Related posts: