Hello, friends. I trust you had a lovely, restful Easter weekend?
If you were checked out for the weekend, don't forget to check back on Saturday's "happy feet" post. Lots of good info there.
This week is going to be fun! For the next five days we are busting out our stack of 4″x4″ fabric squares I am going to walk you through different stitches, seams and sewing techniques. It's a LOT. I want to teach you why all those adjustment dials on your machines matter and how they can make a stitch useful or not useful for a variety of applications. This is going to be a great way to introduce you to some possibly new techniques that will be helpful as you advance your sewing experience.
Here is a rundown of our week:
Tuesday: straight & zigzag stitches
Wednesday: seams of all kinds
Thursday: marking & darts
Friday: tucks & pleats
Saturday: shirring
That's a whole lot of information for one week!
Let's get started with today's lesson:
STRAIGHT STITCHES
The straight stitch is the most basic stitch. And while a lot of y'all have admitted to struggling to sew a straight line, this is still a great place to begin. So, grab a couple of fabric squares and make sure your machine is threaded with contrasting thread (it will be easier to see what's going on this way) and let's get stitching!
Start with your stitch length set at 1 and, pressing the foot pedal down gently and keeping the edge of your fabric in line with the 5/8″ seam guide, stitch all the way across your square. (You can practice this several times on several squares and then just paste your best square into your book, so feel free to be liberal with your square usage – practice a lot!)
(And may I remind you to be sure all of your pretty little squares are pressed nicely? This will all feel (and go) so much better if you are wrinkle-free!)
Here's your video:
And here's a shot of what the first page in your book should have in it: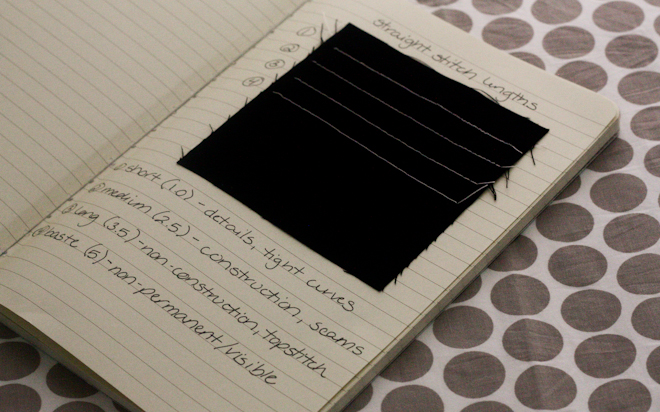 For Review:
1. short stitch (1.0) – for tight curves, details, etc.
2. medium stitch (2.5) – construction/seams; most common
3. long stitch (3.5) – non-construction, topstitching, speed
4. basting stitch (5) – temporary construction, to be removed
ZIGZAG STITCHES
Okay, time to switch your stitch setting to 'zigzag'. Zigzag stitches can be used for all sorts of reasons. A very short, narrow zigzag stitch is actually what makes a buttonhole. Zigzag stitches can be decorative, or useful for attaching two ends of elastic in a waistband. It's also useful for appliquéing decorative elements onto a project to ensure that the raw edges don't fray.
I want you to play with the zigzag stitch a lot today because it will get you comfortable with playing with and understanding your machine settings. Creating a zigzag stitch guide in your book like I did in this video will also be a great quick-reference in the future as you learn to understand the usefulness of stitch lengths and widths.
Here's your video:
For Reference: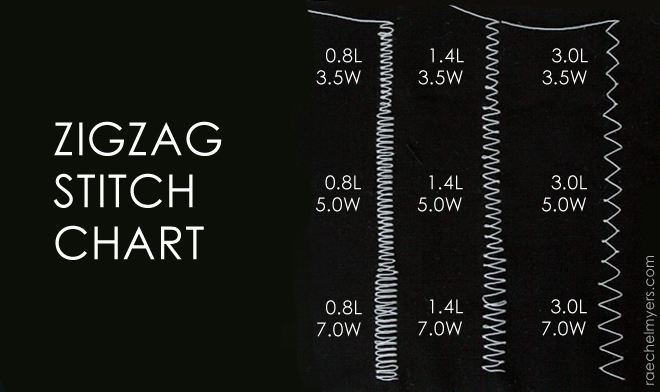 And this is what page 2 of your book should look like: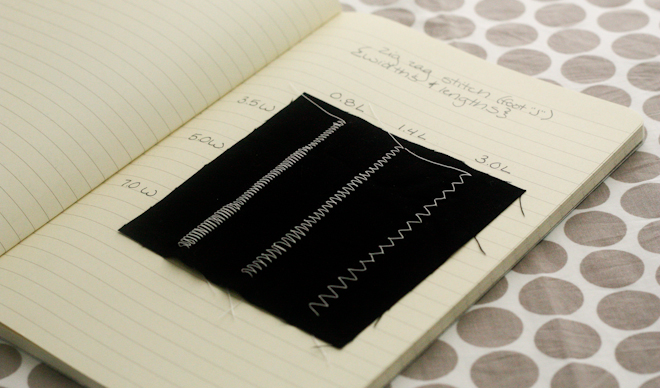 Come back tomorrow for a festival of seams!

Have a lovely Tuesday, friends.

Disclosure of Material Connection: I received the Brother NX800 machine mentioned above for free in exchange for a mention of the product in my blog. Regardless, I only recommend products or services I use personally and believe will be good for my readers.
Related posts: