So… how did everybody do yesterday? That was a lot of information for one day – it was a ton to teach, so I can imagine that if you are a beginner that it was a lot to learn!
One quick note: I'm having fun seeing all y'all's books in progress on Twitter! I wanted to open up the option to upload project photos to my Tutorials Flickr Pool if you like – that way we can all share with each other. If you ever need a handy link, just scroll down on my sidebar to that adorable picture of Hazel broadcasting my Flickr Pool. She's adorable.
And a second note: I always appreciate your feedback in the comments. And sometimes, per your suggestions, I go back and add info to the posts for future readers. They thank you! Something I noticed y'all saying yesterday is that you'd like me to start a video by outlining what items you'll want to have on hand. The people have spoken – I'll be all over that.
Today's lesson is about darts and other marking techniques. Darts is the biggie and we'll spend the most time on that. And as a bonus: I make several full-on appearances in today's videos. And that includes nervous apologies and wonky faces. Also, a handful of interactions with interrupting children that didn't feel worth going back and re-filming. I figured it would keep things from getting dull, hope you don't mind.
After darts, we'll do just a quick lesson on tailor's tacks and notches as marks for patterns. It will help us in week four as we jump into our bag project and this feels like a good time to cover them.
Finally, I have worksheets! I know, so official, right? Okay, so they're not exactly worksheets. But, they're little mini-patterns for you so you can get what it feels like to make actual marks from actual patterns. You can thank Adobe Illustrator. And Scribd. (provided Scribd cooperates for you all – please give me the heads up if you have any trouble printing your patterns!)
Okay, without further ado, let's jump right in to darts and other marking techniques!
DARTS
We'll begin with a little info about darts and why they are useful. As performed by yours truly:
Okay, now that we all feel awesome about darts and how useful they are, we get to practice!
Here is your first pretty little Sewing 101 pattern – go ahead and print it before you begin the next video. (and if Scribd isn't working for you, just click here to print it from Google Docs!)
Also before you begin the video, you will need to assemble a few items:
tracing paper & tracing wheel
pins
iron & ironing board
at least two fabric squares (more if you want to practice)
sewing machine – threaded & ready to go
Okay, now we are ready to rock this lesson!
(oh, and one quick tip: you might be happier if you center your contour dart on your fabric square so it doesn't look all sad and off to the side. you'll see what I mean.)

How's everyone feeling? Confident? Empowered? Way cooler than me?
How is page 6 in your book looking? Anything like this?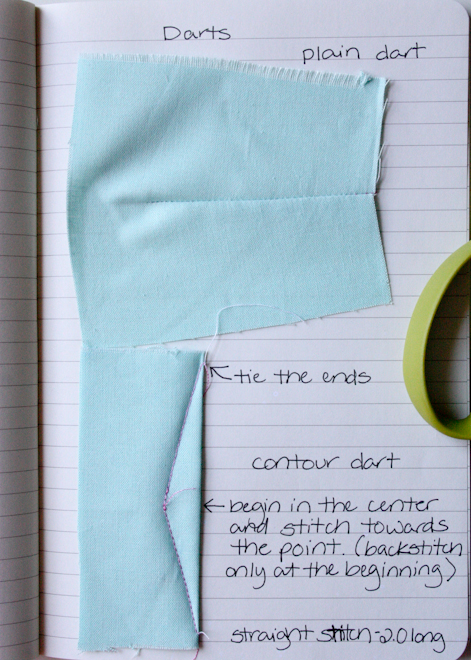 Awesomesauce.
Moving on to the last little part of our lesson today:
TAILOR'S TACKS & NOTCHES
Before you get started, print this pattern. It's nothing earth-shattering, but you'll need it to practice this technique. (And again, if you have any trouble, just
click here
to view and print!)
Marking with tailor's tacks & notches
Now, gather the following items:
two or more fabric squares
scissors or snips
needle and thread
And, a quick video explaining these two simple (but useful!) techniques (note: all the other videos in this lesson were shot yesterday. the following video was shot today at 11am after a bit of coffee and no food. just consider yourselves warned.):
For Review:
1. Darts: marked with tracing paper, can mark only one layer of fabric at a time, works on the edge or in the center of the fabric
2. Tailor's Tacks: marked with needle/thread, can mark one or more layers of fabric at once, useful if the marks are not on the edge of the fabric
3. Notches: marked with scissors (or non-permanent marking pen), with scissors it can mark one or more layers of fabric at a time, only useful on the edge within the seam allowance
And page 7, looking all shiny and finished!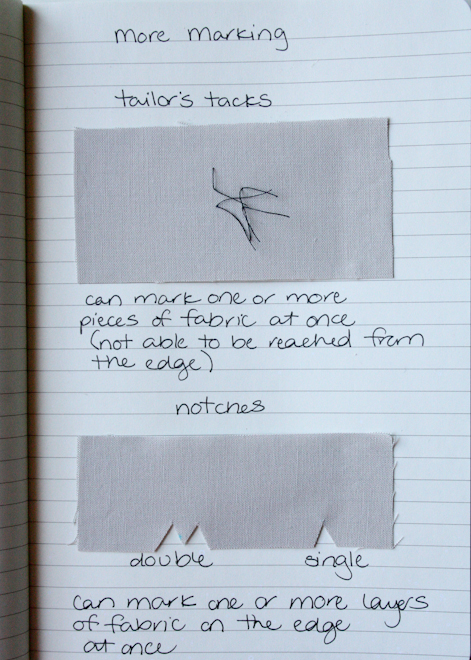 That's all for today, folks! Don't forget to share your work from today's lesson in the Flickr Pool if you like! And come back tomorrow for pleats and tucks!

Have a lovely Thursday, friends! The weekend is near!

    Disclosure of Material Connection: I received the Brother NX800 machine mentioned above for free in exchange for a mention of the product in my blog. Regardless, I only recommend products or services I use personally and believe will be good for my readers.
Related posts: