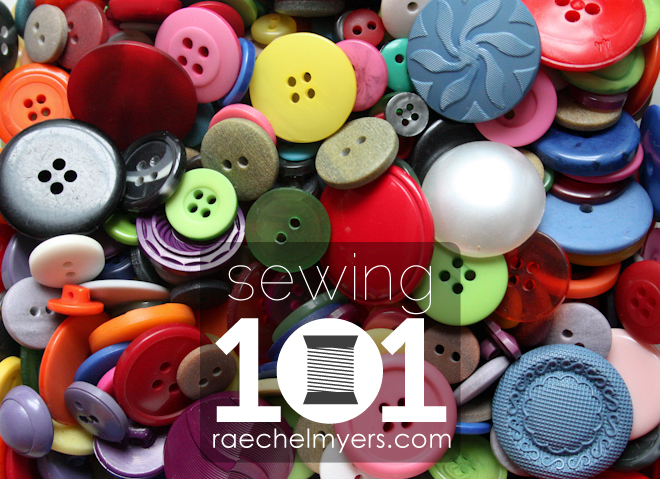 Good afternoon! And, my apologies for being a day behind on this post. Life happens. Kids and home keeping happens. Bad lighting happens. But – it's here now and now the world can watch as I hand stitch buttons and sew a pretty pink buttonhole. It's going to be fabulous.
I think it's probably unnecessary to show you real-life examples of buttons and buttonholes from my closet. There's probably a 90% chance that you've got a button on your body right now that you can use as reference. And no, your belly button doesn't count.
If you are just coming off of Saturday's Shirring lesson, it may be wise to remind you to switch back to normal bobbin thread. And, if you made any adjustments to the little green screw in your bobbin housing, this would also be an appropriate time to loosen it and set it back to normal. Go ahead and run a straight stitch on a scrap piece of fabric to make sure your machine is all reset and ready to go on to buttonholes.
The items you will need are as follows:
sewing machine, threaded
buttonhole foot "A"
4 buttons (three regular with 2 or 4 holes, one with a plastic shank – optional)
needle and thread for hand stitching
fabric marker
2 4″x4″ fabric squares
1 2″x4″ fabric square
snips (and maybe a seam ripper)
This first video will show you how to create a machine-stitched buttonhole. (And yes, I checked, "buttonhole" is all one word.) You'll see how to attach the foot, lower the buttonhole lever, and let your machine do the rest. If your machine is not computerized, don't worry one bit. There is a 95% chance (even better than the chance that you're wearing a button today!) that your machine has some sort of buttonhole setting. (If you're in the 5%, see below for manual instructions – you can still do this!)
With a standard, non-computerized machine, just switch to your buttonhole setting, install your buttonhole foot, and adjust your stitch length settings as I describe in the video. Some machines will be basically hands free from that point, and others will require a few starts and stops, but you CAN do this!
And if you don't have a buttonhole setting, you can lower your feed dogs, sew that wide stitch across the top with your zigzag set wide, then raise your feed dogs with a narrow, short stitch to travel to the bottom on the left side. Drop your feed dogs again, stitch the bottom of your buttonhole with another wide zig zag in one place, then raise your feed dogs a final time and travel from the top to the bottom on the right side, just like you did before with a narrow, short stitch.
ATTACHING BUTTONS 
Now, a quick(ish) walk-through of sewing buttons to fabric. There are four ways to do this:
1. stitched flush/flat to fabric (common)
2. with a thread shank so it will have wriggle room
3. a button with a plastic shank, stitched flush to fabric
4. machine-stitched in place with button foot "M"
I'm going to show you all four ways. First, the three manual options (in which I chat about guacamole and receive a very important phone call):
And, the machine-stitched method. Because it's fun to see and try:
Note: if your machine does not have a button-attaching function, you can still do it! You can buy a foot to add to your collection (this universal one is only $7.99!) and just drop your feed dogs, find your stitch width by manually raising and lowering your needle with a zig-zag setting, and that will do it!
Now, your sewing book should look like this: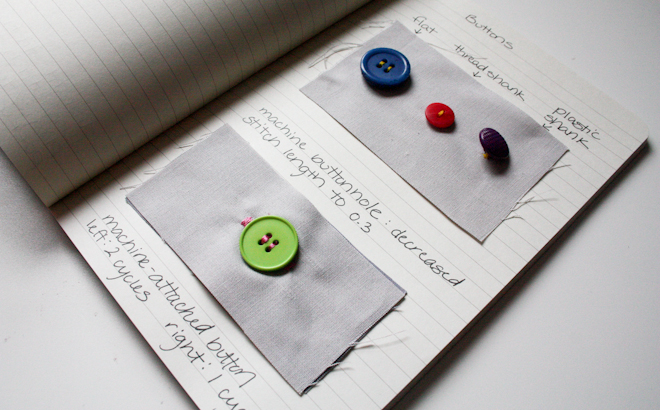 And it will officially never close nicely again. That's okay, it means you're learning a lot of things!

Heads up: Our next lesson is zippers and you'll need to have a few on hand to work with. I will be working with an invisible zipper and an all-purpose zipper. I was able to get one that was only 4″ long, but don't worry if yours is longer – I'll show you how to shorten a zipper then, too.

Have a lovely Tuesday, friends!

Disclosure of Material Connection: I received the Brother NX800 machine mentioned above for free in exchange for a mention of the product in my blog. Regardless, I only recommend products or services I use personally and believe will be good for my readers.
Related posts: