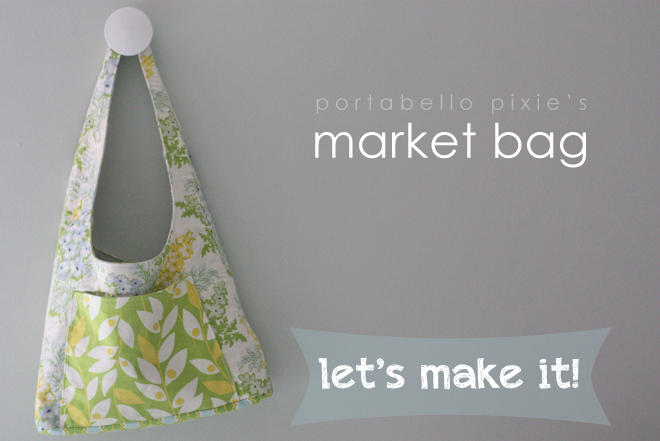 Hello, friends! Welcome to Friday. Welcome to the final day of Sewing 101 and the day we make our Market Bags a reality!
Today's videos will walk you through the entire process from start to finish. And it is going to take four videos to get us there. But, it will be worth it. And, I have tucked a few fun things into the videos as we go – three of my favorite people make appearances, and I do also randomly include more happy music and speedy video, just to keep things moving. Don't ever say I never did anything for you. :)
Let's see… notes before we begin:
A few of you have asked about the canvas. You'll see mine first thing in the first video, so that might clear things up. The pattern says "canvas interfacing" and I think that confused some people. You don't need a special kind of interfacing, you just need canvas (or any other heavier-weight fabric) to use as interfacing to add structure to the bag. My canvas was $12.99 at JoAnn's ($6.49 with a 50% off coupon), but go cheaper if you can with any light-colored, non-patterned home decor fabric (you just don't want any color or pattern to show through your pretty outer fabric). Also, the canvas I bought was 60″ wide and 1 yard was plenty.
Like I said yesterday, I shot all of these videos on Saturday. I don't think I say anything idiotic today, but you will probably be able to tell that I was beginning to get sick. Please pardon any coughs or sniffles, I hope that's not annoying.
You may feel confident and want to try to construct the Market Bag without use of the videos. That's cool and I encourage you to do that. I've got the videos broken up by steps so that – if you do get stuck – you can check in at any point for clarification.
And finally, I would love to see your completed bags! Share photos in my Flickr pool so we can all show and tell all our hard work!
Okay, now down to business.
PART ONE: steps 1-5
PART TWO: steps 5-9.5
PART THREE: steps 9.5-15
PART FOUR: steps 16-19
Okay, that was officially my longest post ever.
You guys. We did it! A billion cheers for you all and your completed sewing books and your finished Market Bags!
Definitely feel free to ask any questions you may have in the comments section. I do my best to answer them as they come in. And if you're behind on any of the lessons or you're concerned because you don't have a ton of free time right now, don't worry! These posts will exist as long as my blog exists. Use them for reference anytime! And, I plan to keep the "Sewing 101" tab on my header for a while, too. This way you have a quick little go-to glossary as time allows you to complete lessons or if you just want to brush up on a skill.
All the best to you, friends! Looking forward to the weekend AND the month of May!
And now back to my regularly scheduled blogging… :)
(And off to the post office to send my pretty new bag to my amazing Mother-in-Law for Mother's Day!)
Related posts: