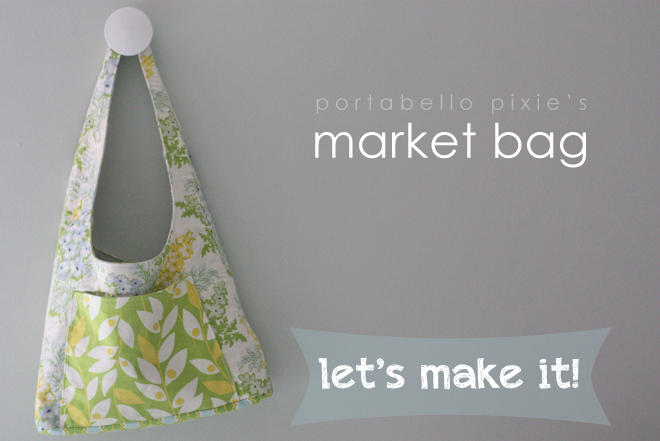 Welcome to week four! Who's still with me? I'm sure the non-sewists and elite-sewists among us have probably grown bored of the month of April and I apologize for focusing so singly on one subject for so long. Only three lessons left!
This week we are going to make Portobello Pixie's Straight Market Bag. Here's the plan:
Monday: I talk about buying and reading pattern packaging, we cut out the pattern for our bag, I tell you about how to read pattern pieces and symbols, and I hand over a few great tips for pattern storage and longevity. Good stuff!
Wednesday: We cut our fabric! There are a few bits of errata that I'm afraid might exist in this pattern, so I clarify cutting numbers and instructions. We also use our newfound marking skills like real champions!
Friday: The big day! Whether you want to make the pattern on your own using the directions provided or you want to follow along with me in my videos, there are lots of good tips and tricks to learn as we work through our little project. Should this be graduation day, too? Caps and gowns and pomp and circumstance? Certificates perhaps?
I was just watching through today's videos one last time to make sure they're all set to go (and yes, please pardon my non-professional videography skills), and it reminded me so much of the sewing portion of the Homemaking class I taught a couple of years ago. These videos today feel like they are pulled straight out of my lectures, and hopefully in a really good way.
And the best part? They're free! No tuition, no course fees – I'm just passing on this great info because I'm passionate about sewing and I want y'all to love it, too. You don't even have to do any work today. Just carve out 23 minutes to watch two videos in your jammies while sipping tea and growing wiser!
In this first video I'll show you about the differences between "designer" and "common" (for lack of a better term) patterns and how they can both turn out some gorgeous projects (though the former provides a much more pleasant instructional experience than the latter). I want you to be able to feel comfortable buying and reading common (and way less pricey!) patterns and I think this little walk-through will help with that.
And your assignment? Leave a comment telling me the first thing I want you to look for when you open up your pattern. Okay? Okay.
Do you feel like you're in my classroom? I know, I have a lot of information to impart – thanks for sticking with me. I hope it's helping!
In the second video you finally get the cue to cut out your three pattern pieces. I also teach you how to read pattern pieces (they have really helpful symbols and info on them!) and clear up some confusion about exactly how many pocket pieces you need to cut out. And I wrap the day up with pattern storage tips and a great way to make a pattern last through every size as your babies grow.
Your assignment: tell me how many canvas and how many fabric pocket pieces you will need to have when you cut your fabric.
**edited to add: I messed up. I'm so ashamed. I called the selvage the bias over and over and over again without batting an eyelash. I'm so sorry! The bias of your fabric actually runs at a 45-degree angle across it (which is why you make bias tape by cutting through your fabric at that nasty fabric-wasting angle. It's the very stretchiest, giviest angle of all. The edges of your fabric (like the side where all the designer and fabric information is printed) is called the selvage.**
And, we're done for the day. Class dismissed.
I'd love to hear from me if you plan to follow along with the project this week. I imaging we've lost a few people along the way, but it will be good to know who's still with us!
See you Wednesday! If you don't already have your fabric for the project (or the pattern), get them now!
Related posts: