Wow! I had no idea that my mention of a craft weekend last week would pique so many of y'all's interest so quickly! How exciting!
Even though we are still very much in the planning/dreaming stages of this little piece of awesome, I thought I'd answer a few of your already frequently asked questions, just to give you an idea of what I'm thinking:
Where is this all coming from?
Great question. Here is a little background on what we are thinking and why we're acting on it:
1. Women love to craft, but are often hindered by a whole pile of [worthwhile!] things (i.e. parenting, cooking, cleaning, caring – not to mention needing supplies, instruction, time, inspiration, space, etc.)
2. Being creative and enjoying the things we love to do (and learning to do new things!) is important. God created us to create! He gave us skills and talents and an eye and appreciation for beauty.
3. Making the time/having the space/rounding up the supplies/receiving the instruction/finding the inspiration is not something that will likely fall into many women's laps. To make this happen, you have to be intentional.
With these thoughts in mind, we are creating a little getaway craft weekend that we have lovingly dubbed:
And, yes – it's exactly what it sounds like! It is:
A weekend away (noon Friday – noon Sunday) in Franklin, TN.
Women only (sorry, no babes – this is your time to get away!)
Fabulous projects that you will start and finish while you're here (for our first Craftcation, none of these projects will be kid-centered – if you have a home or a body, you will be able to use  - and love – what you make!)
Supplies and tools enough to make your head explode with glee
Instruction and inspiration to keep you focused and directed as you create
Food. oh, y'all. the food alone makes it worth it. The lovely Miss Peyton has years of practice cooking and baking for her family of eleven (she is Devon's oldest daughter – also, my friend!) and between her skills and her passion for Pinterest, this girl has some impressive appetizers, meals, desserts and snacks up her sleeve. Let's just say you will NOT go home hungry.
Loot! Oh yes, there will be SWAG. And you will be glad. (Interested in being a Craftcation sponsor? Connect with me and I can give you details!)
Beds – beds for each of the twelve spots available – complete with fresh, crispy sheets and towels. This is your Craftcation, after all!
Space – there are plenty of places for you to tuck away and be alone (maybe wake up slowly with a cup of coffee and enjoy a book or devotions in the morning), and there are lots of places to gather as a group. This can be as sleepover giddy or as getaway quiet as you need it to be. Just don't miss any of the happy projects!
Fun! But what if I'm not very crafty?
No worries! There is no crafty-skill prerequisite for Craftcation – only the desire to play and learn! There will be plenty of help and instruction available, and hopefully you will walk away a craftier person than you came in!
Hurrah! I want to come! When is it? How much does it cost?
We hope you do! And, we'd love to have you!
I know I said last week that we were thinking March for this happy weekend. But, a few scheduling details have gotten in the way (plus we prefer the warmer weather and the time to make it just right!). We have officially set our dates for our very first Craftcation Weekend for:
The cost is $375 per person. Tickets will go on sale Wednesday, February 1st at noon CST. There are twelve spots available, and don't worry – I'll be sure to remind you  and give you more purchasing details closer to time!
So, the cost includes…?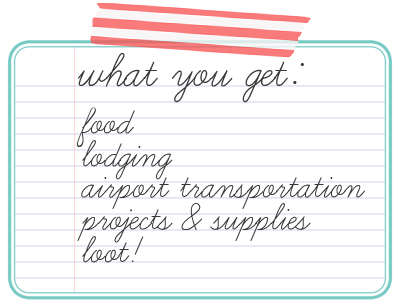 Basically: just come with your toothbrush and a change of clothes and return home with new skills, new friends, new experiences, new pretty handmade things for you and your house, and a bunch of great loot! You'll feel like you've been on a Craftcation!
Feel free to ask questions in the comments – I will try to answer them as they come in!
Happy Friday, friends!
Related posts: