One of the most frequent questions I get from y'all is about where I get the tags I use for my Etsy shop. I received inquiry #1,745 this week and finally decided that it was high time for me to put together a tutorial for y'all so my paltry efforts to explain this process in an email can be put to rest.
Before I start, I feel like it's important to point out that these tags are far from indestructible. They are printed with ink, so they will eventually fade. And, I'll show you my best suggestion for keeping the edges nice, but it's likely that they will also eventually fade. Nothing is going to beat a nice woven/embroidered tag in quality and longevity, but these printable tags definitely beat the other guys in price!
I say feel free to use them in any sewing project, though they'll last longest in items that aren't washed as frequently (oven mitts, flat iron covers, etc.). I use them on all the bibs I make because I think they are such a cute little added touch – but I just expect that a few months down the road, they'll need to be snipped off when their time to shine has passed.
Okay, that said, here is a tutorial to make your own custom sewing labels at a fraction of the price of the embroidered kind!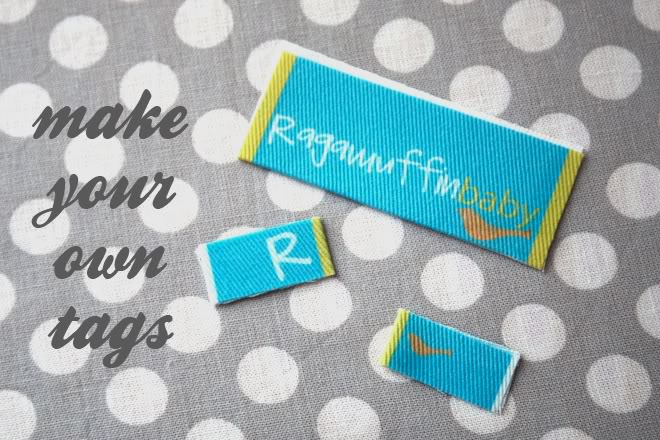 What you'll need:
*Cotton/twill printable fabric (you can get it at Jo-Ann's for about $12.99 for a 6-pack, or on Amazon you can find a 3-pack for around $6
)
*Fray Check (again, available at JoAnn's or on Amazon
)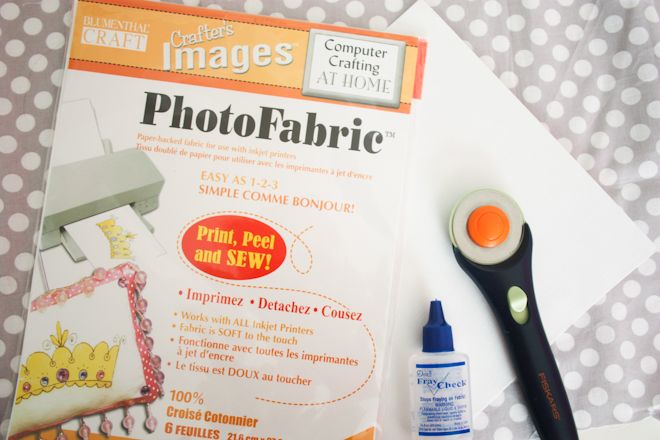 I designed my labels in Adobe Illustrator, though I imagine there are other programs – even Microsoft Office programs – in which you could also make this happen. Perhaps Powerpoint or even Word?
I'm going to show y'all two different types of labels today: the mini side tag (.5″ x 1.75″) and the larger neckline tag (2.5″ x 1″ for the printed, front side of the fold).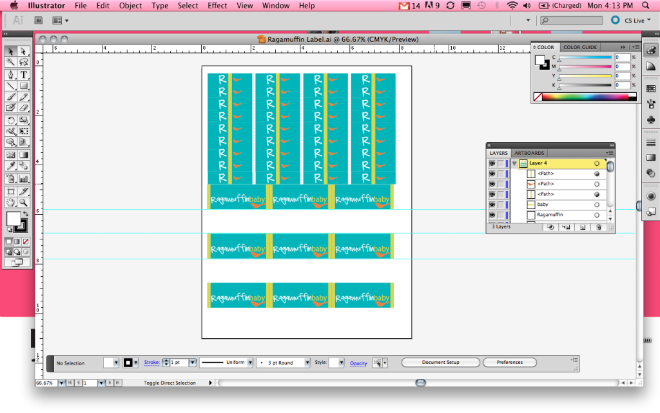 And here she comes, out of the printer! (A little bluer than I'd envisioned – looks like I'm low on colored ink.)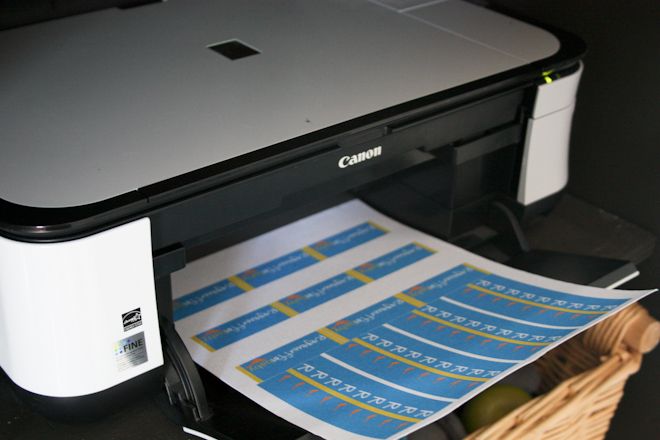 The first thing you do (after giving the ink a second to dry) is peel the paper backing off of the fabric. Try to pull it off gently and evenly. I've found that you can actually warp the fabric's weave if you get too tugsy.
Now rinse it under cool water until the water runs clear. (I don't know why, but this is seriously my favorite part!)

Lay it out on a towel to dry. Do NOT wring it! (again, you just don't want to mess with the weave of the fabric – you'll thank me later.)
If you get too impatient, you can roll it up in the towel and give it a good squeeze. Also, a hot iron sometimes gets the last bit of dampness out if you're feeling terribly impatient. *ahem*
Alright, to the cutting board! (or scissors!)
This is the part where you'll be glad you didn't tug on your fabric. You want all your lines to be straight so you can roll right through them.
Notice that I have a block of white space beneath each image for the neck tags – I'm stingy with my ink, so I only print what will be the front sides once they're folded.
And here are the side tags. I put a yellow bar in the center of each tag at the fold with a different image on each side so I have options. I like options. :)
All cut and in a pretty little pile. The page I just printed yielded 36 side tags and 9 neck tags. I'm thinking you could get 72 side tags out of one page.
Now the Fray Check. Without it the cut edges will fray before you even make it to the first wash. It's a must.
You'll have to pardon these next few photos. I was losing daylight and things got a little less crisp.
Pop the top off of the Fray Check.
And pour a bit into a small, shallow something. I use the plastic packaging that my snaps come in from Jo-Anns. It's just the right size.
Dip the sides of the neckline labels and the tops and bottoms of the side tags in the fray check.
You don't have to dip the edges that will eventually be concealed by stitching.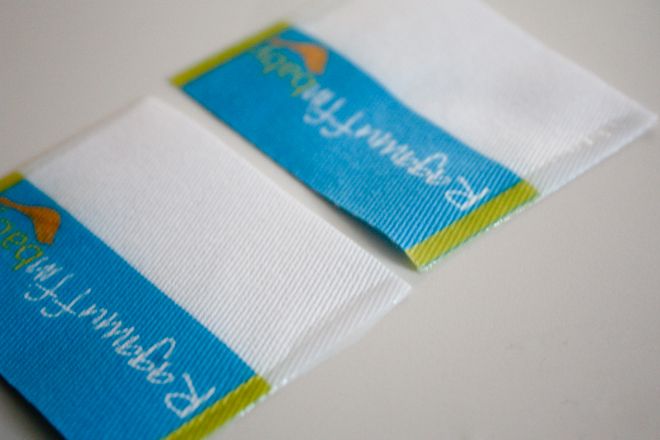 And if you start going crazy dipping one tag at a time, line a bunch up and take them for a dip together. Just make sure everybody gets baptized.
And if you're worried that the fray check is going to stain your pretty labels, don't. By the time it's completely dry it will also be invisible. (You can see it drying here.)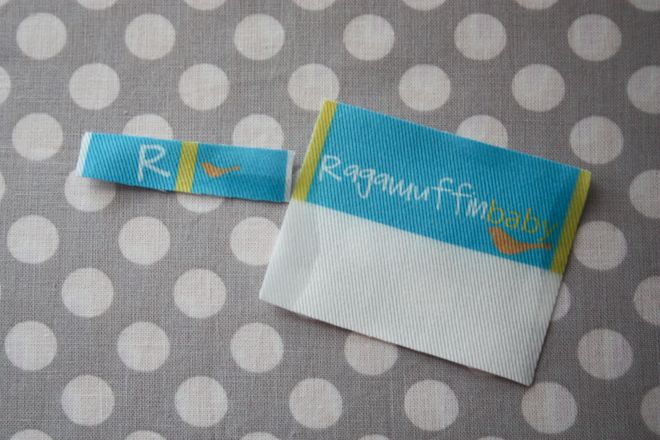 Now it's time to iron. I'd wait until the Fray Check has dried completely (or at least almost completely if you're impatient like me). If nothing else, to protect your iron.
Press them in half, just like you've planned.
Don't they look lovely?
Don't you feel fancy?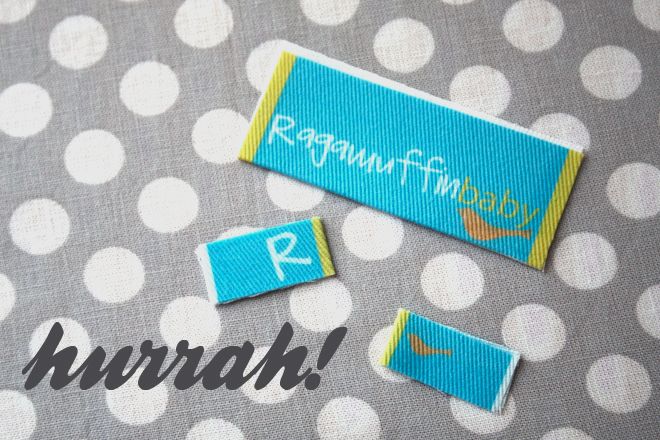 Now, just press the rest and assemble for yourself a nice little cup/jar/pouch of tags with your name or logo on them and feel very grown up and professional.
And, just like giving a mouse a cookie… if you have new tags, you're going to want to make something to sew it into!
I made a quick pair of PJ pants for my little lover-girl,
one of my own little ragamuffin babies. :)
Have a lovely Wednesday, friends! Come back tomorrow – the blog switchover should happen tonight. So excited!
Disclosure of Material Connection: I received

the Brother NX800 machine

mentioned above for free

in exchange for a mention of the product i

n my blog. Regardless, I only recommend products or services I use personally and believe will be good for my readers.
Related posts: