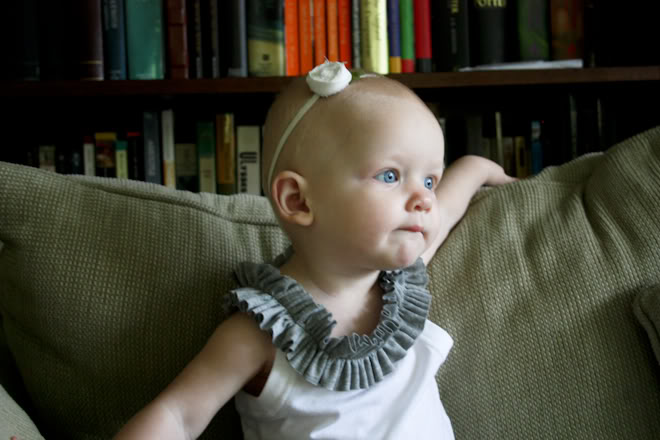 I had a few minutes last week while Hazel was napping and Oliver was playing happily, so I ducked into my sewing room to see what sort of trouble I could get myself into. I have a hard time leaving projects unfinished – even just overnight – so I don't like to start a project that I know I won't have enough time to complete in one sitting. I had about 20 minutes. I spotted a blank tank top I'd picked up at Target for $0.75 at the end of last summer (I've been intending to embellish it for months now) and some grey knit material I'd picked up at JoAnn's. And just like that, I had a vision!
Y'all this is such a fun, quick, easy, beginner project. There's no big construction or complicated technique. It's a pleasing, relaxing, nap-time activity that takes a tank top from boring to interesting in no time.
Join me?
Load up your sewing machine with as close a coordinating thread as you have on hand. I recommend leaving your bobbin thread white so you will be able to tell at a glance which thread is which later one.
And set your stitch length as long as it will go.
(My stitch length is the far right number – it's a 5).
Now run a stitch all the way down the middle of your strip of knit fabric. This long stitch will be called a gathering stitch.
Do your best to stay right on center.
When you're finished be sure to cut your threads long so they're easy to find.
Look at the underside of your stitch. (Remember, I kept my bobbin thread white so I would be able to find it easily.) Do you see how the white thread is just loosely held onto the fabric. This is perfect for gathering!
Go back to your tank top (or t-shirt or whatever you've decided to gather) and make a mark in the center of the back with a water-soluble marker.
Now, holding your knit fabric strip loosely in your left hand, grab the white bobbin thread with your right hand. Hold the thread firmly and start to pull the fabric away gently with your left hand. It's gathering!
Keep gathering (you can gather from both ends if it helps you) until you've made your knit strip of fabric the same length as your neckline. There is lots of forgiveness here.
If you've gathered it too much and the strip is too short, just pull it out a bit.
If the strip is still too long, just keep gathering until it's short enough.
Now, pin one end of the strip to the center back point of the neckline.
Keep pinning all the way around
until you get back to the center point of the back. Fold the other end of the knit strip under about 1/2″
and pin it in place, overlapping your starting point.
All pinned. Don't worry about your crazy threads. We can snip them in a minute after we stitch things in place.
Now, back to the machine. Set your stitch length to 3.
It will be helpful here to take the "skirt" off your machine so your top will fit nicely around it at the neckline.
Start at the back center point where you overlapped the two ends of the knit strip and backstitch once.
Now stitch all the way around the neckline (don't be afraid to go nice and slowly here – I am loving how much steady control my new machine gives!), doing your very best to keep your stitch right on center. It may help to use two fingers to keep the ruffles down and to help them go under the presser foot evenly.
Happy Friday, friends!
Disclosure of Material Connection: I received the Brother NX800 machine mentioned above for free in exchange for a mention of the product in my blog. Regardless, I only recommend products or services I use personally and believe will be good for my readers.
Related posts: