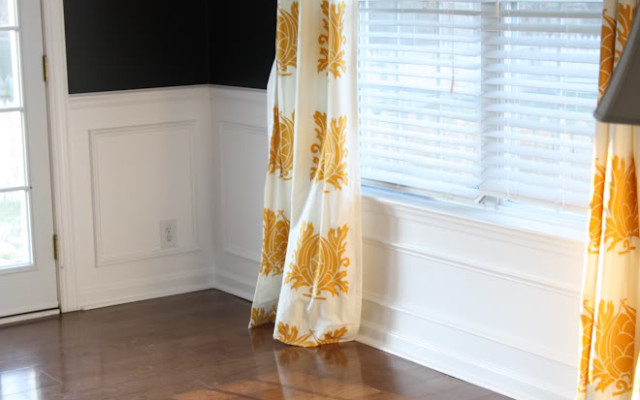 So, I've been hinting a bit lately about painting a room in my house black and since then I've given y'all a sneak peek at the dining room and a good shot of the kitchen, so I suppose the cat is out of the bag, eh?
Well, suffice it to say this was my scariest paint job ever. I was nervous about painting a wall in my sewing room Watermelon Pink, but black is a huuuuge leap from pink. I was so afraid it would end up looking like a greasy boy's room or way uber contemporary weird or something. But, the good news is, I love it even more than I expected. (And I honestly can't go any further here without giving credit to my girlfriend Katy who has the real cajones and was the first person I'd ever seen pull of black walls with such chicness. That girl's got style – thanks for the inspiration, girl!)
That said, I've got two things to share in this post:
1. Some good rules I've learned when it comes to choosing a dark paint color
2. A fabulous project I knocked out in my dining room yesterday in less than three hours.
So…. here's what I have to say about going dark:
Natural lighting – and LOTS of it – is a must.
The area you're painting has to be minimal. I only painted one wall bright pink in my sewing room, the other three walls are light and bright. Similarly, my dining room has double doors on one wall, double windows on another, a wide doorway on the third wall and the fourth wall is open to the kitchen. Also, I only painted the top half of the room (above the chair rail). I literally only need 1 quart of paint to change the color in there – that is what I call a minimal area.
While we're on the topic of minimal areas, a kitchen is another place where you can appropriately pack a punch with a little bit of a bold color. Cabinets usually take up a large part of the wall space, so what's left over can be a nice place to introduce a good color.
Black can be chic and not emo. It's all in the accessories (think fixtures, window treatments, etc.)
Finally, even with the small amount of intense color you have on the walls, you still need to break it up with artwork or whatever wall accessories you have planned.
Thank you for your kind attention.
And now, a photo of Hazel and a black dining room (which is still lacking that final step of things on the walls).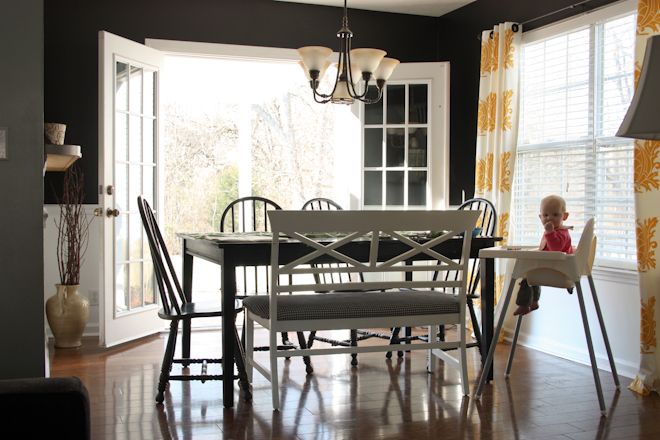 After I finished the paint job I still felt like things were a bit incomplete. I liked the white on the bottom, but it felt so stark and plain.
So, we bought about 80′ of wall trim at Home Depot (it cost $.86/linear foot) and on Tuesday morning while Ryan was out of the house I set to work with the chop saw and the nail gun (and also a level – the level is key!) and gave the walls some panache.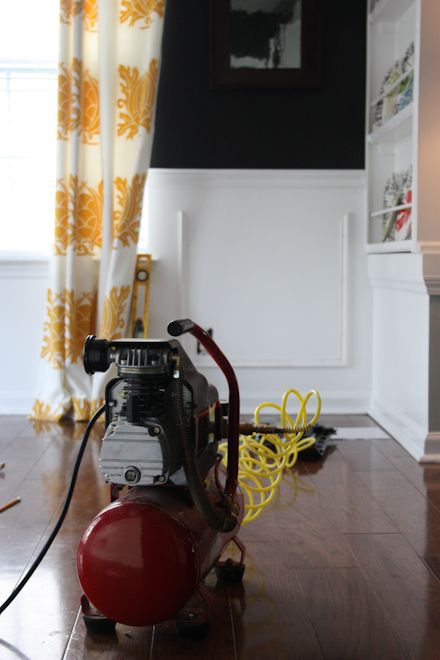 Here I've just completed the first square and I'm feeling pretty awesome.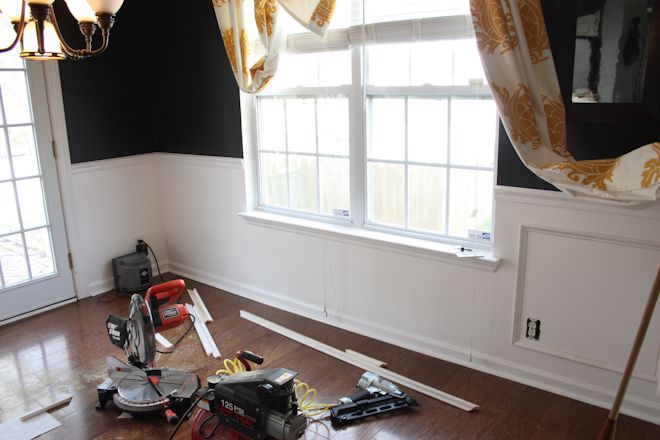 This is a good before shot of one corner of the room.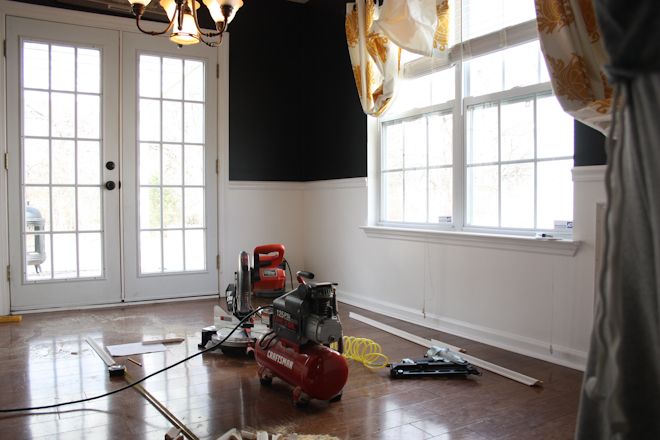 And after it was all nailed up (before making it all pretty).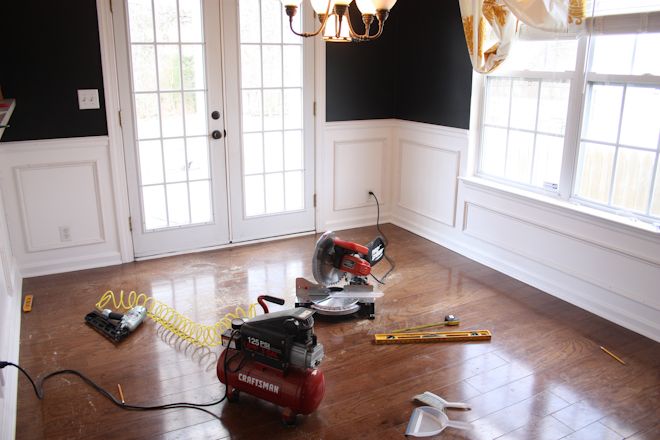 Seriously, doesn't that make such a difference?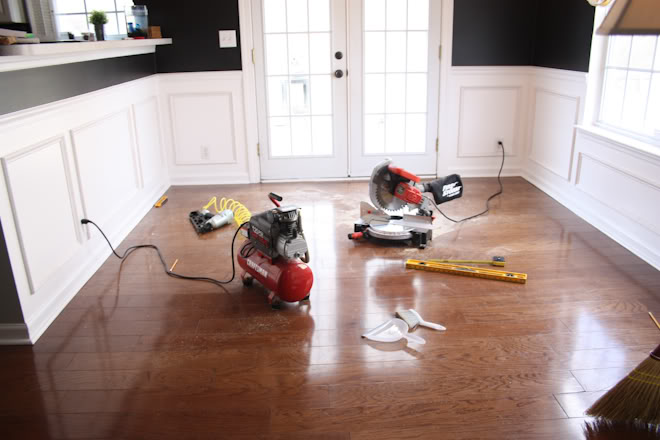 Once I got everything cut and on the walls, I went around and filled all the holes with wood filler.
After the wood filler dried, I sanded it all clean and gave everything a good cleaning with the vacuum.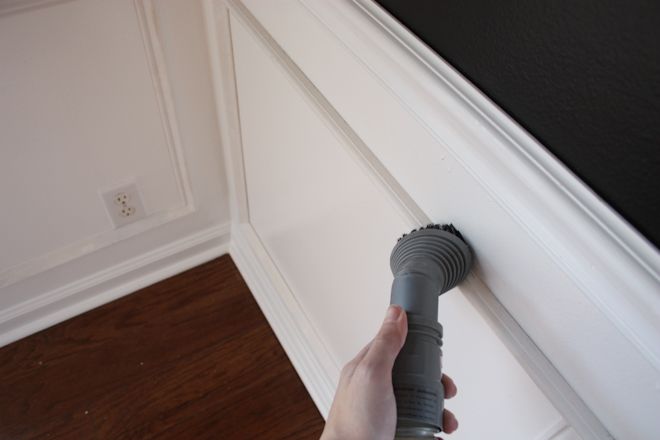 Next, paint. I used the Behr Ultra White in semi-gloss for the baseboard, chair rail, lower wall and trim so it's all one color and finish. (I'd already rolled the white on the wall several days before when I was painting the black, so that step was already done.)
Then Ryan came home, praised his crafty wife and pitched in by finishing up the vacuuming.(And then took us all out for dinner!)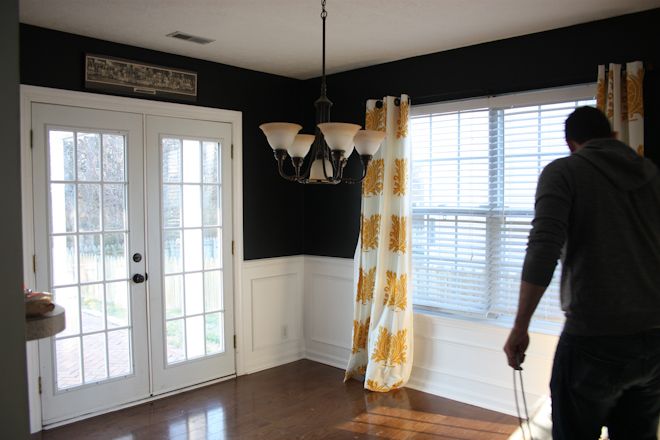 Here's the completed room. Honestly, if I could I'd leave every room in my house empty. Okay, maybe not really, but doesn't it feel so good?
A couple of detail shots.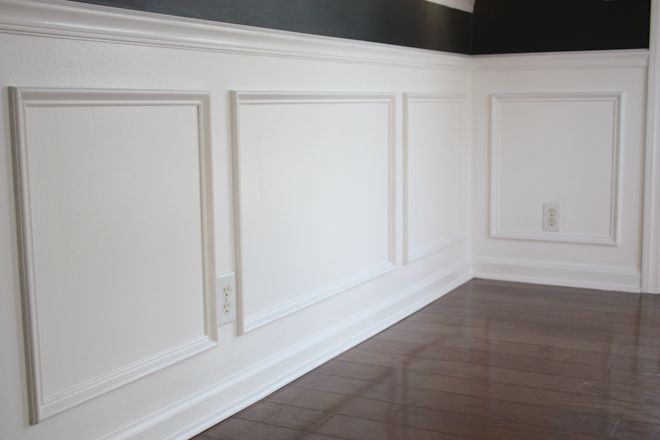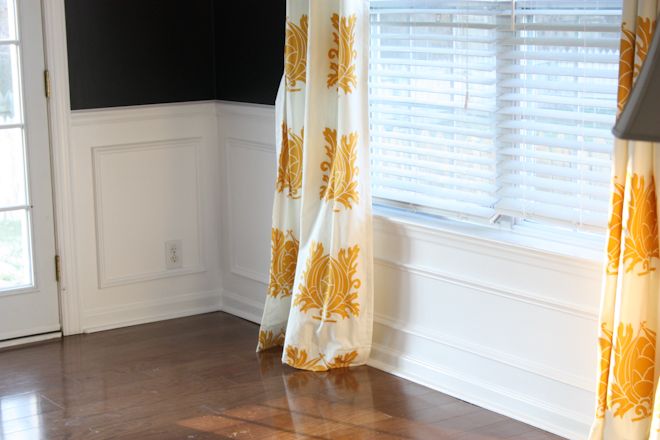 And that's that! I'm really no handyman (handywoman?), so I probably won't be super helpful with questions, but I'll do what I can. This project cost me $70 and 2 nap times (about 3 hours from first cut to last brush stroke) and it feels like a huge upgrade in there!
Have a lovely Thursday, friends!
Also, in anticipation of your first question: the drapes are from
Avec Dieu
on Etsy.
Related posts: