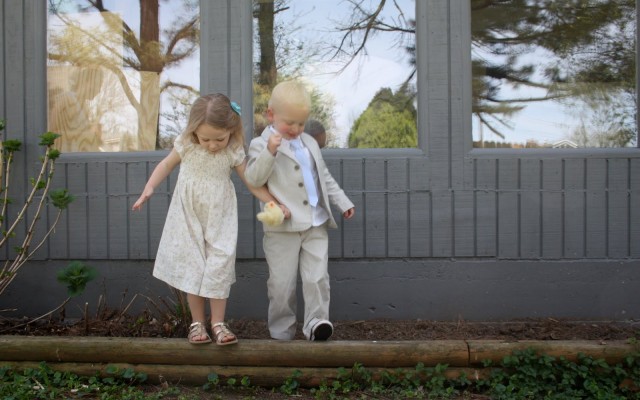 Hi friends!
Okay, I'm just going to begin this post by warning you not to expect it to be fluid or even coherent. My mind (as well as my body) is more pregnant every day and therefore, is less useful.
It occurred to me this morning that I haven't posted anything in over a week. It further occurred to me that being nine months pregnant and blogging through the pregnancy and having such lovely, supportive, encouraging readers, then dropping off the face of the planet for over a week isn't perhaps considerate.
So sorry to leave you all hanging!
And, if my absence hasn't been a concern to you, well, that's just fine too. I do realize that y'all have full, interesting lives and that you are not likely loosing sleep over when my next post will come.
Seriously, I already hate myself in this post. I hope to be a much better communicator once this whole crazy pregnancy hormone thing subsides! Hopefully my mind isn't gone forever…
So, back to an update.
We're doing great here. I had a very nice, encouraging appointment with my midwife yesterday. (Yay!) In case you haven't guessed, I'm probably not going to share all the nitty gritty details of my progression with y'all. (I don't judge folks who do… I just chose not to) :) But I will say that it was encouraging to have progressed even more than my appointment two weeks ago and I am getting very anxious to get this show on the road!
(That said, I'm only 37weeks, 4 days pregnant. Oliver was born at 41 weeks. I know that getting my hopes up too high now could only lead to another 3 weeks of frustration. We may not meet this girl until the first day of spring!)
I managed to have another meltdown on Tuesday night. I think that the culmination of this pregnancy hasn't really hit me until this week. To be honest, it still feels SO imaginary that we could be a family of four – that we will ever be more than just Raechel, Ryan and Oliver. Could this really be real???
It also feels sad to me that we won't be a family of five. I imagine a lot what it would be like to have a 3.5-year-old, a nearly 2-year-old and a newborn. Two girls and a boy – that would be a handful but oh, wouldn't it be wonderful? Our joy is great! Our family is growing! But there will always be a gap where our Evie belongs and that's how it is. We accept it, but still grieve it.
And for now, I am wriggly with anticipation of the days ahead. I'm running around the house, cleaning every corner until it shines – even the sewing room!! :)
I made two blankets and five burp cloths for our girl this week (it occurred to me that I'd been making all these bibs and burp cloths for my
shop
, but didn't have any set aside for Hazel!). I even got grossed out enough by my oven mitt that I decided it needed replacing in preparation of the new baby. (Why does a new baby need a nice oven mitt, you ask? I really couldn't tell you, but it felt pressing at the time.)
Exhibit A: The Offender
(It's stained and scraggly and we've had it since we got married. Yuck!)
Exhibit B: The Replacement
(Actually a pretty simple project – just a little chenille, insulbrite and
Nicey Jane fabric and an oven mitt is born!)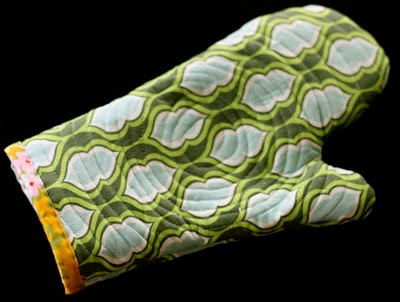 (It looks like I took these photos in some kind of a weird studio something – they're just on the kitchen table which photographs black and makes photos like this look waaay too official.)
Apart from that, I've been enjoying getting geared up for labor – watching
The Business of Being Born
(if you haven't seen it – DO!!
It's available on Netflix
in the "watch instantly" section and it's SO good!), reading
Spiritual Midwifery
and and inflating my yoga ball. I'm actually looking forward to labor! I know that sounds weird because, let's face it, it's pretty uncomfortable (understatement of the century), but there's something wonderful about it to me. Such a rush – such a feeling of satisfaction working with your body to bring a life into the world. I was built for this and it's a life experience that you only get to have a couple of times in your life – if ever. (At any point did I come across way too granola-y? I imagine that's possible.)
So, that was my post. There was a meltdown, and oven mitt and a yoga ball and that's the best I can do. :) I'll do my best to be better at keeping y'all posted, k? And when Miss Lady Ma'am (another Lady and the Tramp reference, if you're keeping track from previous posts!) makes her grand entrance, we'll be sure to let y'all know about it!
Love, contractions and "la-la-loo",
Raechel :)
Related posts: